Re: Zero Season 2 Part 2 Release Date, Preview, And Other Announcement: Kadokawa's live stream announced the release date of the second cour of Re: Zero second season. A spin-off series was also announced which will premiere on Kadokawa's official youtube channel. The second season of Re: Zero was announced way back in June which threw the whole fandom was thrown into a ruckus.  No one was able to contain their excitement. The Production House explained that the delay was due to some of the production being outsourced to Chinese companies. With the first cour done and dusted the second season is edging towards its finish. The live stream also revealed a key visual.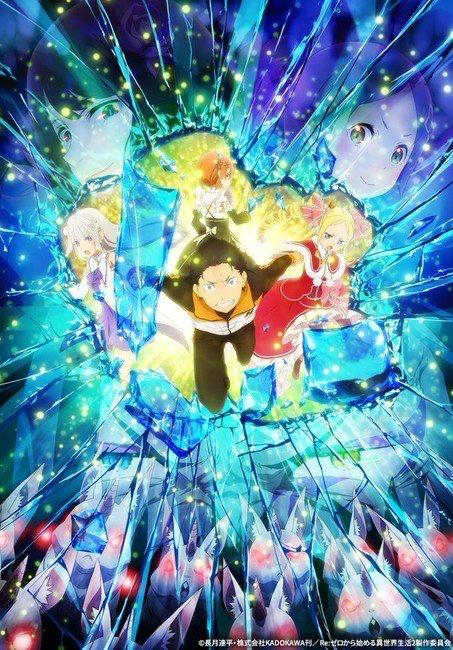 Re: Zero Season 2 Plot
The second cour will start right from where the first cour ended. Saying anything at this point will be a spoiler for anyone who is waiting for more episodes to binge-watch.
The first season ended when Natsuki defeated Witch Cult. Season 1 covered till the 9th volume of the novel. The second season was expected to cover volume 10-15 and it's well on course for that. Season 2 will cover various important things like the reason for Rem's coma, The future of the witch-cult. The Conclusion of Royal Selection, the reason why Subaru was Hikikomori. And we might also learn something about witches of sin.  Many fans have turned to light novels because the wait was so long. So many of them know how the story will unfold, but going by the White Fox Studios editor words season 2 will have few surprises for the novel readers too. But now that season 2 is well on course for its end it might be the right time to pick the anime.
Also Read: Log Horizon Season 3 Release Date, New Cast Announced, Preview and Where To Watch?
Re: Zero Season 2 Part 2 Release Date
The second half of season 2 will premiere on January 6 at 10:30 p.m. JST. It will premiere on Tokyo MX at 11:30 p.m. The spin-off series titled "Re-Zero – Starting Break Time From Zero" will premiere on January 8 at 8:00 p.m. JST. It will be streamed on Kadokawa's official youtube channel. Each episode will be streamed for only two weeks. So, if you had plans to binge-watch this too, you might want to reconsider that. The anime will stream on Crunchyroll, but for Indian viewers that is not a choice. There are rumors that Netflix will get the anime and release it for Indian fans, but nothing is solid right now. We will update you as soon as something is revealed, so keep an eye out here.
Re: Zero Season 2 Schedule
The first cour of the second season featured 13 episodes in total. The second cour will feature 12 remaining episodes of the second season.
Re: Zero Season 2 Cast
All the cast members from the first season retained their roles. The live stream also revealed the new opening and ending theme songs for the second cour of the anime. The opening song titled "Long shot" is performed by Mayu Maeshima and NANOC will perform the ending theme titled "Believe in you."
Re: Zero Season 2 Preview

Subscribe to Email Updates :