Donald Trump is reported to appear through video in his pre-trial hearing to listen to an order banning him from publicly revealing evidence in his criminal case.
Trump To Appear By Video To Hear Order Barring Him From Disclosing Evidence
United States former President Donald Trump reportedly appeared via video in a New York courtroom on Tuesday. He attended the hearing via video link from his Florida home, Mar-a-logo.
In a hearing, US Supreme Court Justice Juan Merchan announced March 25, 2024, as a trial date for the criminal case against Trump over hush money paid to pornstar Stormy Daniels.
The hearing was held to issue orders to bar Trump and his lawyers from disclosing evidence to third parties, including news outlets, or posting it to social media.
The court requires that all sensitive material be kept only by Trump's lawyers. Prosecutors have noted the ban was needed because of Trump's bad history of attacks on social media and the risk that witnesses might be oppressed.
Merchan's order mainly restricts the former president from publishing any material that had not been shared with the judges.
Merchan wrote in the recent ruling that Trump could only access specific information, labeled "Limited Dissemination Materials" by prosecutors, in his lawyer's presence.
He is not allowed to make copies, photograph, or transcribe those documents. The judge also directed Trump and all concerned parties to clear their schedules for trials.
In the hearing, Trump claimed to be the victim of political witch-hunts intending to silence him as he stands for the Republican presidential nomination to face Joe Biden in the coming year.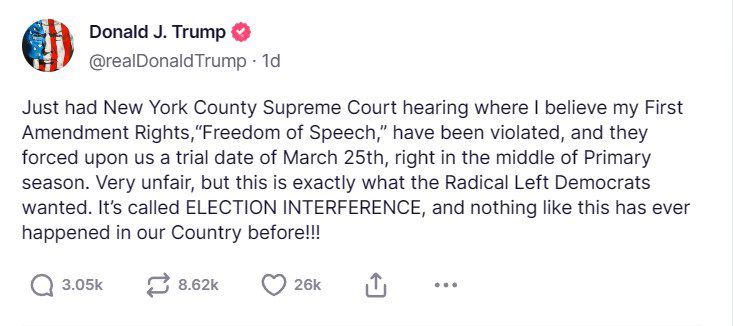 Trump posted on his social media platform Truth Social, "Just had New York County Supreme Court hearing where I believe my First Amendment Rights, "Freedom of Speech," have been violated, and they forced upon us a trial date of March 25th, right in the middle of Primary season. Very unfair, but this is exactly what the Radical Left Democrats wanted. It's called ELECTION INTERFERENCE, and nothing like this has ever happened in our Country before!!!"
Justice Merchan has emphasized that he is not seeking to gag the former president but "bending over backward and straining to ensure that Trump is given every possible opportunity to advance his candidacy."
In a hearing earlier this month, the judge also said being the frontrunner for the Republican nomination for the 2024 presidential election. Trump will remain free to speak about major evidence in his case, which comes from the defense.
Prosecutors will give Trump's lawyer the additional materials once he is notified of what he can and cannot do with them.
In Tuesday's hearing, Justice Merchan agreed to allow Trump to appear for the trials remotely from his Mar-a-Lago home in Florida.
In April, the former president pleaded not guilty in person to 34 charges of falsifying business records to hide payment to his then-advocate Michael Cohen to remain silent over his payment of $130,000 to porn star Stormy Daniels to mute her about the alleged sexual encounter during the 2016 election.
It will be the first time in American history that an indicted former president has appeared virtually for a criminal court trails.
After his hush-money indictment, Trump promised the judge to abide by a protective order that bans him from revealing confidential evidence about the witnesses against him.

Subscribe to Email Updates :