AnimeLOG: Your new place to watch the anime: After MuseAsia and Ani-One another youtube channel is finally available in India. After months of waiting, AnimeLOG is finally available in India with 6 classic titles. The number of titles is less right now but new titles will be added in the future. This is a big step towards the fight against piracy and will provide the Indian audience a platform to watch the anime.
The battle against anime piracy was started when the Japanese government banned kissanime. And announced that more piracy sites will be banned in the future. The decision came out of nowhere and all the anime watchers were taken aback and were shocked. But this really was the right step and it was long due. No matter how important Kissanime was to the anime watchers who can't afford a subscription to various streaming sites like Crunchyroll, Funimation. We can't deny that it was really bad for the community as a whole.
Many sequels were canceled because of Kissanime and other piracy sites. As people really didn't take subscriptions to the partnered streaming sites and watched the anime from Kissanime, which resulted in no money for the creators. Very few anime production houses have a big budget to produce anime. And they totally depend on the watchers as a source of income. So, the kissanime ban will not only encourage the creators but it will also help the creators now.
On July 27, 2020, Delhi High Court issued a dynamic John Doe that banned or blocked the illegal sites that were distributing the content illegally. The petition was filed by Disney and Reliance Jio to implement the ban really soon after the order was issued.
https://twitter.com/AnimeLogTokyo/status/1326993169934794753
Animelog: The new place to watch anime
After this ban fans were really wondering where to watch anime from now on. As no matter, what other sites like 9anime, Gogoanime, and many more will be banned sooner or later and the major fanbase who were affected by it were those who can't pay the subscription fees. Here comes AnimeLog. Animelog is a youtube channel launched by Analyzelog where 30 Japanese anime studios came together to provide their content for free so that everyone can watch it and enjoy it. These 30 studios include some of the big names like:-
Toei Animation (One piece and Digimon)
Tezuka Productions (Kimba The White Lion, Black Jack)
Kodansha (Noragami, Akira, Cardcaptor Sakura)
Nippon Animation (Hunter X Hunter)
Shogakukan-Shueisha Prod (Inuyasha, Ranma 1⁄2, Hamtaro)
Shin-Ei Animation (Doraemon, Crayon Shin-Chan)
AnimeLOG: In India Now
After being launched in August AnimeLOG is finally available in India. They told us this by their tweet which also showed the titles that are available in India right now. The six titles are
Hungry Heart WILD STRIKER
New Jungle Emperor Leo
Konnichiwa Anne Before Green Gables
Fantastic Children
The World Of GOLDEN EGGS
AWARE! Meisakukunn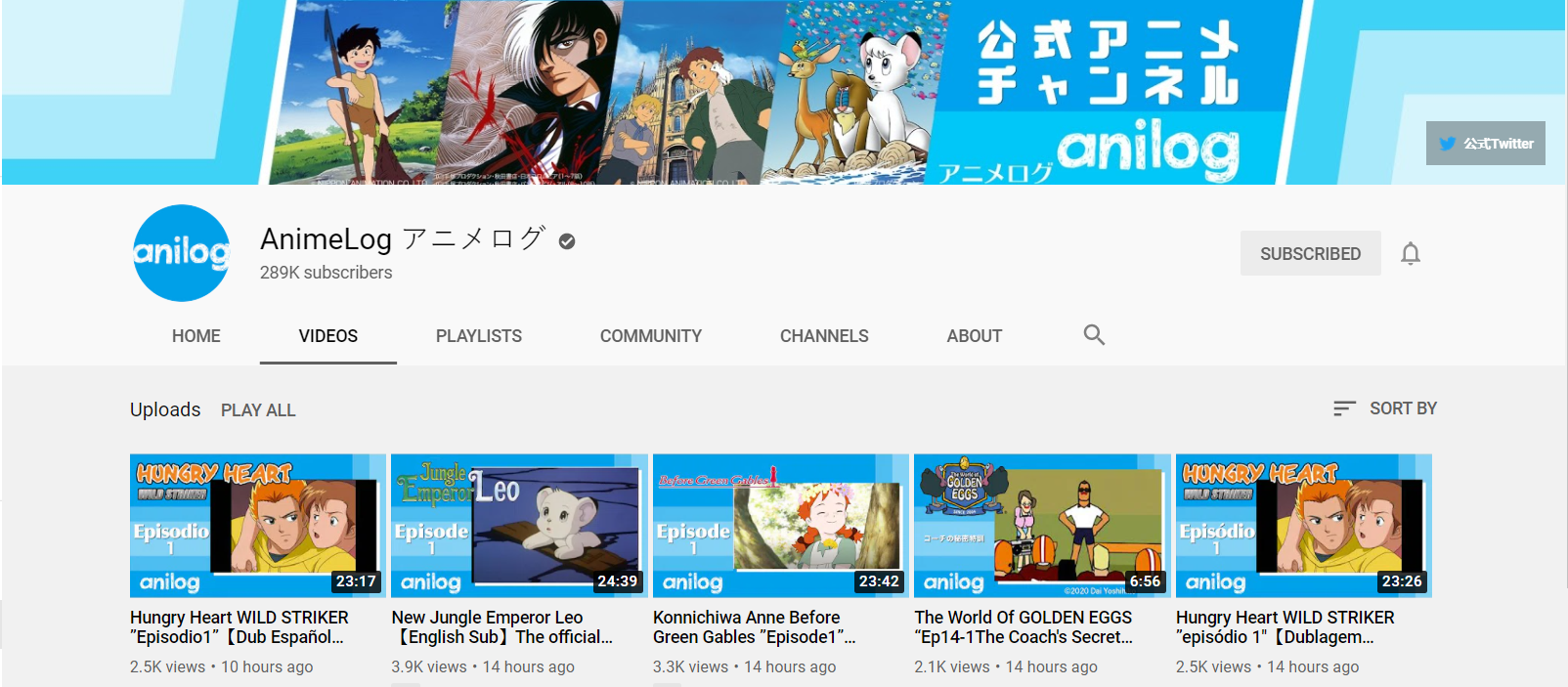 The tweet stated that the growth of the channel is dependent on us entirely. As our views will help the channel grow. They are negotiating with Japanese Animation studios to distribute more anime as of now. So we request you to watch as much as possible. Provide them with views and subscribers so that we can get as many anime as possible.
Signup For Our Newsletter