Bottom-tier Character Tomozaki New Visual, Release Date Revealed, Preview, Cast, and Other Details: The official website of the upcoming anime released a new visual and also revealed the release date of the anime. Bottom-tier Character Tomozaki is a Japanese light novel series written by Yūki Yaku. A manga adaptation by Eight Chida came out in 2017. The anime is going to adapt the light novels instead of the manga. It is regarded as one of the best high-school romance light novel by its readers. It was ranked in the top 10 light novels in "This Light Novel Is Amazing!" Guidebook for the past three years.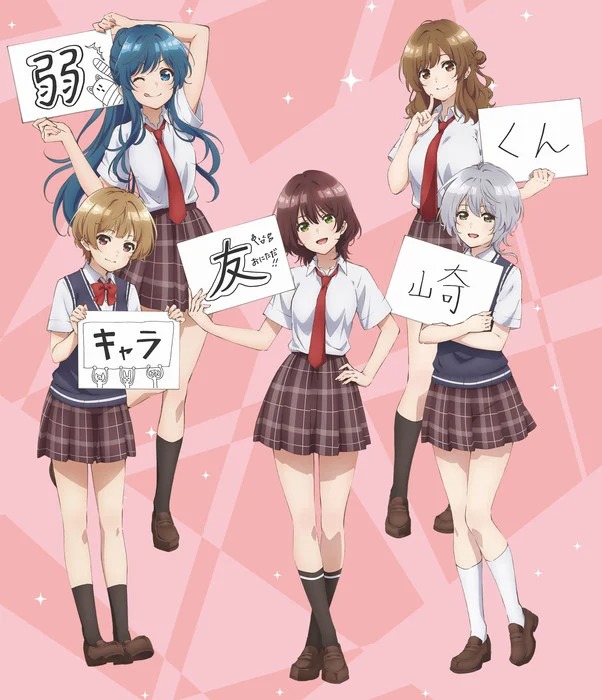 Bottom-tier Character Tomozaki Plot 
The story revolves around a boy named Tomozaki who is one of the best gamers in Japan and he thinks that real life is the worst. The real-life rules are hard and twisted and are irrational and unequal. The strong remain strong while the weak are always oppressed and violated. But, Tomozaki's whole life changes when a girl who is on par with Tomozaki in gaming skills tells him that 'Life is a beautiful game'. Hinami Aoi is the female protagonist of the anime. She offers Tomozaki to teach him the rules of life's game. Impressed by her unique character and appeal Tomozaki agrees and they both go on a journey that will be both beautiful and heartbreaking.
Both of them will face many hiccups during this journey. They both will come close to each other and will Tomozaki learn to love life? Will he find real-world beauty? To find out we have to follow both of them in their journey.
Bottom-tier Character Tomozaki Release Date
The website revealed the release date of the anime on Friday. The anime is all set to release on January 8, 2021. The anime will premiere on January 9 on the BS11 programming block. The streaming details will be revealed soon enough and we will update you as soon as something is revealed.
Shinsuke Yanagi is directing the anime, and Fumihiko Shimo is handling the scripts. Akane Yano is in charge of character design, and Hiromi Mizutani will take care of the music. Idol Group DIALOGUE+ will perform the opening and ending theme songs of the anime. Pony Canyon and APDREAM will produce the music, and Dream Shift will produce the anime.
Bottom-Tier Character Tomozaki Preview
A teaser was released in October, which showed us a glimpse of the anime. It also previewed the theme song of the anime "Jinsei Easy?" (Life Is on Easy Mode?) and "Ayafuwa Asterisk." The animation of the anime looked good, and now the only question is how well they will adapt to the light novel. If they can adapt it with all the emotions without making anime unnecessary long and mundane, it will be one of the best in its genre. 
Signup For Our Newsletter