Doctors of AIMS: Resident Doctors Association (RDA) of All India Institute of Medical Sciences i.e., Has requested to take appropriate action against the people coming outside from their homes and also asked to make provision of transport facilities for commuting.
In a letter to the Union Home Minister Shah, the Resident Doctors Association (RDA) has said that any doctors, nurses, and health care workers who are working day and night in the fight against the coronavirus … Are evicted from rented houses out of fear.
Resident doctors of AIMS pleaded with Home Minister Shah, saying- Landlords are removing them from the house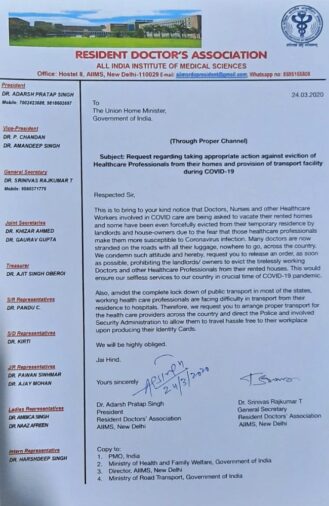 The problem is that many doctors have been thrown out of rented apartments by their landlords along with the goods, due to which they have come on the road with household items.
The association has said that such complaints are coming from many places in the country. We condemn this behavior of landlords. Because of these incidents, we feel incredibly helpless in the difficult times of this pandemic.
Since there are complete lockdown conditions in many states at this time, doctors, nurses, and medical staff are facing difficulties in coming from home to hospitals. So, we all request you (Home Minister Amit Shah) to arrange transport to go to the hospitals.
We appeal that such provisions should be made so that even the police and security forces personnel do not bother visiting the hospitals and workplaces.

Subscribe to Email Updates :