This article covers detailed information on the MetroPCS network coverage map, including a detailed comparison with other carriers, MetroPCS coverage breakdown, and more.
So, without any further ado, let's get started –
Metro by T-Mobile or MetroPCS Coverage Map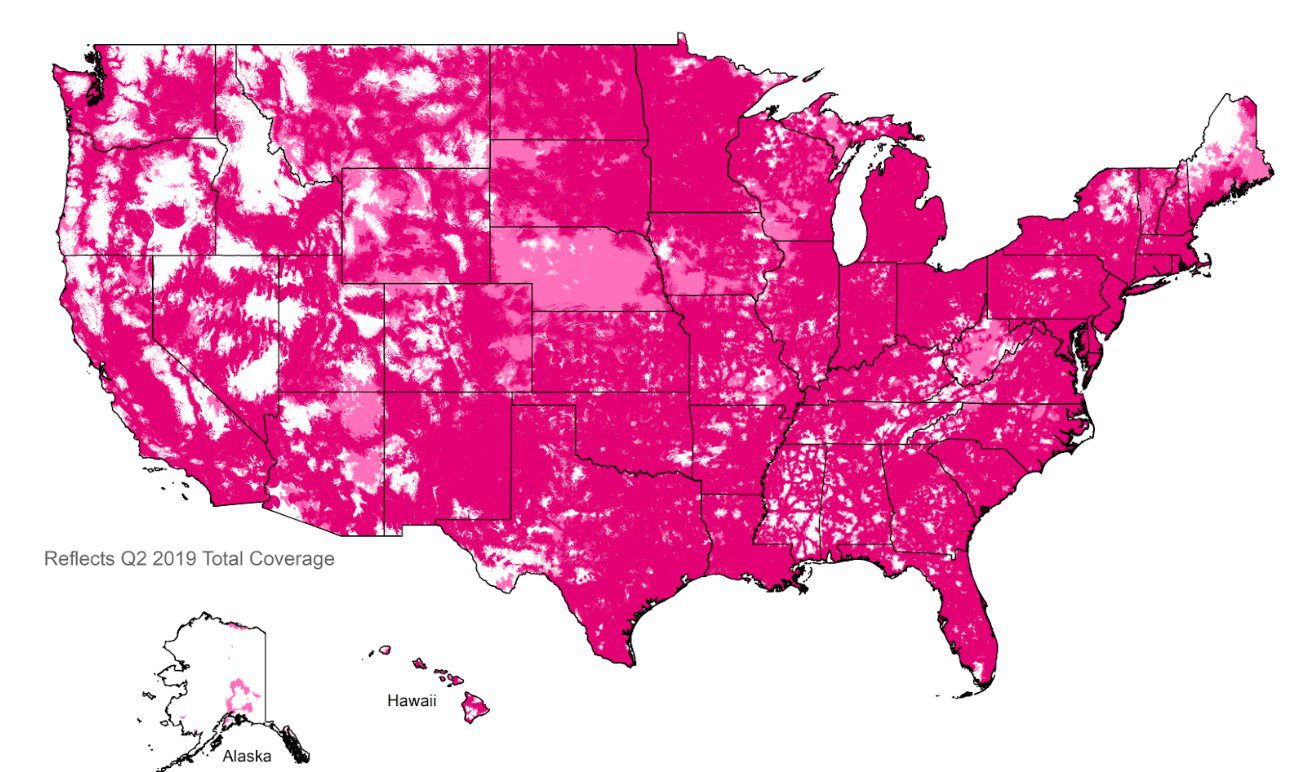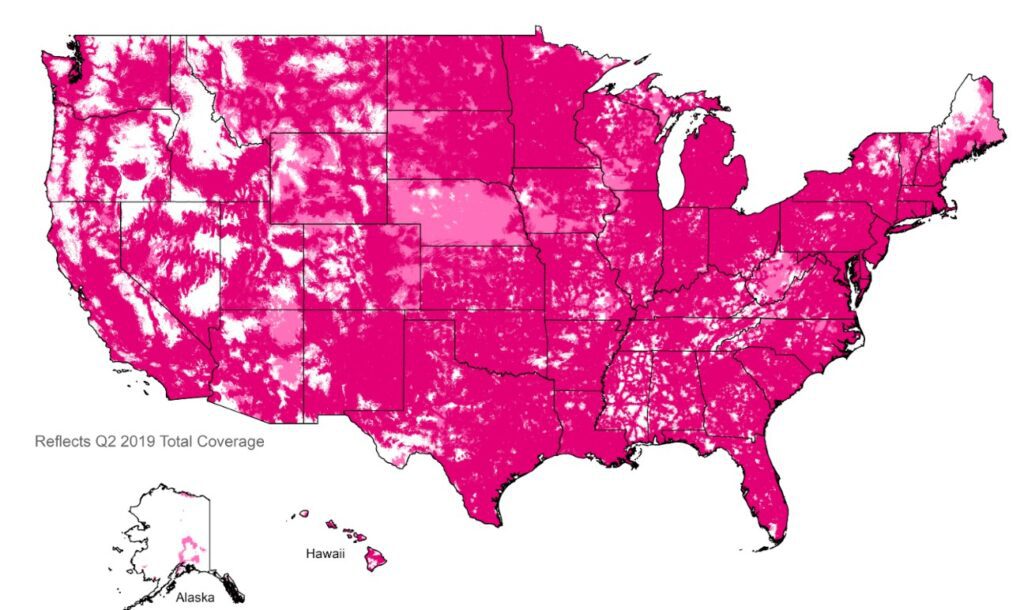 Metro is a mobile virtual network operator (MVNO) that offers you T-Mobile's network for coverage, but only at a fraction of T-Mobile's prices.
However, there are some drawbacks to MVNOs. The biggest downside of MVNOs is that your data speed will get reduced if you have used up your entire high-speed quota. Besides that, you will experience slower data speeds than T-Mobile users in busy places or peak times.
However, there are some good things too. For example, MetroPCS uses the same coverage is the same as T-Mobile, so you can access the network wherever T-Mobile users have access. T-Mobile's 4G LTE network covers 62% of the country.
Metro customers get full access to T-Mobile's fast-growing 5G network. T-Mobile leads the 5G race with over 40% coverage nationwide. 5G coverage is best in eastern Nebraska but less reliable in western Nebraska.
T-Mobile excels in urban and busy areas. Because of this, the company claims its coverage covers 99% of Americans. However, if you live in a remote area, especially in the western mountains, you should check the network coverage map in your area. Network coverage is less reliable in states like Wyoming, Idaho, and Nevada.
MetroPCS 5G Coverage Map
Metro by T-Mobile has the best 5G network coverage. 5G by Metro is currently available in over 7,500 cities. In addition, T-Mobile's acquisition of Sprint will enable a faster and more effective network rollout.
While Metro's low-band 5G speeds may feel like a glorified version of 4G, they will eventually become faster as T-Mobile develops its faster mid-band 5G network. Metro customers will benefit from faster data as T-Mobile increases its speeds.
However, once the allotted data is consumed, Metro customers would experience slower speeds. T-Mobile will provide higher data speeds to those who pay more and give them priority when the network is congested.
MetroPCS Coverage Breakdown
Below, we have covered a detailed breakdown of MetroPCS coverage –
The 4G LTE network of Metro PCS
Since Metro by T-Mobile (MetroPCS) uses T-4G Mobile's LTE network, we need to compare T-Mobile's coverage with that of the other major carriers.
The breakdown is as follows –
Verizon provides 70% 4G LTE coverage
AT&T provides 68% 4G LTE coverage
T-Mobile provides 62% 4G LTE coverage
Metro's 4G LTE network coverage is comparatively lower than AT&T and Verizon. If you live in a city or larger Residential area, this won't affect you much. However, if you live in a remote area in the western United States, make sure your location is covered, and be aware that service may be interrupted when traveling through mountainous terrain.
It's also important to note that only 21% of the country is covered by Metro/T-Mobile's 3G network. Your phone will fall back on a 3G network if a 4G signal isn't available, even if it doesn't use 3G frequently.
The 5G Network in Metro
The MetroPCS network may not dominate the 4G race, but it is currently the largest 5G network in the U.S., thanks to its access to T-Mobile's 5G network.
Take a look at what the coverage looks like –
T-Mobile has 41.35% 5G coverage
AT&T has 18.11% 5G coverage
Verizon has 11.08% 5G coverage
You can enjoy better data speeds via T-5G Mobile's network if your device is 5G compatible and you live in an area with 5G coverage. However, that doesn't mean you can download movies in seconds. Most of Metro's 5G network uses low-band 5G. More people can access low-band 5G because it offers amazing coverage.
T-Mobile is trying to increase the coverage of its mid-band 5G network, which promises much faster speeds. So you can expect a stronger and faster 5G network in the near future.
MetroPCS Coverage Map vs. Other Carriers
Of the three major carriers (AT&T, Verizon, and T-Mobile), T-Mobile has the least 4G LTE coverage, as mentioned earlier. Still, the gap between T-Mobile and Verizon, the company with the best coverage, is only 8%. T-Mobile's Metro also gives you access to the country's largest 5G coverage.
Metro is not the only carrier offering coverage of a major network at a discounted rate. Similar providers are available on Verizon and AT&T networks. Each of these networks provides reliable coverage in densely populated areas, as you can see from the comparison of these networks below.
| | T-Mobile | AT&T | Verizon |
| --- | --- | --- | --- |
| 4G LTE coverage | 62% | 68% | 70% |
| 5G coverage | 41% | 18% | 11% |
| Urban coverage | Excellent | Excellent | Excellent |
| Rural coverage | Poor | Good | Good |
| 5G bands | Low-band | Mid-band | Mid-band |
MetroPCS International Coverage
Metro by T-Mobile (MetroPCS) allows international calling and texting to more than 140 countries through some of its partner companies, but access costs you extra.
If you have a plan starting at $30/month, you can add Metro's Global Voice feature for just $10/month to communicate with friends and family across the globe. Depending on the plan you choose, this feature offers unlimited text messages to some countries and 200 unlimited voice minutes to landlines and mobile numbers.
Metro's "Mexico Unlimited" and "Canada Unlimited" add-on services cost just $5 per month if you have family members in Mexico or Canada or are preparing to visit one of those countries. They include 5 GB of high-speed data to use while traveling, as well as unlimited talk and text to and from each country.
FAQs
What is MetroPCS?
MetroPCS is a prepaid wireless carrier in the United States that offers voice, text, and data plans with no annual contract.
What information does MetroPCS's coverage map provide?
MetroPCS's coverage map shows where their network is available for voice, text, and data services. The map also provides information on the types of coverage available in each area, including 4G LTE, 3G, and 2G.
Does MetroPCS have coverage in all parts of the United States?
No, MetroPCS does not have coverage in all parts of the United States. Their network is primarily focused on urban areas and may not be available in more rural or remote locations.

Subscribe to Email Updates :