Kingdom Chapter 646 Out:  In Kingdom Chapter 645 we saw one of the most bizarre turns of events we have ever seen in the series till now. We saw Zhao being on the verge of revival to getting back in the depths of hell in just a matter of time. Kingdom Chapter 645 was a sad chapter for every fan but it really left all the fans intrigued of what will happen in the future.
Chapter 646 just came out today and it was as intense as we expected. There might be some hints at the last chapter that will break every fan's heart.
Let's take a look at what happened in Chapter 646.
Kingdom Chapter 645 Recap
Chapter 645 was a breath of fresh air every fan wanted, at least it was at the start of the chapter. It was revealed by royal guards that Prince Ka will be the new king of Zhao and will take the throne after King Toujou death. Prince Ka released all the prisoners who were wrongly framed and were talented to take part in the battle and that included fan-favorite Riboku Sama. Prince Ka without wasting any time asks Riboku for advice in order to save Zhao.
Riboku told him to mobilize the royal army and King Ka did so. Seeing the army Ou Sen had to retreat and it looked like Prince Ka's reign has started and Zhao will be revived from the hell and then it all went to hell. Ei-Dono the record keeper reveals that according to King Toujou's will it will be Sen the younger son of the king to crowned king and Prince Ka will be removed from the throne as of now.
Kingdom Chapter 646 Spoilers
Chapter 346 started with everyone being shocked by the new revelation. Everyone knew that King's will was altered by Kakukai. Everyone suggests that they will appeal the decision tomorrow in the court. Riboku made everyone realize that something a more important matter has to be dealt with right now. Suddenly arrows come flying down.
Riboku and Kaine protected themselves and Prince Ka as well. but most of the other members were either dead or injured. Assasins have entered the castle and Riboku and Kaine have to fight and protect Prince until Futei comes. Hi Shin got the news about the latest succession on the front lines and is worried about Riboku and Ka. Inside the castle is a bloodbath. Master Tai and Hou are dead with their whole bloodline. Kakukai demands Ka head so that Sen can be king unrivaled.
Riboku plans to take everyone to Houshou where everyone will be safe. Kaine spots Enemy troops. Riboku tod the soldiers that they will punch through the middle. Riboku was surrounded by enemies because of his bounty.
They somehow manage to escape. They reach Futei and their army. A battle between  Futei's Army and Kantan's army erupt and the allied force even being outnumbered somehow wins and reaches Houshou. Riboku told everyone that he will return to Bananji to plan something to turn the tide. Prince Ka emotional barrier erupted and he asked forgiveness for not being able to protect Zhao.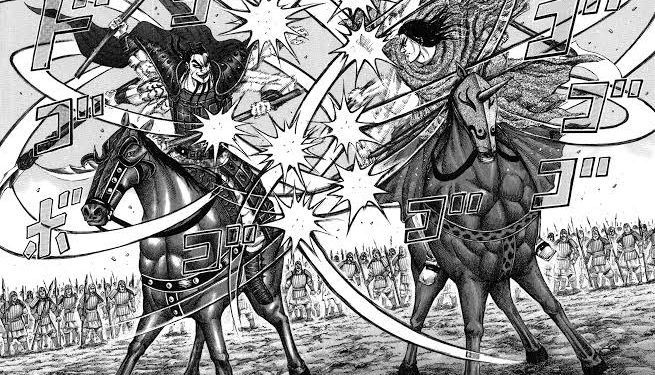 Riboku and Kaine have a chat in the camps with Riboku hinting that his time will come to an end soon. Kaine holds Riboku with tears and tells him that she'll always be by his side.
Kingdom Chapter 647 Release date and prediction
Since the spoilers and raw cuts will come in a while there is nothing we can say for certain what will happen.
Riboku will make some plans and we might see more of Kakukai devilish side. Prince Ka will regain his composure and he might also do something that we fans wants to see for a long time.

Subscribe to Email Updates :