2.43: Seiin High School Boys' Volleyball Club Trailer, Release Date, And Where To Watch?: The official youtube channel of Noitamina released the first main trailer of the upcoming anime. A new visual was also released by the makers. "2.43: Seiin High School Boys' Volleyball Club" is an upcoming High School Volleyball Anime. It is based on the light novel of the same name written by Yukako Kabei and illustrated by Aiji Yamakawa. A manga adaptation by Yamakawa was released in July 2018. The anime adaptation was announced in June earlier this year.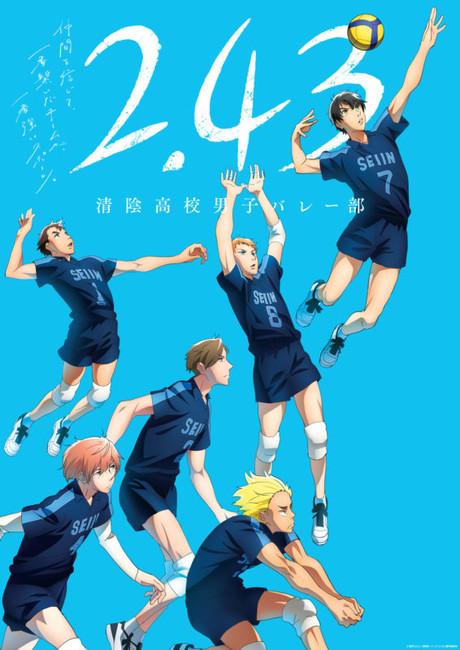 2.43: Seiin High School Boys' Volleyball Club Plot
Kimichika Haijima had to move back to his hometown as he caused some trouble in his Junior High School. He enrolls in Seiin High School with his childhood friend Yunii Kuroba. Both of them are outstanding players and are passionate about volleyball. But, Yunni is a choker as he is always vulnerable under pressure. But with the talent Kimichika possesses, they both make a keystone combo that everyone will fear. With the other members of the Volleyball Club, the Seinn High School team becomes the dark horse of the Fukui Region. But reaching nationals will not be an easy task as many formidable contenders are standing between them and the nationals.
2.43: Seiin High School Boys' Volleyball Club Release Date
The anime is all set to come out on January 7, 2021. Earlier it was supposed to come out in late January, but now it is confirmed that it will come out in the first week of January. This anime will come on our screen right after Haikyuu's fourth season, so it will be good to help us not miss Haikyuu that much. So, if you are a sports anime fan, it is good news for you.
Also Read: Kingdom Season 3 Episode 5 Release Date, Plot, and Where To Watch?
2.43: Seiin High School Boys' Volleyball Club Cast and Characters
Cast And Characters
Yuni Kuroba Voiced By Junya Enoki
Kimichika Haijima Voiced By Kensho Ono
Misao Aoki Voiced By Yuuichirou Umehara
Shinichiro Oda Voiced By Kento Itou
Akito Kanno Voiced By Shouta Aoi
Yusuke Okuma Voiced By Subaru Kimura
More characters and cast members will be introduced sometime later and we will update you as soon as we get any new information about the cast and characters.
Yasuhiro Kimura is directing the anime with Yousuke Kuroda handling the series composition. Yuuichi Takahashi will be in charge of designing the characters and Yugo Kanno will take care of the music.
2.43: Seiin High School Boys' Volleyball Club Preview
The first main trailer of the anime gave us a sneak peek of the anime and also revealed the ending theme artist. The ending will be performed by Soshi Sakiyama and is titled "Undulation." In an interesting turn of events, Soshi revealed that he had written the song three years earlier.
2.43: Seiin High School Boys' Volleyball Club Where To Watch
The anime will air on the NoitaminA programming block, which means it will air on any TV stations owned by  Fuji TV. Funimation will stream the anime on January 7 in United States, Canada, the United Kingdom, and Ireland. ANimelab will stream the anime in Australia and New Zealand. Wakanim will stream it in France, Germany, and Scandinavian countries.
Signup For Our Newsletter