A family picnic is a great way to spend quality time with your family. Children love family picnics and so do adults. These picnics serve as a great apparatus for strengthening relationships and bonds with each other. A family picnic is a fun activity and unless you are a diehard fan of clubbing and don't have that good of connection with your family, there should hardly be any reason for you to be not able to enjoy family picnics. 
When you think of an ideal place for a family picnic, the sight of a beautiful lake flowing by the park filled with lush greenery and even grass and fresh air stick to the mind. Well,, the state of Minnesota and its beautiful places have just that to offer you. Minnesota is one of the most beautiful states in the US and it is not just being said by us, but the world admits it.  Minnesota is nicknamed the land of 10,000 lakes, so your plan of spending time by a lake is covered. The state of Minnesota is filled with good people and is very affordable too. There are hardly any states better than the state of Minnesota when it comes to picnics and natural beauty.
Summer is considered to be the ideal season for spending time in Minnesota as the natural beauty is in its full flow during that time, in this article, we have brought you 9 places in Minnesota for a Family Picnic. These places were handpicked and brought to you through various experiences, make sure you check all of them before picking one for your picnic.
Top 9 Places In Minessota For Family Picnic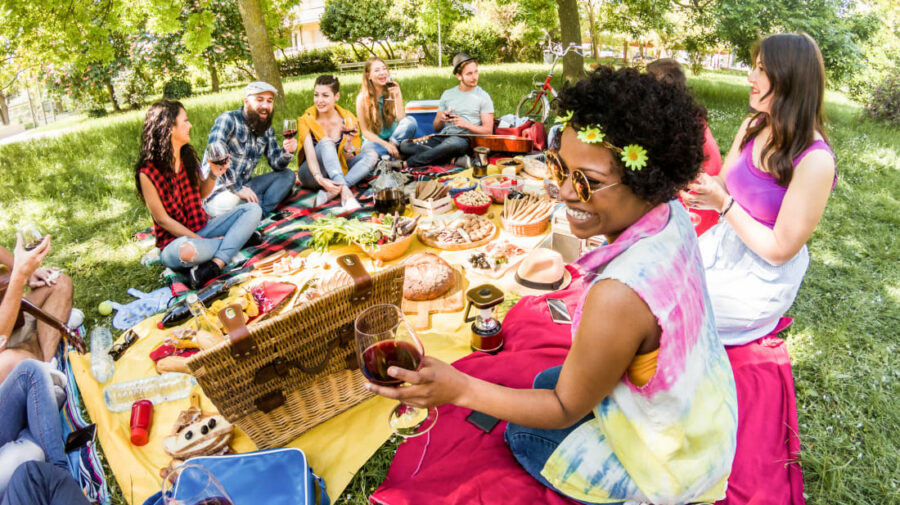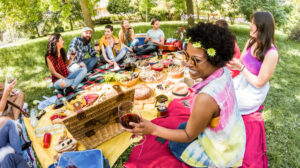 Here are 9 places in Minnesota that have the best views, environment, and conditions for a family picnic. These handpicked places are some of the most popular too.
Saint Croix Vineyards, Stillwater Minnesota
Saint Croix Vineyards is a beautiful place for people who love to enjoy things in old-school ways. At Saint Croix vineyards, you will find the best views and the best old-school feel because of their old-style picnic tables. If you want to grab some lunch without packing for one, you can do that too. The place is famous for its award-winning wines, so if you have a taste for wines, why not pack some glassware to enjoy them?
Park Point, Duluth Minnesota
Park point is most famous for its closeness to the great lake, which makes it very popular for summer recreation and swimming. Having great food after a tiring and fun session of swimming at a family picnic is one of the best things you can do. This point is a part of a 7-mile long sand dune extending from Canal Park in Duluth. The place also has a boat launch, BBQ grills, Picnic Tables, Public restrooms, parking, and a lot more.
BWCAW, Grand Marais Minnesota
If you wanna enjoy some time alone from the hustle and bustle of a crowded places along with your family, then the Boundary waters canoe area wilderness is the best place to do so. Stretching across 150-miles on the US-Canada border, this area is primarily accessible by Canoe. Canoeing adds to teamwork and activity on a family picnic, a meal is best enjoyed after hard work and activity. The place has been named under the '50 Places of a lifetime' by a national geographic traveler, and honestly, we cannot agree more.
Lake Harriet Park, Minneapolis Minnesota
Lake Harriet Park is a place that should pop up in your mind when planning a family picnic. All of this is because of the most suitable conditions it provides. In Lake Harriet park, you get stunning views of several lakes in a chain. You can also grab a super tasty meal at the restaurant. There is also a provision of summer movies and music concerts hosted by bandshells every day during summers. The timing during the weekday is 7:30 PM and on Sunday is 2:00 PM and 5:30 PM.
Carver park reserve, Victoria Minnesota
Carver park reserve Minnesota is a heaven in the wilderness. Situated between the twin cities, the park provides a splendid view of the lakes. The park holds in itself, the Grimm Farms historic site, King Waterbird Sanctuary, and Lowry nature center. If you are a fan of wildlife, then you'll be delighted to see the trumpeter swans, osprey, mink, white-tailed deer, and barred owls. Various activities like camping, biking, archery, skiing, boating, and many others are also available.
Franconia Sculpture Park, Shafer Minnesota
Franconia sculpture park is unique in itself, this place is one of the most popular among people and families who have a liking for art. The entry to this 43-acre park is free, and many sculptures around here are climbable too, you have no restrictions in coming close to these artworks. The park overlooks the beauty of the St. Croix river valley. 
Minnehaha falls park, Minneapolis, Minnesota
Do you ever look at all the natural beauty of this world and wonder, how did everything end up here. Well, one such thing of natural beauty is a waterfall, the Minnehaha falls park is located nearby downtown Minneapolis and has ample arrangements for a family picnic. The park provides special arrangements for family picnics in its upper parts, but if you want to enjoy the view of falls with your family, you can definitely hike down to the creek and find yourself a perfect spot for the view. The Seasakt eatery also offers awesome picnic special meals.
Itasca State Park, Park Rapids, Minnesota
Itasca state park is one of the oldest state parks in the US, which is blessed by the presence of the great Mississippi River. The sanctuary is spread across 32000 acres and offers fabulous views of nature. The place also has historical importance. The park holds more than 200 campsites within itself and its abundance of beautiful flora and fauna. A variety of lodging and accommodation facilities are available at the historic Douglas lodge that overlooks Mississippi headwaters.
The Commons, Excelsior Minnesota
If you love to enjoy everything in one place, then Commons is the best for you. The place offers everything from beaches, indoor activity courts, Picnic tables, outdoor recreation courts, and whatnot. The park is a perfect package for anyone wanting to enjoy a balanced picnic filled with all the necessary amenities. The Commons is one of the oldest places in Minnesota spread over 13 acres. The park also holds fantastic fourth of July celebrations, art fairs, organised sports, and many other fun activities.
The Bottom Line
Going out with family needs to be perfect, family picnics are supposed to be one of the most enjoyable activities with the family, you need to get these picnics right. The main purpose of these picnics is to allow you some quality time away from your hectic work life, and all the crowd. Make sure you be very careful while picking up the best place for a family picnic. The historical and beautiful state of Minnesota is one of the best to enjoy the natural beauty
Signup For Our Newsletter