Following a video he provided to radical environmentalist Greta Thunberg, Andrew Tate was recently arrested by Romanian law police on accusations of rape, human trafficking, and organized crime on Thursday.
After being detained on Thursday for alleged human trafficking, Andrew Tate is arrested in a Romanian jail cell.
Amazingly, he allegedly informed Romanian authorities of his whereabouts in a video in which he responded to environmental activist Greta Thunberg's vicious criticism of him.
Andrew Tate Arrested on Human Trafficking Allegations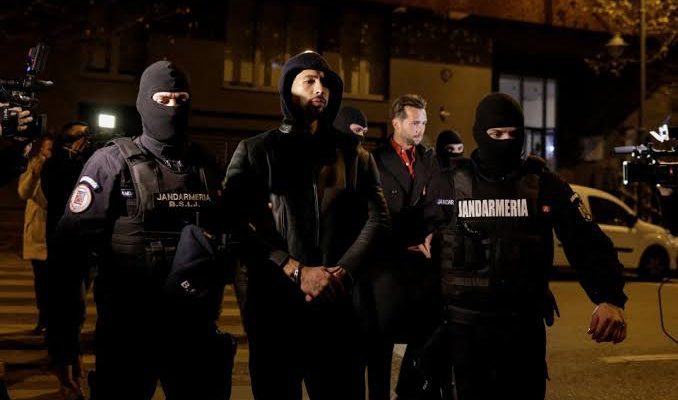 In case you missed it, earlier this week, Andrew Tate tried to tease Thunberg by bragging about the 33 automobiles he ostensibly owns.
Tate tweeted, "Please give your email address so I can send a detailed list of my car collection and their relative massive emissions."
Hello @GretaThunberg

I have 33 cars.

My Bugatti has a w16 8.0L quad turbo.

My TWO Ferrari 812 competizione have 6.5L v12s.

This is just the start.

Please provide your email address so I can send a complete list of my car collection and their respective enormous emissions. pic.twitter.com/ehhOBDQyYU

— Andrew Tate (@Cobratate) December 27, 2022
Yes, please do enlighten me, the 19-year-old Nobel Prize nominee retorted, taking him down with an utterly devastating attack. She tweeted, "Email me at smalld**[email protected]."
yes, please do enlighten me. email me at [email protected] https://t.co/V8geeVvEvg

— Greta Thunberg (@GretaThunberg) December 28, 2022
Tate and his brother Tristan were two of the four people who were detained on Thursday, according to the Romanian newspaper Gândul. Police raided five homes as part of an investigation into organized crime, human trafficking, and rape, according to a statement from Romania's Directorate for the Investigation of Organized Crime and Terrorism.
At least six women were allegedly held captive by the suspects in homes outside of Bucharest, where they were subjected to sexual assault and coerced into creating pornographic content for social media under threat of physical harm.
According to Reuters, Andrew Tate, his brother Tristan Tate, and two other males were found to have taken advantage of six women.
According to prosecutors, "The four accused… appear to have established an organized crime gang with the intention of hiring, housing, and utilizing women by compelling them to produce pornographic film intended to be viewed on specialized websites for a fee, and they would have made significant financial gains."
The Daily Mail stated that the women were allegedly exposed to "Physical assault and mental coercion" before being "sexually exploited by gang members by forcing them to perform pornographic demonstrations for the goal of generating and disseminating through social media platforms."
Greta Thunberg's Twitter Takedown Inadvertently Leads to Andrew Tate's Arrest for Human Trafficking
Semafor claimed that Tate sent Thunberg a video on Twitter that included pizza boxes from a restaurant inside the nation, which alerted authorities to the American's presence there.
Tate responded by including the pizza boxes in a film he made as a joke about Thunberg.
Thank you for confirming via your email address that you have a small penis @GretaThunberg

The world was curious.

And I do agree you should get a life ❤️ https://t.co/mHmiKHjDGH pic.twitter.com/SMisajQRcf

— Andrew Tate (@Cobratate) December 28, 2022
"We cannot at this time share any details regarding the claimed accusations that they have been detained," a Tate spokeswoman told The Daily Mirror.
"However, Andrew and Tristan Tate have the utmost respect for the Romanian authorities and will always support and help in any way they can.," further added.
In response, Tate used the pizza boxes as a joke in a movie he made about Thunberg.
There are rumors that the pizza boxes Tate used in his video reaction to Thunberg's tweet, which featured pizza boxes from Jerry's Pizza, a firm with locations in Romania, helped Romanian investigators find Tate.

Subscribe to Email Updates :