Top 20 Bengali Films You Must Watch; Best Bengali Films 2020 (Full List): India is a country of diversity in terms of religion, region, dance, language, etc. As there are lots of local and national languages which are spoken across the country, people love to get entertained in their own languages. Talking about entertainment it can be the TV or the film industry. These industries with a single language can't connect with and entertain every region and hence there came the requirement to establish the cinema or industries in the local speaking languages like Punjabi, Bengali, Kannada, etc.
Best Bengali Films 2020
Every region's cinema has its own importance like South movies has action and graphics, Punjab has humour while Bengali cinema has its best writings. Bengali cinema is also known as Tollywood as it is located in Tollygunge and Tollywood is a combination of Tollygunge and Hollywood. The Bengali films have been praised not across the country but internationally as well.
However, Tollywood is gradually declining as compared to Bollywood and South Indian cinema. If you are a fan of the Bengali film industry and love to watch its movies, then you can stream them online on the various OTT platforms like Hotstar, Netflix, etc.
Top 20 Bengali Films
There a long list of Bengali movies that can be watched, however, we have brought you the top 20 movies that you can search for and stream them online on various OTT platforms.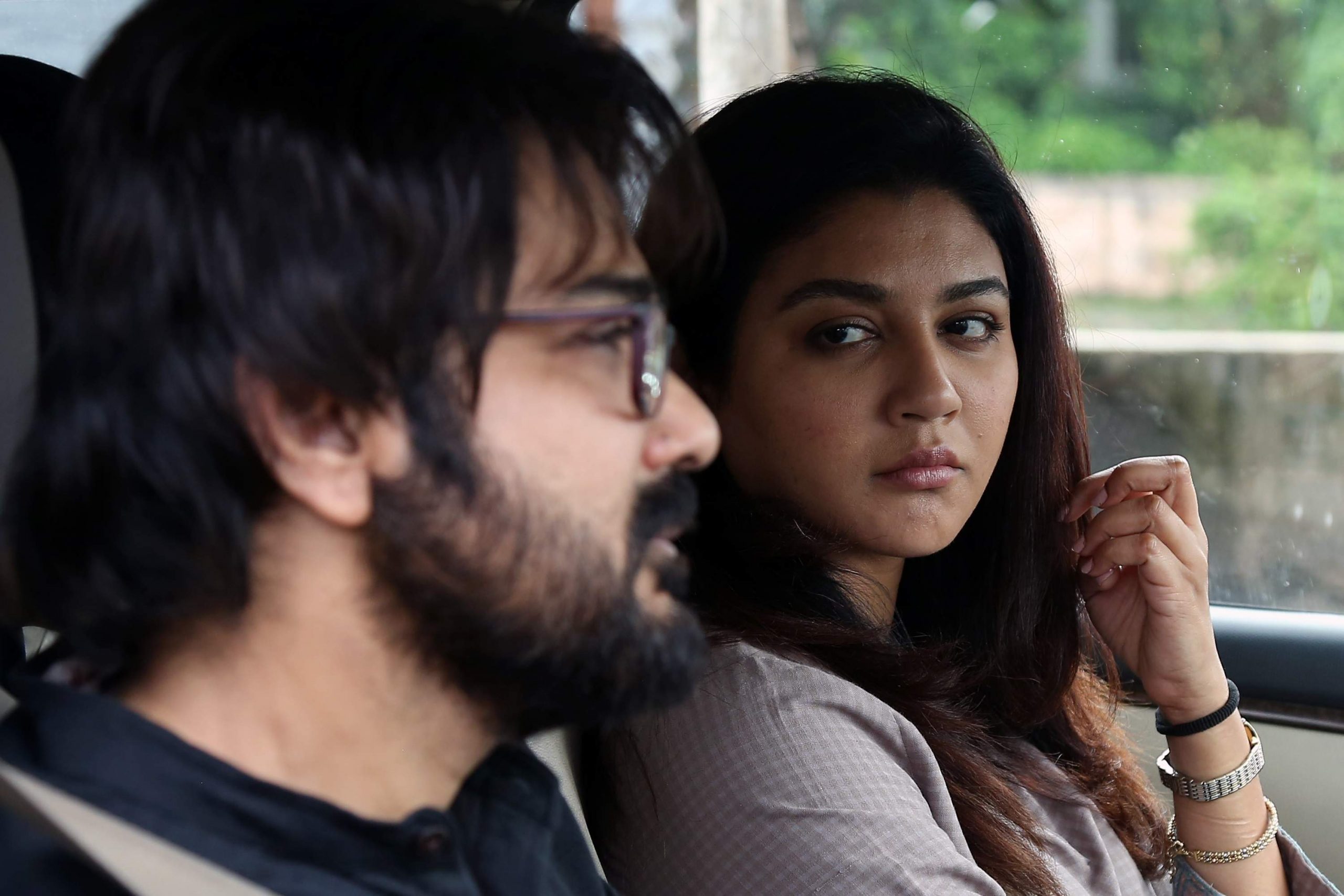 Robibaar: The movie 'Robibaar" is a romantic drama which has been directed by Atanu Ghosh and funded by Sandeep Agarwal and was released back on December 27, 2019. Jaya Ahsan and Prosenjit Chatterjee are in the lead roles. The story is based on the love-hate relationship of the characters and their meeting on a Sunday after 15 years.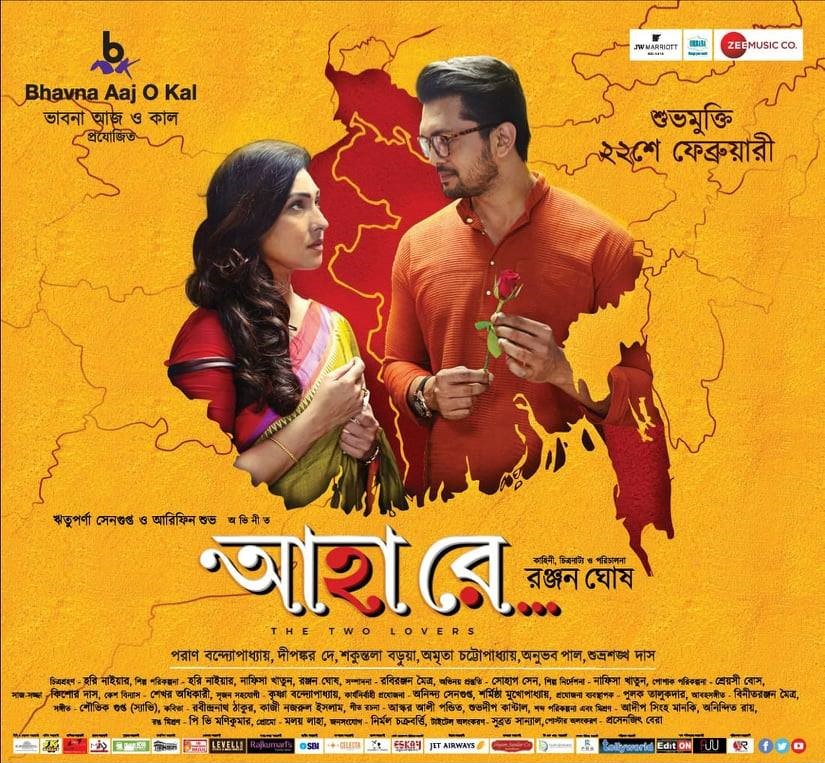 Ahaa Re: This movie is directed by Ranjan Ghosh with Arifin Shuvoo, Rituparna Sengupta, Amrita Chattopadhyay in leading roles. The story is about a chef from Dhaka who loves cooking and the owner of catering services. The film is a combination of emotions, romance, and food.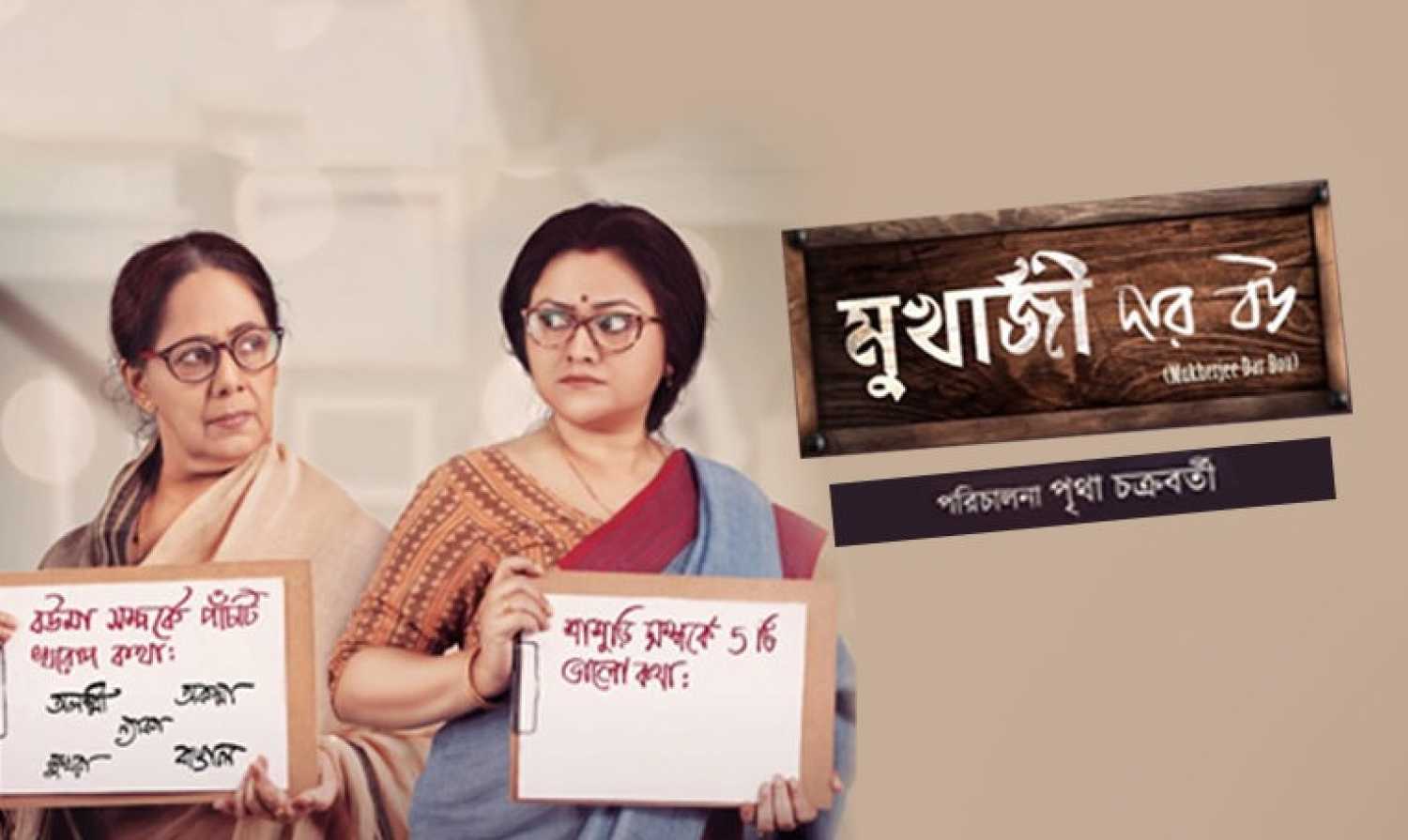 Mukherjee Dar Bou: It's a Pritha Chakraborty directed film that was released on the eve on International Women's Day. The film is about the relationship between a mother-in-law with her daughter-in-law focusing on the emotional scars and how love can heal them.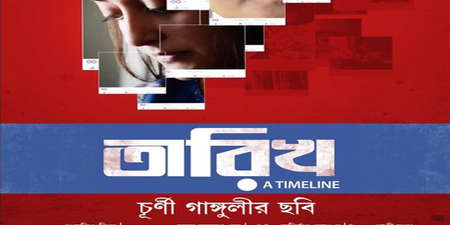 Tarikh: The film has been directed by Churni Ganguly while produced by Suparnokanti Karati starring Saswata Chatterjee, Ritwick Chakraborty, and Raima Sen. The movie was released on April 12, 2019, with the story revolving around three people, a professor, his wife, and his childhood friend.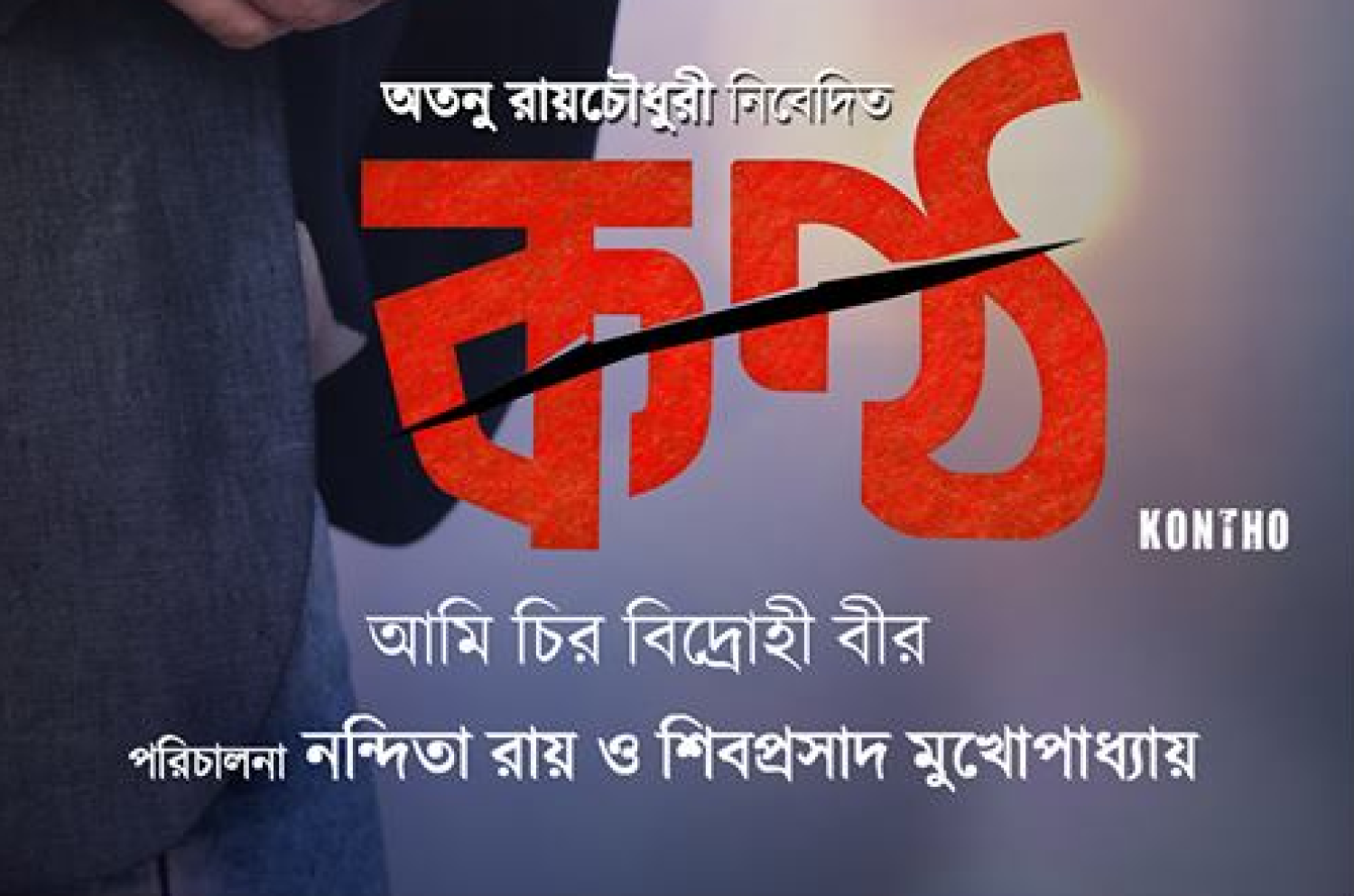 Konttho: This is a drama film directed by Nandita Roy and Shiboprosad Mukherjee with Shiboposad Mukherjee playing the lead role. The story was inspired from a cancer survivor, late Bibhuti Chakraborty. The survivor was a Radio Jockey and due to spreading cancer, doctors removed his vocal cords through Laryngectomy and he fought the survival battle and changed the lives of many people.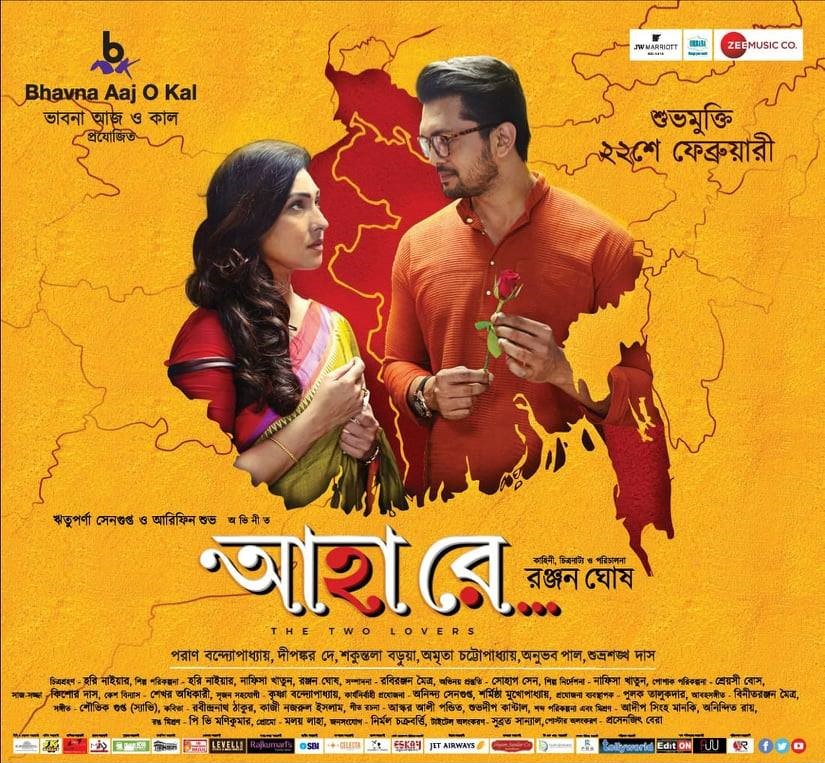 Kedara: Directed by Indraadio Dasgupta, Kedara was released on November 1, 2019, featuring Kaushik Ganguly, Rudramil Ghosh with debutant Indraadio Dasgupta. The story is about a ventriloquist who after separation from his wife, enacts different people and strike conversations with them to cope with his loneliness. His personality changes after finding an armchair which in turn changes his life.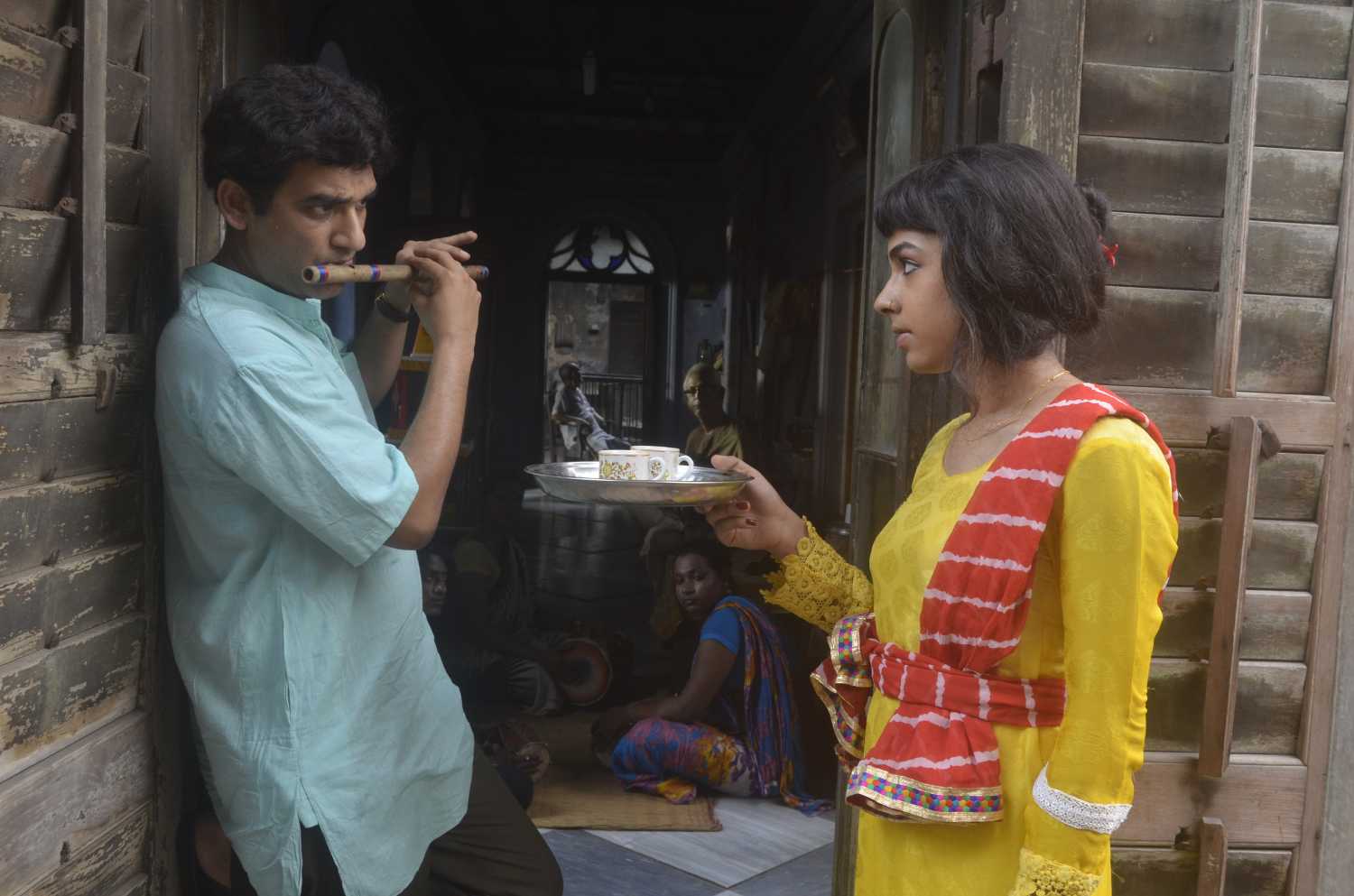 Nagarkirtan: Directed by Kaushik Ganguly, it is one of the best movies of Tollywood featuring Riddhi Sen who portrays a transgender woman from Bengal, and a Ritwick Chakraborty who is a flute player. The story is about two boys who fall in love and try to get money for a sex-change operation. It depicts the struggles of a transgender, their discrimination and injustice towards them.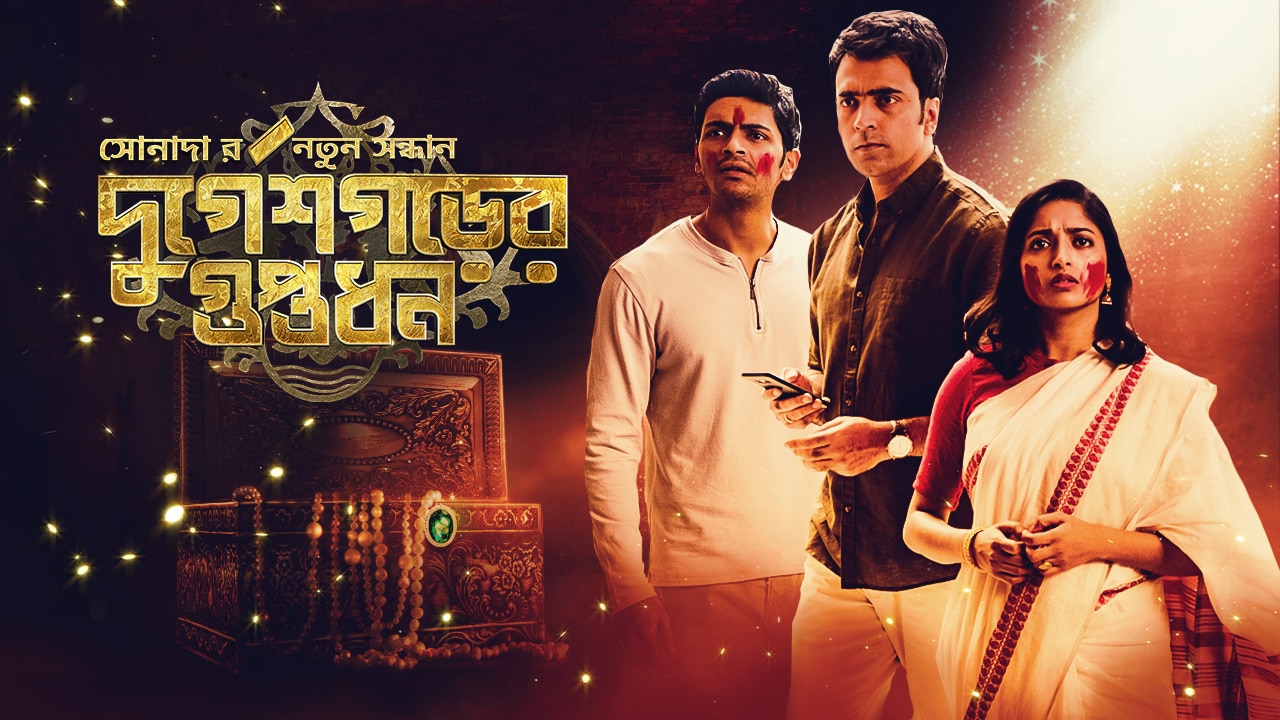 Durgeshgorer Guptodhon: This thriller movie has been directed by Dhrubo Banerjee and produced by Shrikant Mohta and is the sequel to GuptoDhoner Sandhane. The story is about a professor and his journey while unfolding the treasure of Bengal.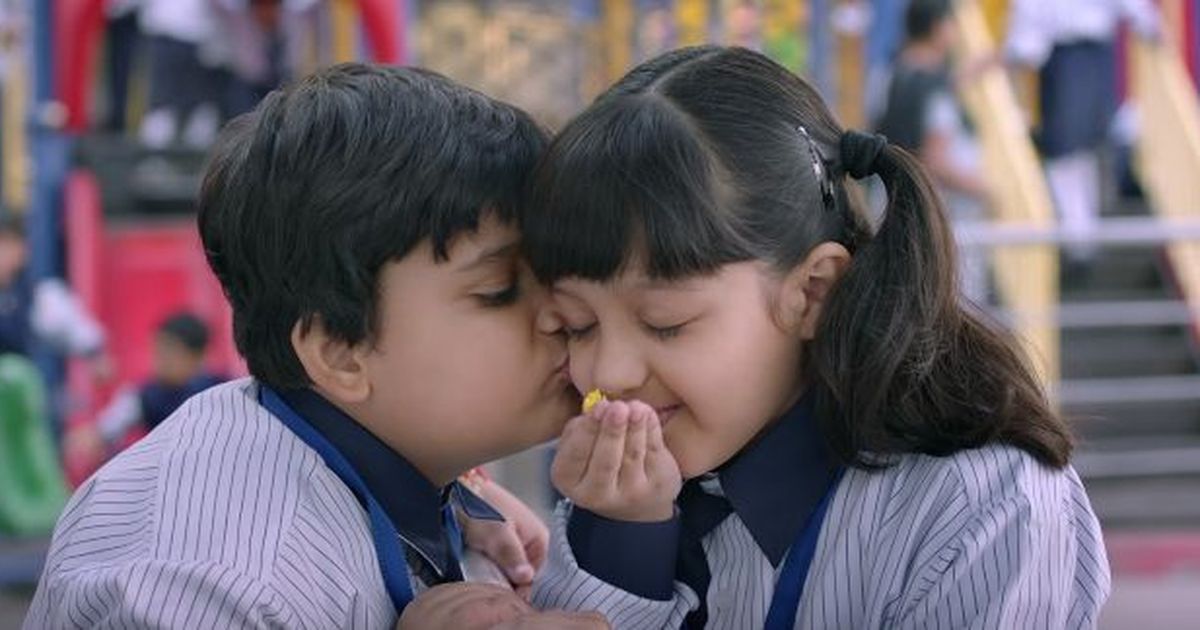 Haami: This movie was released in the year 2018 and was made under the direction of Shiboprosad Mukherjee and Nandita Roy. This story is about the friendship of two class 1st students in a co-ed school that was not like by their parents due to their conventional views.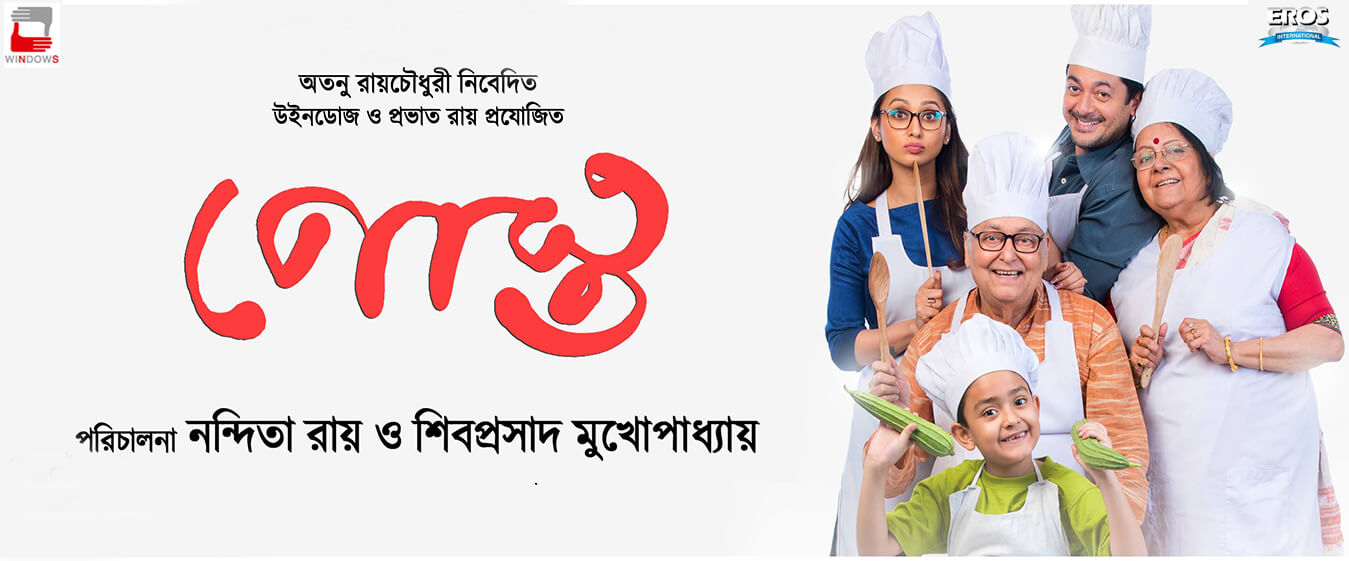 Posto: This film was released in 2017 and was made under the direction of Shiboprosad Mukherjee and Nandita Roy. The movie is about a boy named Posto who lives with his grandparents and the parents try to take him abroad with a courtroom drama.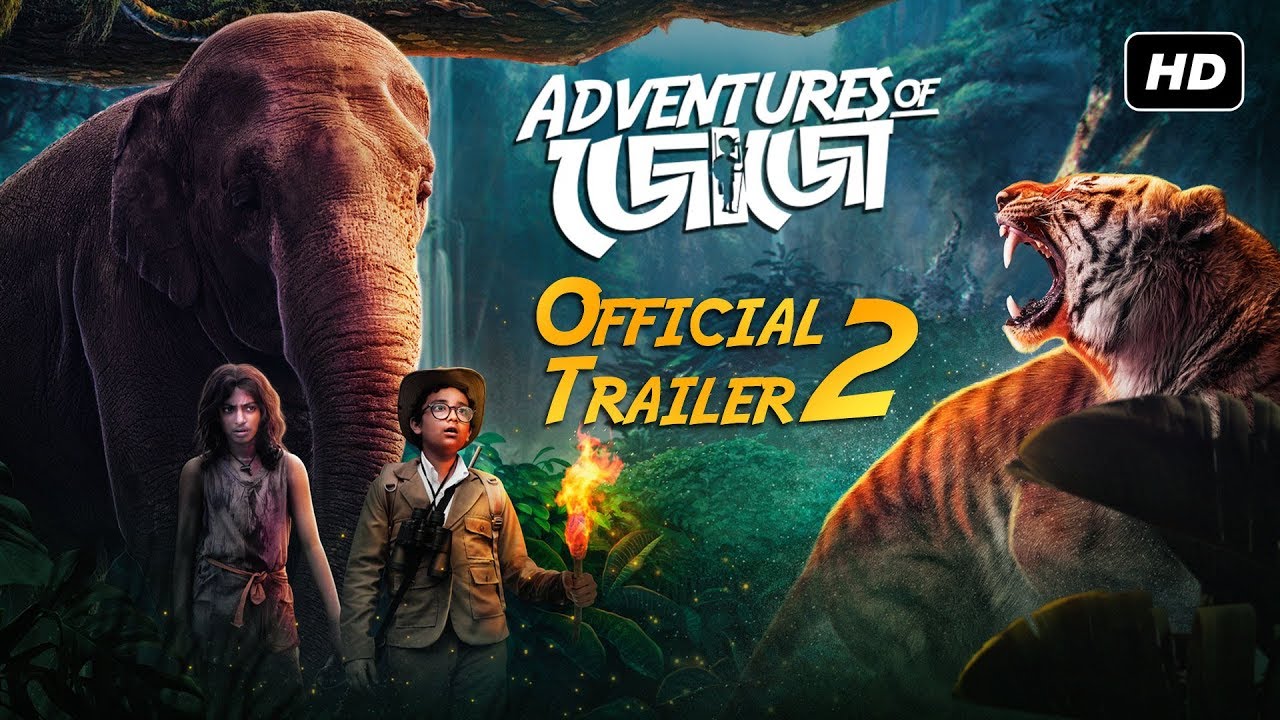 Adventures of Jojo: This adventure film is directed by Raj Chakraborty and revolves around a 12-year-old boy who resides in Kolkata but shifts to Arunanchal Pradesh. The story depicts the poaching issue in India.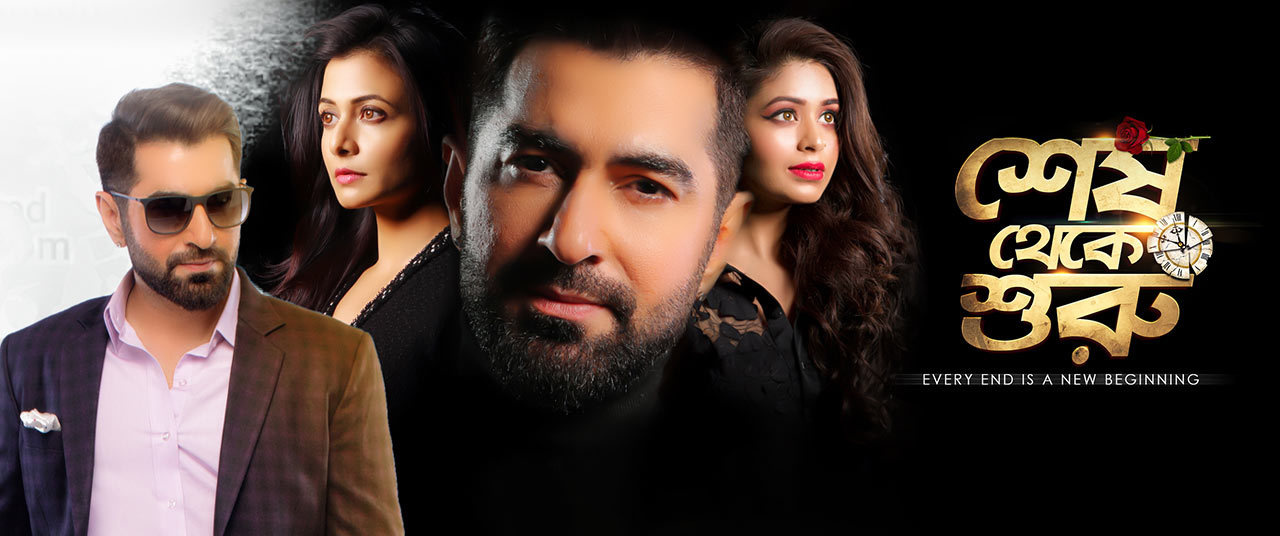 Shesh Theke Shuru: This action drama directed by Raj Chakraborty released in 2019, featuring Jeet, Koel Mallick, and Ritabhari Chakraborty in lead roles. The movie was based on novel Water and Fire.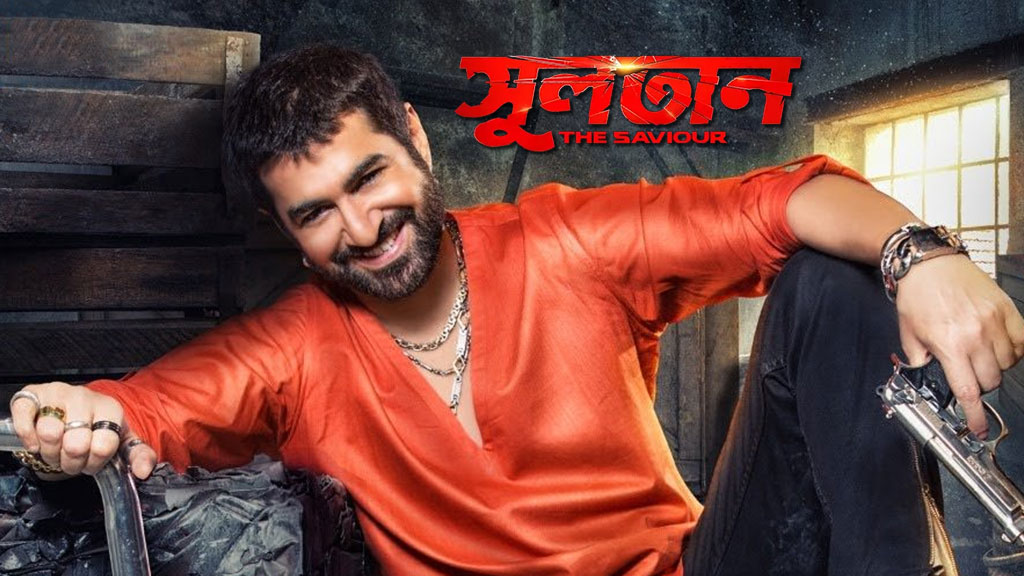 Sultan: The Saviour: Directed by Raja Chanda, the film's cast includes Jeet, Bidya Sinha Mim, and Priyanka Sarkar. The movie was released in 2018 and is a remake of the 2015 Tamil movie Vedalam.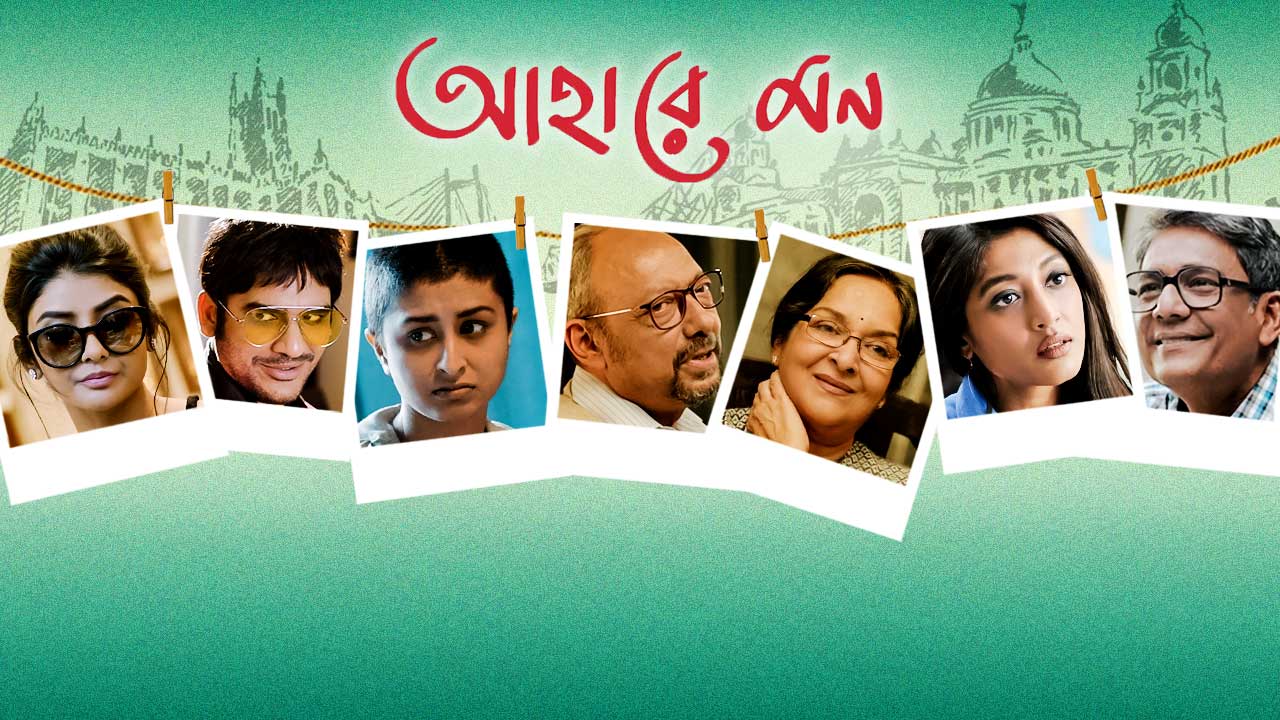 Ahare Mon: Directed by Pratim D Gupta, the movie was released in 2018, starring Anjan Dutt, Mamata Shankar, Paoli Dam, and Chitranganda Chakraborty. It is a story of interconnected love stories.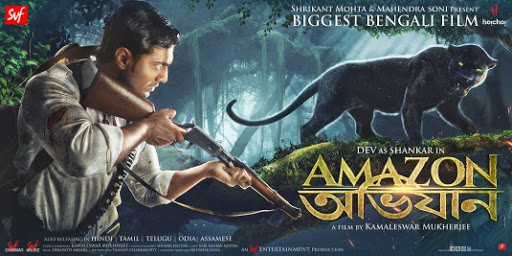 Amazon Obhijaan: Directed by Kamaleshwar Mukherjee, the movie stars Dev, and is a sequel to the movie Chander Pahar. The movie was released in 2017 and released in many languages like Tamil, Telugu, Odia, Hindi, and the Assamese. The story revolves around a boy who is approached by a girl and her father to find the city of Gold in Amazon.
Manojder Adbhut Bari: It is a drama-comedy movie based on the novel of Shirshendu Mukhopadhyay. The movie was released in 2018 and stars Soumitra Chatterjee, Sandhya Roy, and Abir Chatterjee. It is a story about a joint family who is crazy.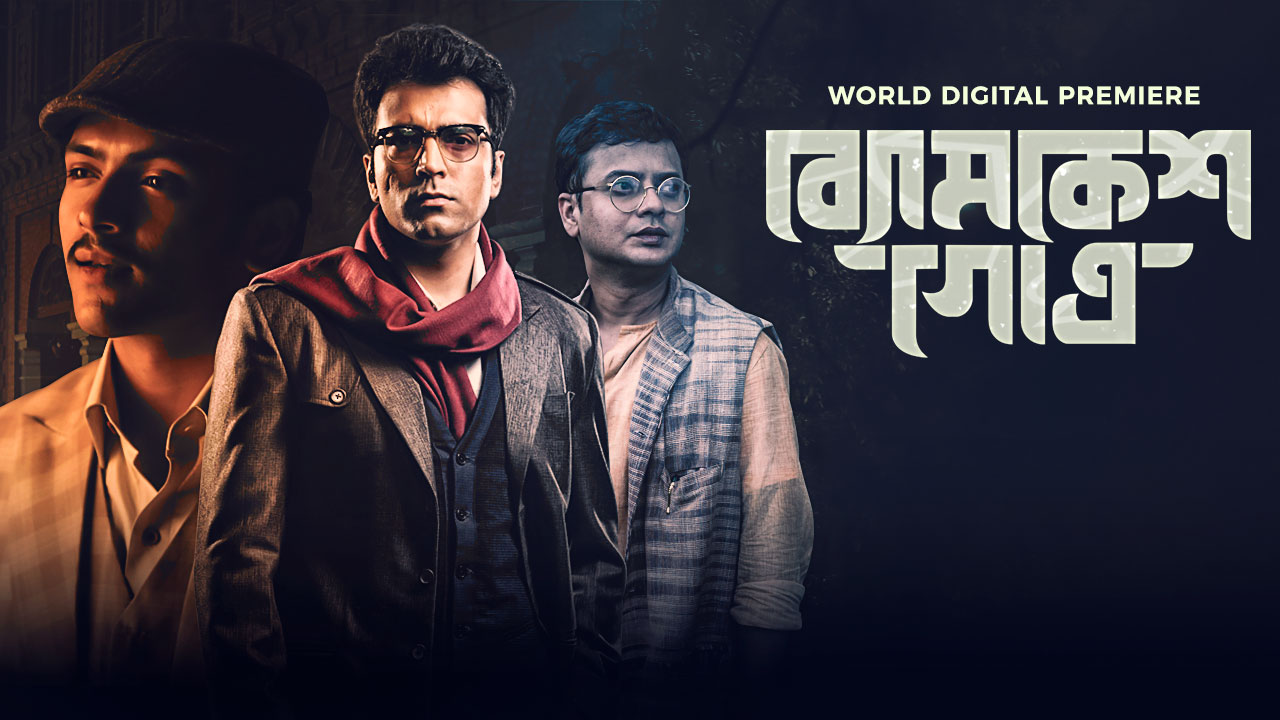 Byomkesh Gotro: It's a thriller film based on the Byomkesh Bakshi series that was released in 2018.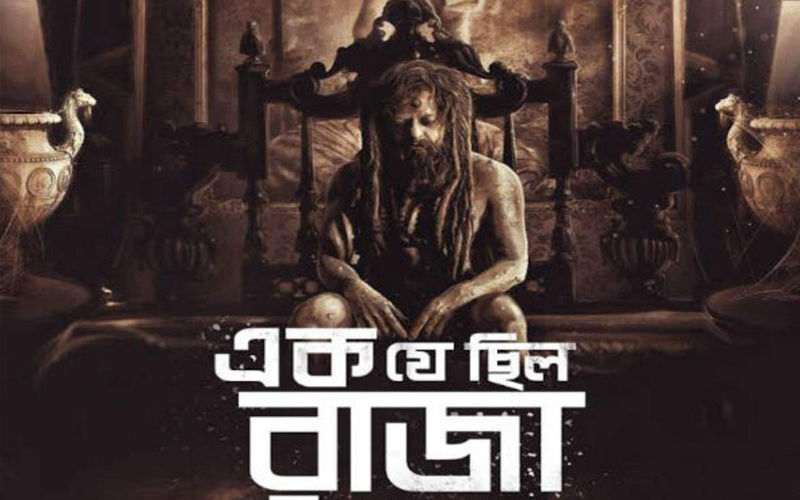 Ek Je Chhilo Raja: This Bengali drama film has been made under the banner of SVF Entertainment starring Jisshu Sengupta, Jaya Ahsan, Aparna Sen, Anirban Bhattacharya, Anjan Dutt, and many more.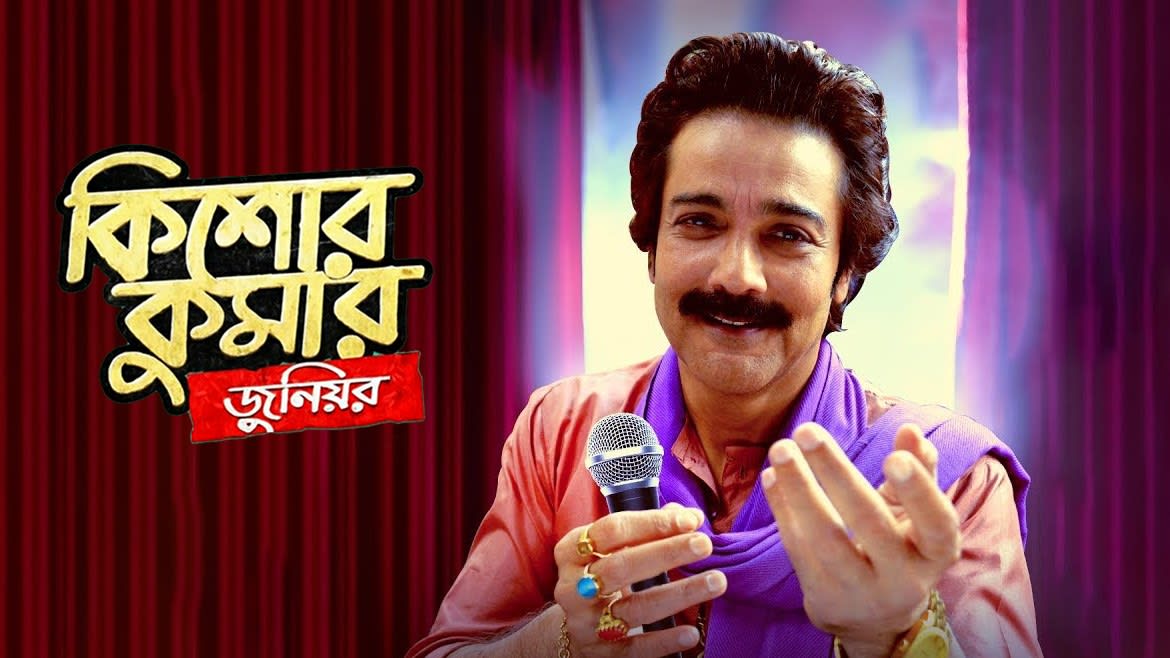 Kishore Kumar Junior: Directed by Kaushik Ganguly, the movie stars Prosenjit Chatterjee and Aparajita Auddy. It is a story of a boy who likes to sing the songs of Kishore Kumar. He along with his family got abducted by Pakistanis from Rajasthan and how the boy struggles to save his family.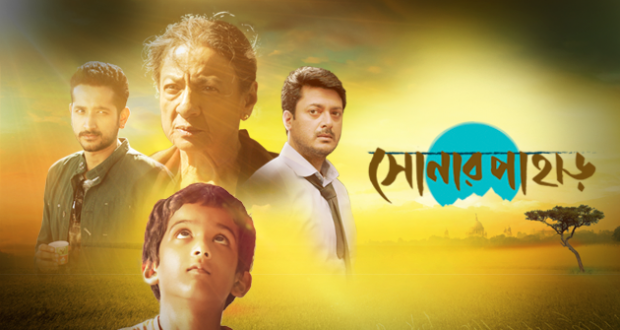 Shonar Pahar: Directed by Parambrata Chattopadhyay, Sonar Pahar was released in 2018. It's a story of Upama, a retired school teacher living alone who disappears with an orphan and how her estranged son tries to find them.

Subscribe to Email Updates :