South Dakota is a state with mountains, prairies, and lakes. Hiking in different parts of the state offers different experiences. Wear layers, pack binoculars, wear comfortable hiking shoes, and fill a canteen with water. Your gear is complete with a lightweight day pack. You should make sure your body is acclimated to the area to avoid altitude sickness. While hiking the trails in South Dakota, be aware of your surroundings at all times.
Recreational Trail And Greenway Along The Big Sioux River- Sioux Falls
The 22-mile paved trail makes it an easy hike for anyone who needs a level path. Outdoor enthusiasts will enjoy the Big Sioux River Recreational Trail and Greenway. The trail winds around the city of Sioux Falls and through several city parks, including Falls Park.
You will want to take time to enjoy the falls of the Big Sioux River here. It is an ideal scenic trail that also embraces the state's urban lifestyle. Thus, you can enjoy a city surrounded by nature.
Recreation Area on Farm Island- Pierre
Farm Island Recreation Area is an outdoor enthusiast's dream, which naturally includes hiking. There are eight miles of hiking trails on the island, providing tranquility while observing nature. Be sure you have your binoculars and birding books on hand. Look for beaver activity near the water's edge. You may see one on your hike if you're lucky.
It is a relatively level outdoor hiking area. Since the ground can be soft in some places, hikers need to be steady on their feet. Pack a picnic lunch and a blanket. You could call this the hike of a lifetime after your Farm Island excursion.
Lake Mina Recreation Area – Aberdeen
During the summer months, Mina Lake Recreation Area offers watersports and hiking opportunities. Shake Maza Trail is approximately three-quarters of a mile long. Gravel and limestone make up its composition. The level is easy. You can do this after setting up your camper or taking your boat out on the lake to connect with nature.
There are numerous educational stations along the trail, so you can also learn a lot about the area. The prairie, boxelder trees, and chokecherries can all be seen during peak times of the year. During the fall and winter, birds nest in chokeberry thickets. Hiking this trail is a peaceful way to connect with nature and is suitable for most people.
Badlands National Park- Notch Trail
There are many hiking trails in Badlands National Park that range from easy to strenuous. The round-trip distance of Notch Trail is 1.5 miles. You will wander through a canyon and follow a ledge to "the Notch" for a stunning view of the White River Valley. Trailblazers will want to climb the long ladder.
The hike begins from the south end of the parking lot for Door and Window. Because the area is steep, you will want to stay on the track. This trail is not recommended for those who are afraid of heights. The hike is moderate to strenuous but is well worth it if you're physically fit. You will need plenty of water for a walk-in Badlands National Park. The air is very dry, and summer can be sweltering.
Mount Rushmore – Presidential Trail
One of the favorite places in South Dakota is Mount Rushmore. Several hikes in the area and the 0.6-mile loop trail at this national monument are accessible from either side of the viewing deck. The signage is visible, so it is easy to find. The path itself is easy, but it does have a few steps. If you are lucky enough, the mountain goats that frequent the area will appear for a photo opportunity.
Stop at the benches along the trail to enjoy the views. This busy trail offers a variety of angles and perspectives of Mount Rushmore. Mount Rushmore is free to visit, but there is a parking fee. If you have already paid, you will be able to park for one full year after purchase.
The Black Hills' Black Elk Peak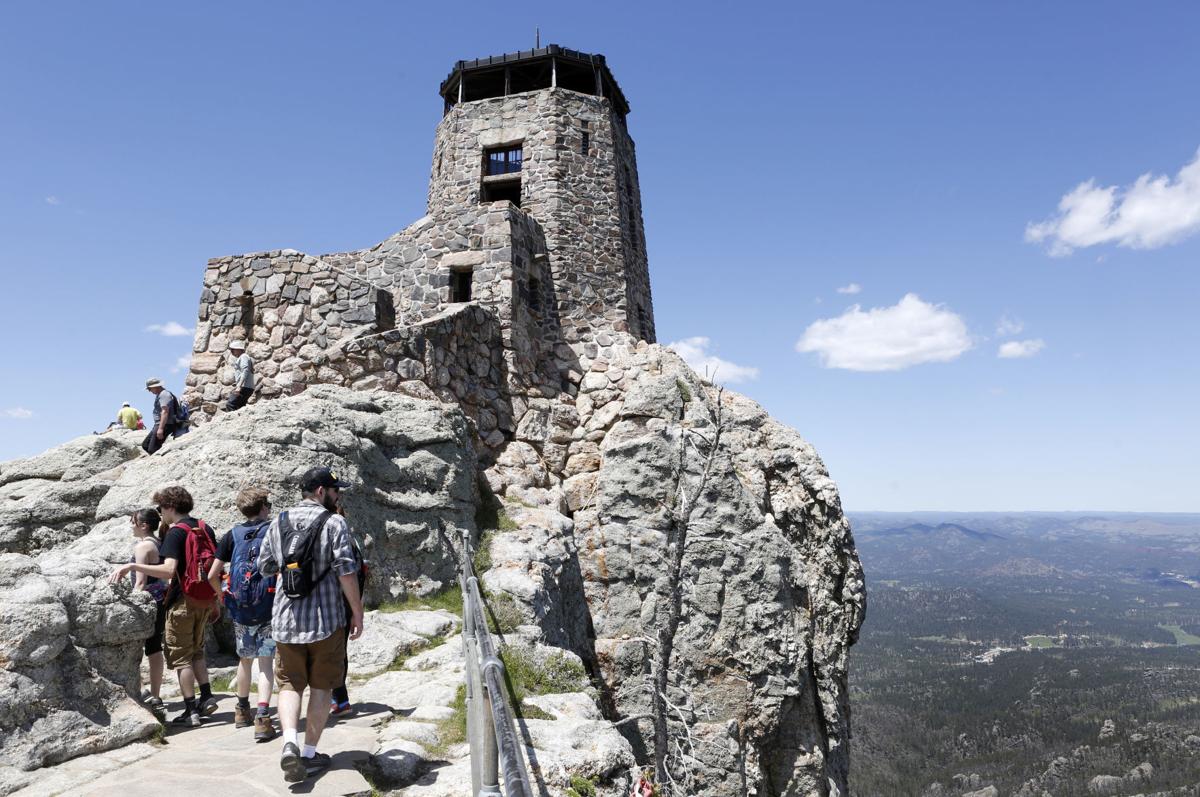 This is the best hike in South Dakota. Check out TravelAwaits' picks for the best hikes in all 50 states here. Harney Peak, formerly known as Black Elk Peak, offers beautiful views of the Black Hills. The 3.5-mile hike to the summit begins at 6,200 feet and gains 1,100 feet in elevation. Start your hike at Sylvan Lake and enjoy the view. The lake is beautiful. It's important to know that the trailhead is in Custer State Park, and you will need a parking pass to hike this trail. Summer is the busiest time of year for this course, and it is also the most beautiful time to hike. Near the top, you will walk through a pine forest and go through several switchbacks. Enjoy the view from over 7,200 feet once you reach the summit.
Custer State Park – Sylvan Lake Trail
The best and most beautiful lake in the Midwest is Sylvan Lake. If you prefer a more leisurely hike, you can begin a hike around the lake from here. Summer months can be hectic along this trail, which is a little more than a mile long. Get on this trail early in the morning before large groups of people arrive. The course is relatively level, but it is rocky in some places. The view of the lake from all sides is truly breathtaking. You will be able to take photos of the blue summer sky in the reflection of the lake.
In this area, the air and water are clear and reflect the natural beauty. The trail is mostly flat and is a loop. The views from this trail are equally impressive on sunny and cloudy days. You will need a day pass for Custer State Park to hike Sylvan Lake.
Spearfish Canyon Nature Area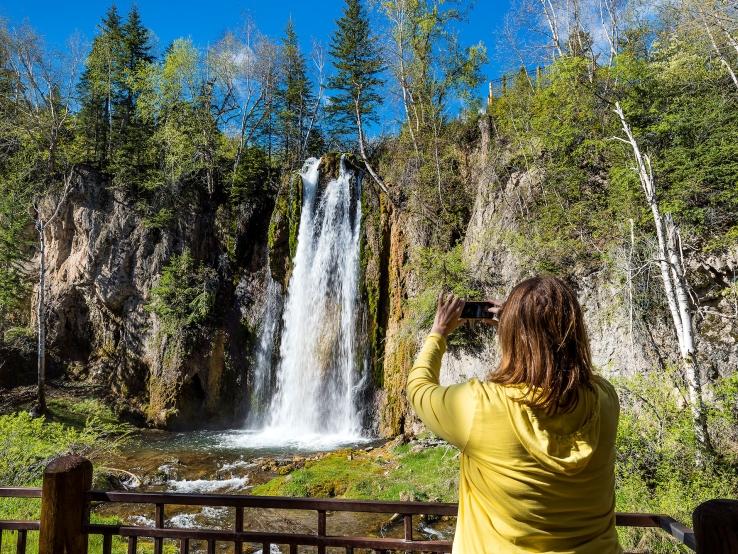 One of the most beautiful areas in South Dakota is Spearfish Canyon. Located on the western edge of the Black Hills, it is home to numerous waterfalls. Roughlock Falls, Spearfish Falls, and Savoy Pond are popular hiking destinations. In this area, birding is also very popular. They are often spotted in the American dipper, a stocky, gray bird. Fall is a beautiful time to visit, as the golden and red colors are fantastic.
With the lush greenery and the beautiful water views, summer is the busiest period, but it is also the most beautiful. Picnic tables and vault toilets are available in the area. It will be easier to find a picnic table before or afternoon if you eat your picnic lunch before or afternoon. There is no fee to access this area or enjoy the hike.
Tips for hiking in South Dakota
Taking from north to south and east to west, South Dakota is a beautiful state. Many hiking trails in the state will leave you speechless. Wide-open skies and prairie will transport you to a simpler time. Likewise, the ruggedness of the Badlands and the Black Hills will impress you. In South Dakota, you could spend all year hiking in different areas.
Conclusion
Thank you for spending your time reading this, hope you did enjoy reading this; visit our website and discover more about greater topics in the rundown. Also don't miss the opportunity of getting inspired by such successful people and other updates.

Subscribe to Email Updates :