Burning Kabaddi Release Date, Plot, New Cast Announcement, and Other Details: A piece of good news for Indian Weebs out there. A sports anime based on an Indian Sport is going to come out in 2021. Burning Kabaddi is an upcoming anime based on the manga of the same name. Hajime Musashino is the writer of the manga. The anime was announced back in July, and fans are hyped about it. The Anime industry had a really big fanbase in India, too, and getting this anime is motivating for them.
Kabaddi is a very popular sport in India, and it is a clear indication that it is a try to increase India's Indian fanbase. This is good news. It shows that the anime industry is looking towards India as a potentially big market, and that means more and more anime will come to India. Now let's take a look at all the things we know about the anime as of now.
Burning Kabaddi Plot
The story revolves around a first-year high school student, Tatsuya Yoigoshi, who was a soccer player. He left soccer due to his dislike of sport in general. After that, he got an invitation to join the kabaddi team, but he declines the invitation at first. But his whole viewpoint changes when he saw a session of kabaddi practice. What started as a normal interest will turn into an amazing story of sheer will, determination, and hard work. With his teammates and friends, Tatsuya will go on and challenge the best the kabaddi has to give on the highest stage of them all.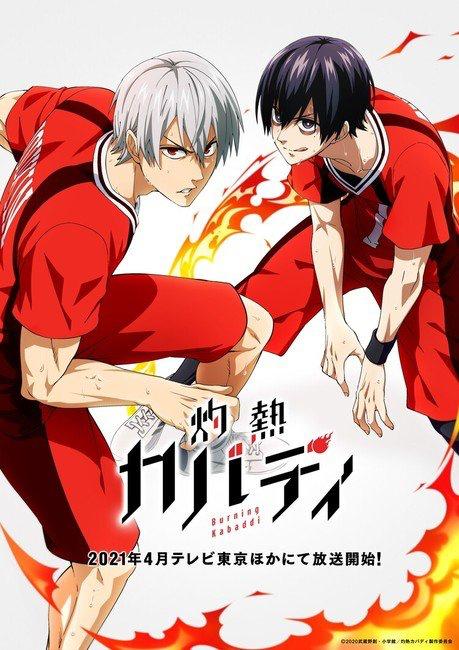 Burning Kabaddi Release Date
The anime will come out in April 2021. No specific release date is announced, but considering everything, the anime should come out in April's first week. So, keep an eye out here on Worldwire, as we will update you as soon as some information is released.
Burning Kabaddi Cast
The official website of the upcoming anime announced a new cast member on Tuesday.
Cast:
Tatsuya Hoigoshi Voiced By Yuma Uchida
Masato Ojyo Voiced By Nobuhiko Okamaoto
Soma Azemachi Voiced By Gen Sato
More cast members will be announced later and we will update you as soon as some information is released.
The anime is produced by TMS Entertainment and directed by Kazuya Ichikawa(Clean Freak! Aoyama Kun). Yuuko Kakihara(Digimon Adventure) and Midori Gotou are in charge of the script. Mari Takada will handle the character designing and Shoji Hata will be inchah=rge of the sound. And Ken Ito will compose the music.
Burning Kabaddi Where To Watch
As of now, there is no announcement regarding where to watch the anime. But we will update you as soon as there is an announcement.
Burning Kabaddi Preview
An anime announcement teaser was released back in July. The teaser got a lot of positive reviews and fans loved it. A new key visual was also released by the official site of the anime on Tuesday.

Subscribe to Email Updates :