Are you thinking to visit Capital One Arena and wants to know the complete details about the parking process and system, then this Capital One Arena Parking Guide is a great fit for you.
Capital One Arena is a premier sports and entertainment venue in the heart of Washington DC. It is an $8.5 billion redevelopment that began 20 years ago when the arena was built and opened on Dec. 2, 1997. Indoor arena Capital One Arena, originally Verizon Center, is located in Washington, D.C.'s Chinatown district. 601 F St. NW is the exact address you need to follow for driving instructions. The Washington Wizards and Washington Capitals call it their home. It also accommodates a variety of fun activities and musical performances. The Washington Metro is a simple way to get to Capital One Arena because it is conveniently positioned at the Gallery Place rapid transit station.
Capital One Arena Parking:
If you make reservations in advance, locating nearby Capital One Arena parking at affordable pricing will be simple. Numerous public parking lots nearby provide event parking services and affordable parking fees. Additionally, you can qualify for a discount if you reserve a parking space in advance! The official Capital One Arena parking garage is located at 6th St. NW, directly below the arena. However, garage parking is only accessible for musical performances; it is not open to the general public for Washington Capitals or Wizards games.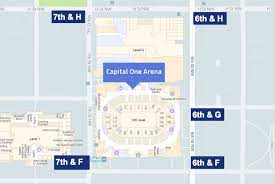 This car park is open 90 minutes before the event starts and closes an hour after it does. When going to a basketball or ice hockey game at Capital One Arena, you'll need to find a self-parking because the big parking garages are only open for concerts. A nearby parking garage is a great event parking substitute that lowers costs if you don't mind a short walk. Any tourist can locate parking at Capital One Arena that is within their price range. Online listings for covered parking garages and valet parking are available, with starting rates of $9.
The flat Capital One Arena parking rate in the official parking garage is 30 USD. Capital One Arena Box Office and garage parking accept MasterCard, Visa, American Express, and Discover debit/credit cards.
History of this Venue:
Between 6th and 7th and F and G Streets, the block where this area is now built was previously a place with a mixture of homes and small businesses. It was experiencing urban degradation by the 1960s, much like the eastern portion of Downtown Washington. The District government purchased the land in 1973 to redevelop it while the Gallery Place Metro station was built below it. To develop the property with a planned mixed-use complex that includes shops, offices, residences, and a hotel, Capital Landmark Associates was chosen in 1979. The majority of the remaining structures on the property were destroyed in 1985. The project dragged on for many years without happening, and it was finally abandoned in 1992.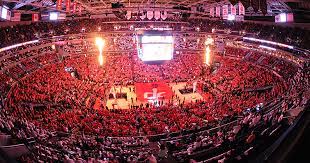 Pollin and the District of Columbia agreed to build an arena at the site of Gallery Place, with the District paying for the $150 million project. The arena was intended to have shops, restaurants, and exhibits for daily use even when there were no arena events. A group of Washington business leaders mediated the agreement. The D.C. Council approved a special tax on businesses to pay for the agreement. Robert Johnson, the president of Black Entertainment Television, quickly put out a counterproposal, offering to finance the construction of the arena primarily through private sources.:
Capital One Arena Parking Guide for the disabled:
In addition to offering several amenities pertaining to accessible seating, the Capital One Arena parking complex offers handicapped parking in its designated parking structure. A disability parking permit, licence plate, or placard must be shown in the vehicle when parking in a specified space. There are standard parking fees. Call (202) 661-5065 to secure an ADA space or for further information.
Tailgating at Capital One Arena
Before a game, many individuals love pulling into a parking lot and tailgating with friends. Sadly, it is not permitted to tailgate at the former Verizon Center. You may still have fun even before or after a Capitals or Wizards game! Visit a pub and have some food or beverages after parking. The top bars around Capital One Arena that can be appropriate for you are listed here. Penn Social, Penn Quarter Sports Tavern, Clyde's of Gallery Place ChopHouse & Brewery, and Rocket Bar are some of the places near the arena where you can go.
How to reach Capital One Arena?
Using Metro is the best and easiest method to get to Capital One Arena and avoid looking for inexpensive parking. Green, Red, and Yellow Metro lines all stop at the Gallery Place-Chinatown station, which is situated just beneath Capital One Arena. A short distance from the arena, there are three other stations: Judiciary Square, Metro Center, and Archives-Navy Memorial Penn Quarter Station. The Red, Silver, Blue, and Orange lines all stop at Metro Center. For more information, contact Metro at (202) 637-7000.
Metro Hours:
Mon – Thurs: 5:30 am – Midnight
Fri: 5:30 am – 2 am
Sat: 8 am – 2 am
Sun: 8 am – Midnight
The Washington Wizards, Capital One Arena, and the Washington Capitals have official ride-share partnerships with Uber, which is an excellent option for public transit (the Metro). Use your app to quickly schedule the ride, then select the pickup location between 6th and 7th St NW. The best way to save money is to share your ride.
Also Read: FLA Live Arena FL Parking Guide
Directions to Capital One Arena Parking
1. When approaching Washington from the south of Richmond, Virginia, take I-95 North and then the I-395 North exit. Turn left onto US-1 and follow it to the 14th Street bridge as the route splits as it approaches the bridge. Stay on 14th Street NW after crossing the bridge, then take a right onto Constitution Ave NW. Capital One Arena is located at the intersection of F and 7th Streets NW; turn left onto 7th Street NW.

To access I-66 East from Washington Dulles International Airport, turn onto the Dulles Access Road. Take the US-50 East/Constitution Ave NW exit as you continue on US-50 East/I-66 East. Keep going straight to turn left onto 7th Street NW from Constitution Avenue NW. At F and 7th Streets NW, there will be a Capital One Arena.

To get to I-195 West from Baltimore-Washington International Airport, take the Airport exit and then a slight left. Use the MD-295 South (Balt/Wash Pkwy) ramp toward Washington. Take 295 South in the direction of Washington, then take a right onto US-50 West. As 50 West becomes New York Avenue NW, keep travelling on it. Capital One Arena is located at F and 6th Streets NW; turn left onto 6th Street NW.

Take the George Washington Memorial PKWY north and exit the I-395 North exit to head into Washington from Ronald Reagan National Airport. Keep left onto US-1 and follow to the bridge over 14th Street, where the route splits. Directions from here are the same as those from locations south of Richmond, Virginia.
Final Words:
If you are satisfied with this Capital One Arena Parking Guide then appreciate our efforts by sharing this article. You can ask any questions regarding Capital One Arena and we will love to help you out.

Subscribe to Email Updates :