January 6th, 2022, marks the completion of one year since Trump supporters took Capitol Hill by storm, attacking officers and destroying parts of the building in what was a stunning display of insurrection.
The riot took place on January 6, 2021, as Congress was meeting to certify Joe Biden's victory in the 2020 presidential election. The Capitol was put on lockdown, and it took several hours for it to be secured. Lawmakers evacuated the House and Senate chambers. Vice President Mike Pence was also moved to a safe location.
The pandemonium that reigned led to the deaths of multiple people on the day of the attack or shortly thereafter. Several officers who responded during the Capitol attack later committed suicide.
January 6 Capitol Riot images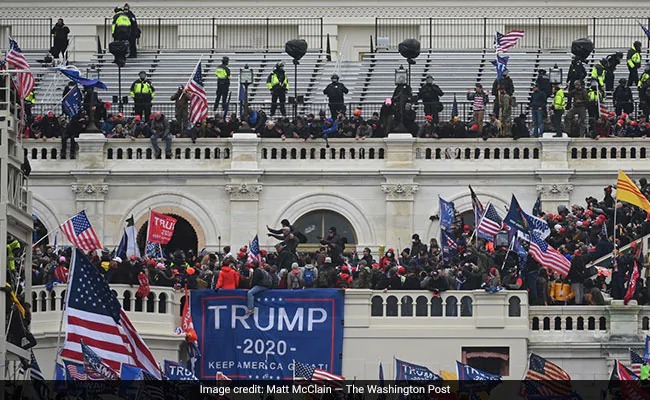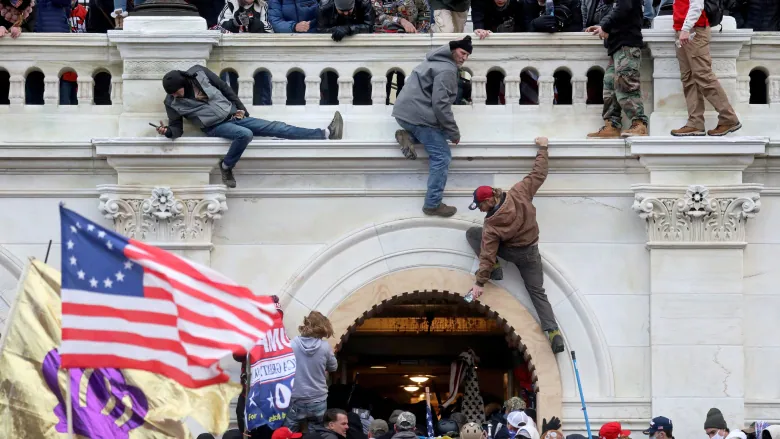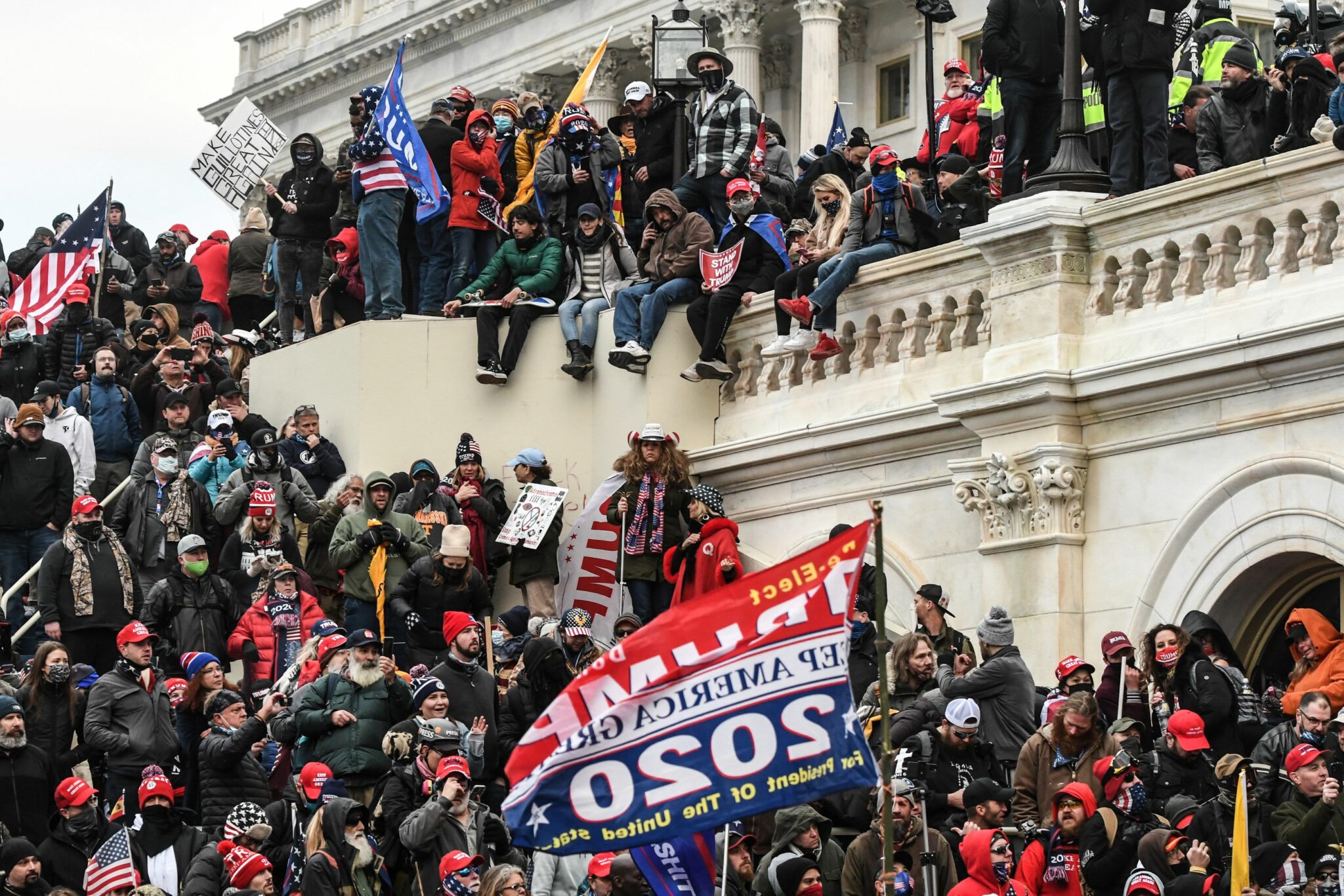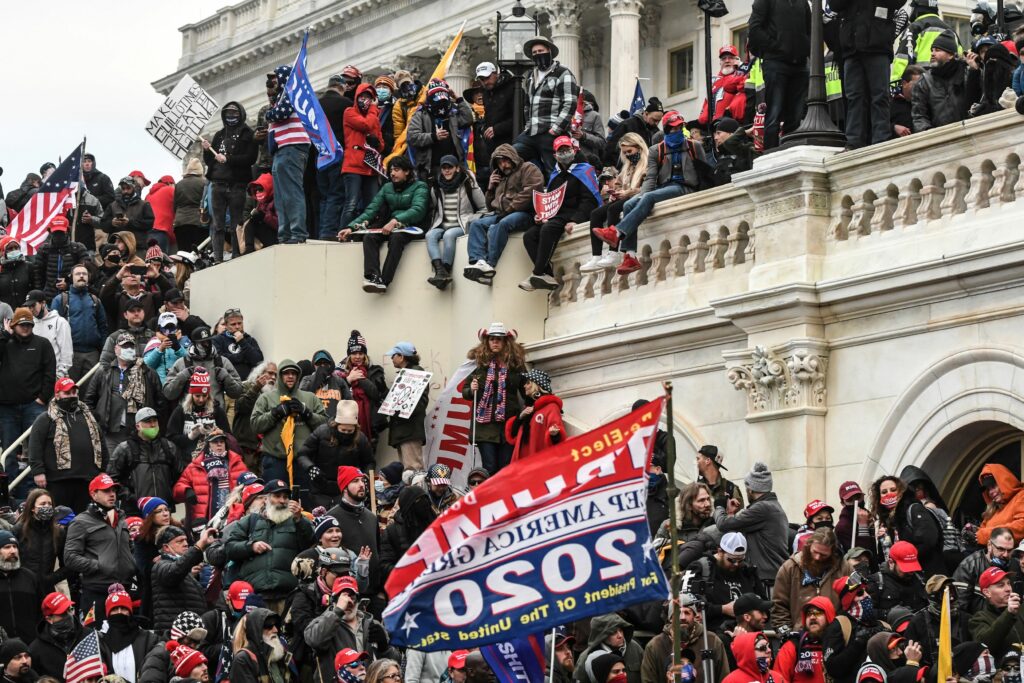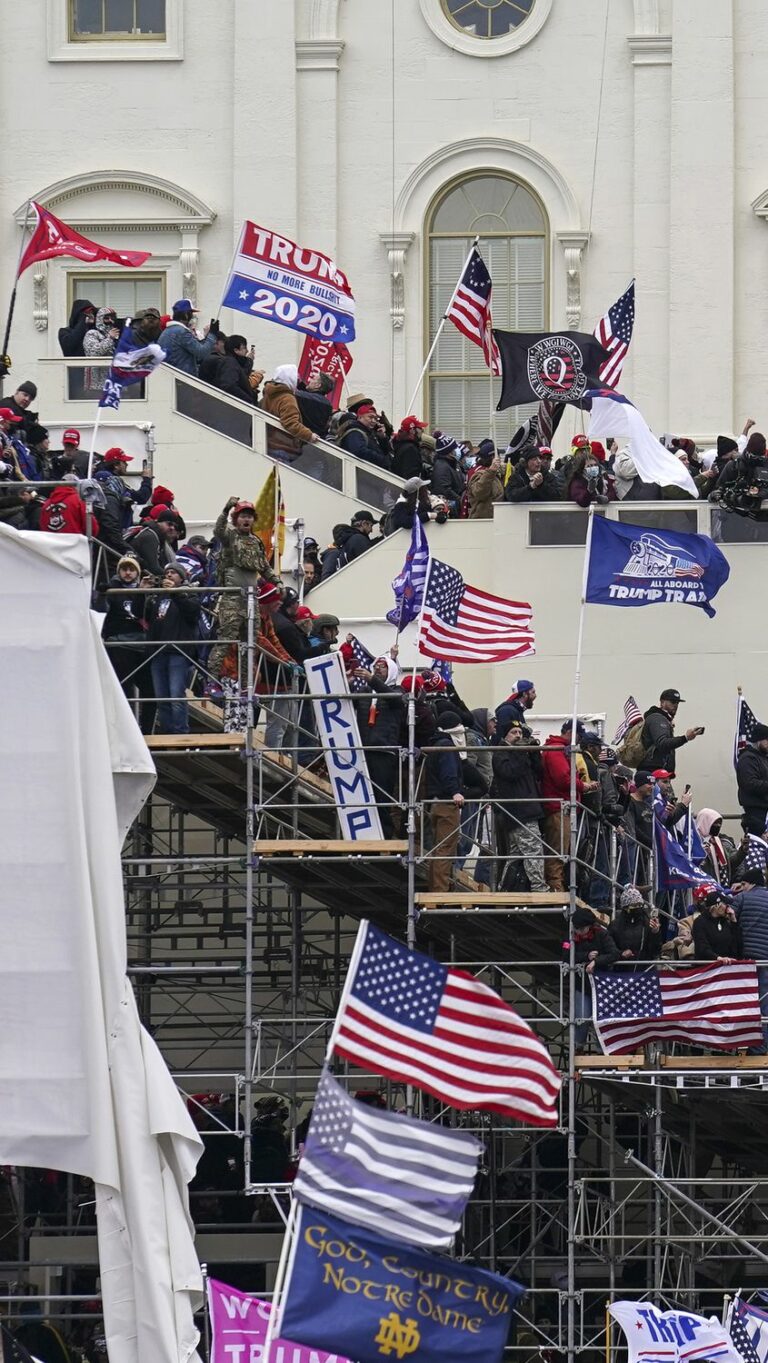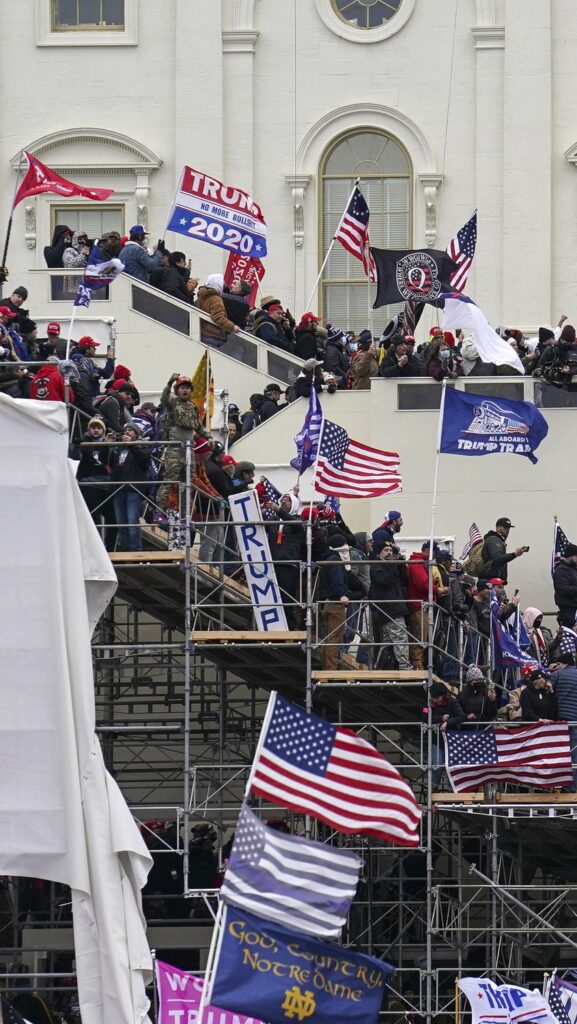 More than 700 people have been charged by the Justice Department in connection with the riot. Trump was impeached by the House and charged with "incitement of insurrection," but he was acquitted by the Senate in February. He was also banned from Facebook, Twitter and YouTube citing 'risk to public safety' as reason. 
A House select committee was formed in July to further investigate the attack. An interim report is not expected until this summer.
On the one year anniversary of this devastating event, we bring you 10 images from the attack that are bound to send chills down your spine.
Trump supporters try to break through a police barrier outside the Capitol. Shortly after 1 pm, some pushed through barriers set up along the perimeter of the Capitol, where they tussled with officers in full riot gear. (Victor J. Blue/Bloomberg via Getty Images)
Unseen Capitol Riots Images from Trump Supporters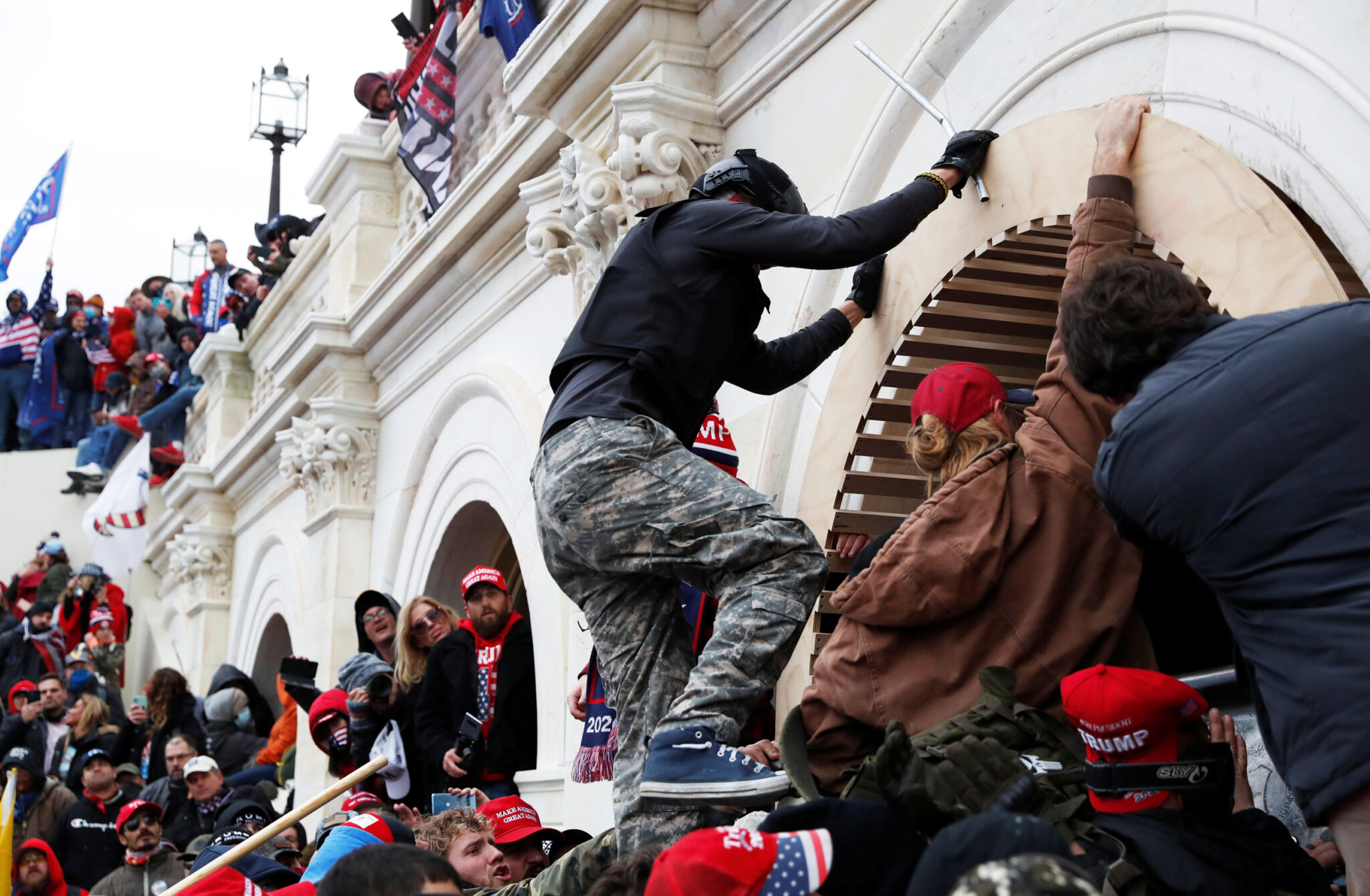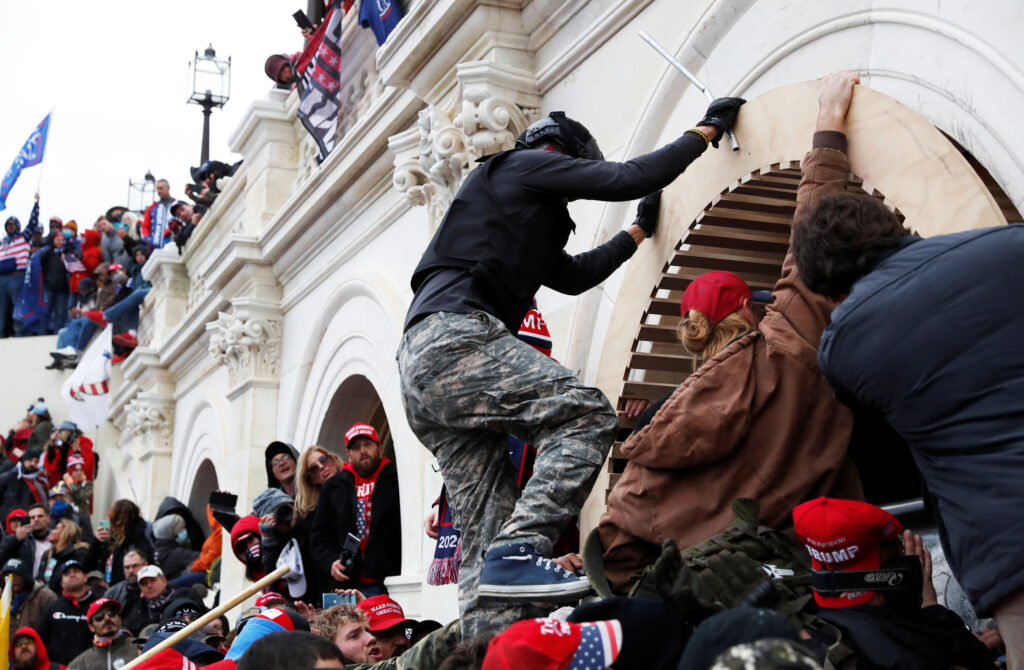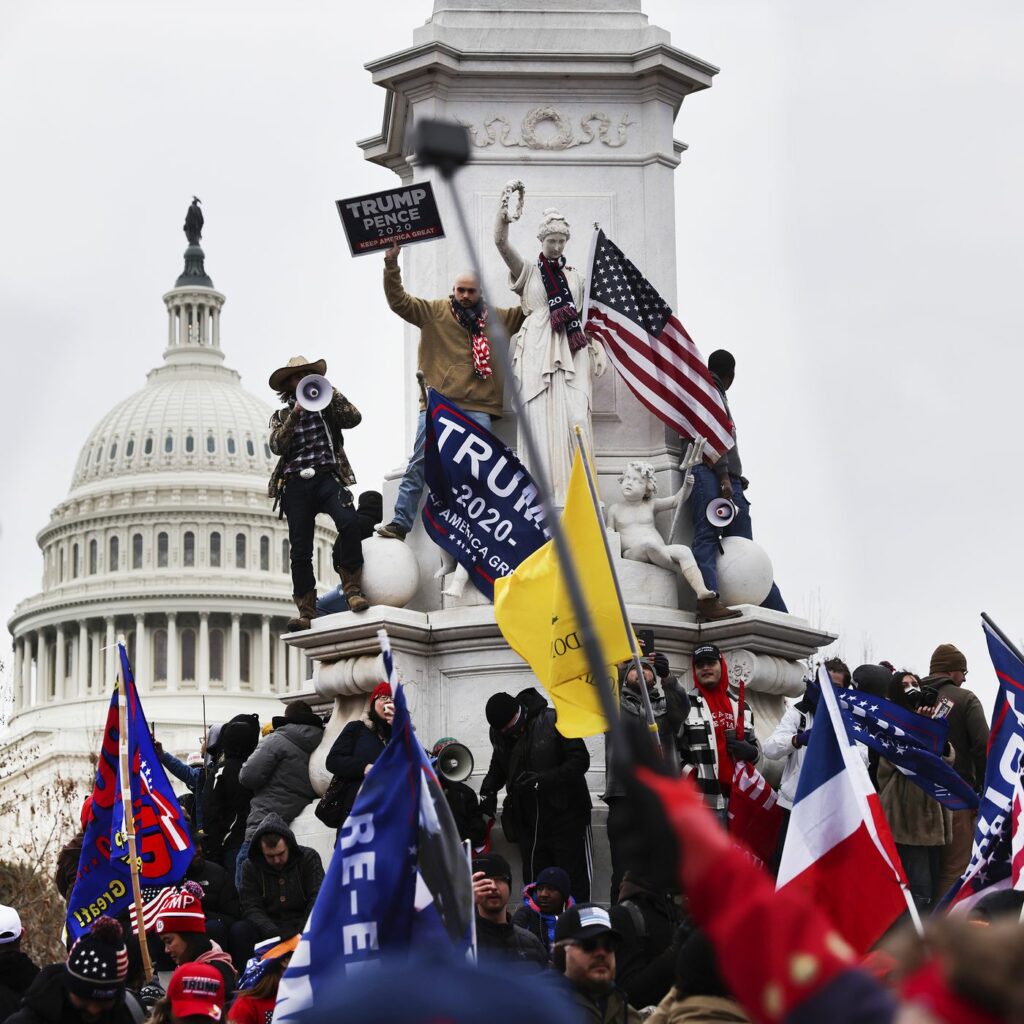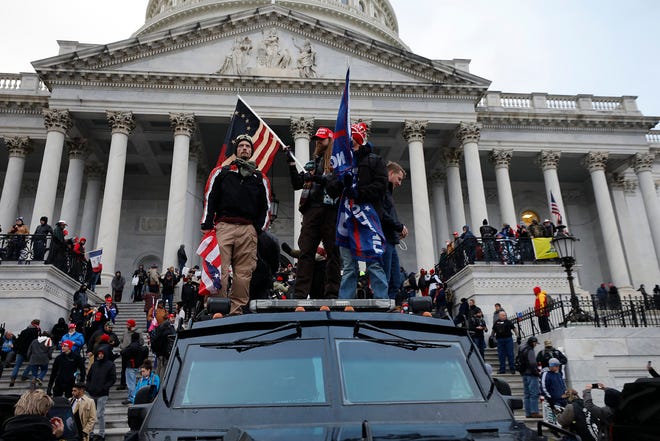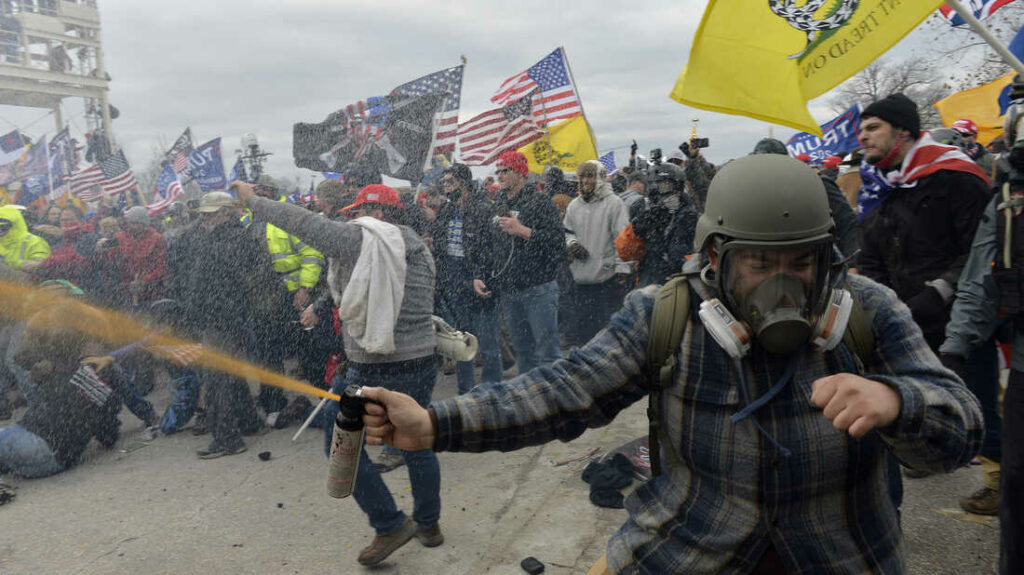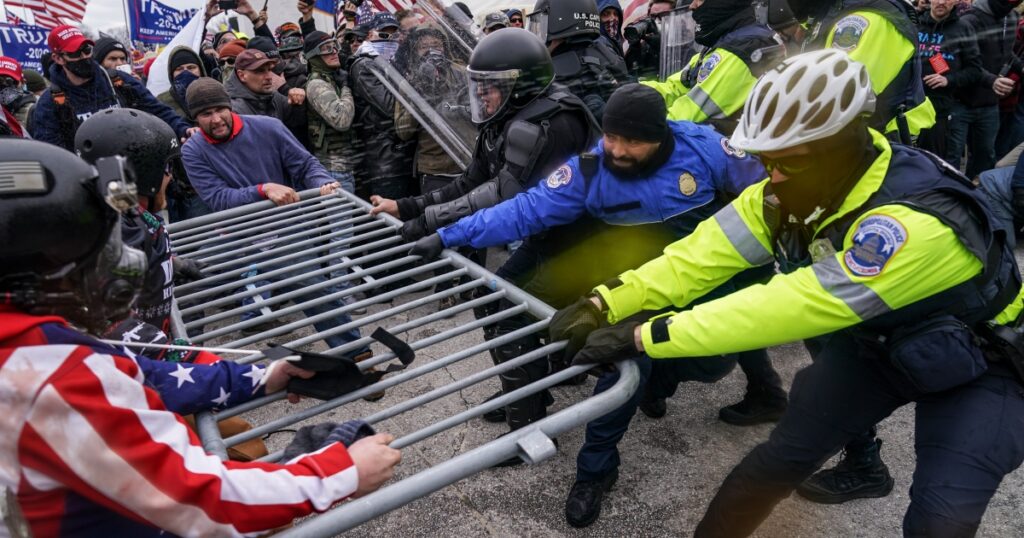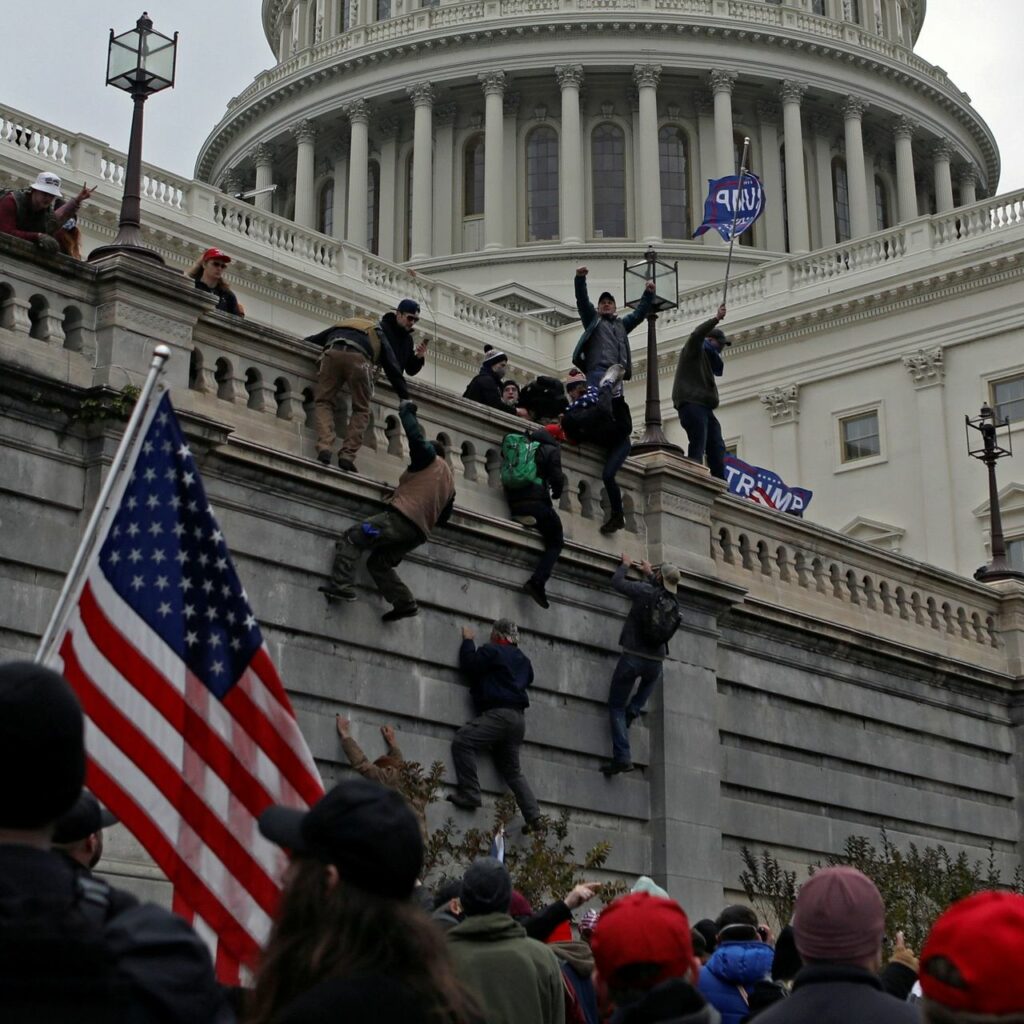 Trump supporters climb a wall outside the Capitol (Jason Andrew/The New York Times/Redux)
A noose is seen near Trump supporters gathered outside the Capitol (Shay Horse/NurPhoto/Getty Images)
Police draw their guns as rioters try to break into the House chamber. "I kept my lens focused on that door and waited for the breach," said Associated Press photographer J. Scott Applewhite, the only journalist in the House chamber at the time. "When the mob began to break the glass in the door, I could barely see the face of one of the rioters. The cops and a new congressman with a law enforcement background tried to de-escalate the situation. Their guns were drawn and pointed at the hole in the glass. The growl of the mob could be heard on the other side." (J. Scott Applewhite/AP)
Congressional staffers put up a barricade inside the Capitol after the building was breached (Amanda Voisard/The Washington Post/Getty Images)
A man hangs from a balcony in the Senate chamber (Win McNamee/Getty Images)
Richard "Bigo" Barnett, the leader of a pro-gun rights group in Gravette, Arkansas, sits inside the office of House Speaker Nancy Pelosi. Barnett later showed reporters an envelope that he said he took from Pelosi's desk. He was later arrested, and he has pleaded not guilty to seven criminal counts (Saul Loeb/AFP/Getty Images)
Broken glass is seen on the doors of the Capitol Rotunda entrance (Erin Schaff/The New York Times/Redux)
A Trump supporter carries a Confederate battle flag in the Capitol Rotunda after rioters breached the building. During the Civil War, the closest any insurgent carrying a Confederate flag ever came to the Capitol was about 6 miles, during the Battle of Fort Stevens in 1864 (Saul Loeb/AFP/Getty Images)
One of the most recognizable figures in the crowd was a man in his 30s with a painted face, fur hat and a helmet with horns. The protester, Jacob Chansley — known by followers as the QAnon Shaman — quickly became a symbol of the bizarre and frightening spectacle. In the months leading up to the riot, Chansley had been a regular presence at pro-Trump protests in Arizona, including demonstrations outside the Maricopa County vote-counting center. In November 2021, he was sentenced to 41 months in prison for his role in the Capitol riot (Win McNamee/Getty Images)

Subscribe to Email Updates :