Dealing with ChatGPT Access Denied error? If yes, you have stumbled upon the right article.
ChatGPT took the world by storm when it came into practice. It is a chatbot released in November 2022 by OpenAI, an AI research company.
ChatGPT stands apart from all the other chatbots because of its powerful NLP model. This NLP model allows ChatGPT to learn from its mistakes and produce responses in natural language.
ChatGPT error code 1020 access denied is a common occurrence when you try to communicate with ChatGPT. This error can be annoying, but thankfully, you can follow a few fixes to troubleshoot it.
So, without any further ado, let's get started –
What is ChatGPT Access Denied Error Issue?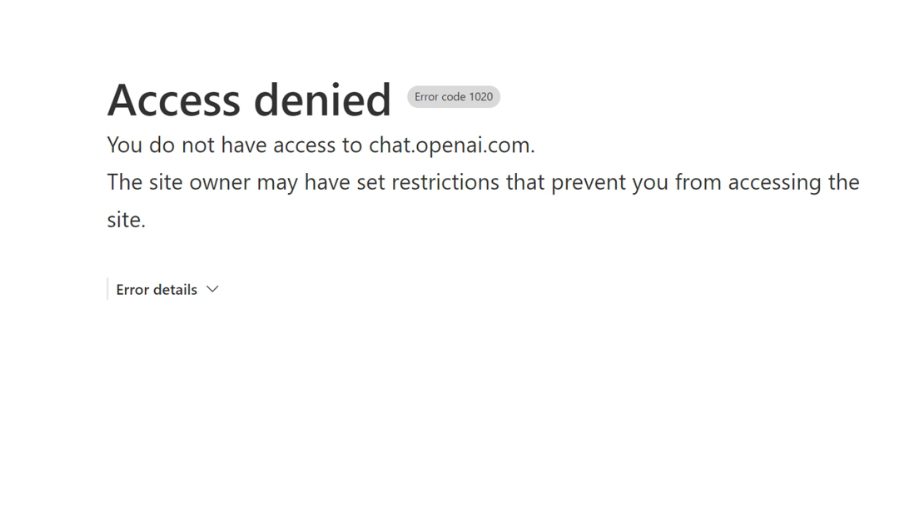 ChatGPT displays an "Error 1020: Access Denied" message on the home page, meaning you don't have permission to access the site.
This ChatGPT error may be presented in many ways –
Access denied Error code 1020
You do not have access to chat.openai.com.
The site owner may have set restrictions that prevent you from accessing the site.
Error 1020 Access denied.
There are many reasons why this error can occur. But mainly, it is because you don't have access or permission to access the site.
Why ChatGPT Access Denied Error Occur?
This ChatGPT error can occur for various reasons –
It usually happens because you don't have permission to access the site. This may happen because the chatbot has blocked you or removed your access rights because it thinks you are misusing the ChatGPT chatbot.
Sometimes a faulty browser can also be the cause for the occurrence of this error.
You can still receive this error message even if you have followed OpenAI's terms and conditions completely.
A blocked VPN can also be a reason for you receiving the Access denied Error code 1020 message.
Another reason for receiving an error message can be a web browser extension interfering with the OpenAI systems.
How to Fix ChatGPT Access Denied Error?
There are several ways you can fix ChatGPT error code 1020 –
Check Permissions
The most common reason for ChatGPT Access Denied error is the lack of website permission.
Contact OpenAI's customer support and ask them if you lack any required permission to access the website. Most of the time, this will solve your problem, but if the problem still exists, you can try the next workaround.
Clear Cookies From Your Web Browser
Sometimes, ChatGPT's saved cookies in your web browser can also be the reason you are dealing with ChatGPT Access Denied Error. This happens because sometimes ChatGPT can unknowingly store malicious cookies.
If this is the case, clear the cookies of your web browsers. Then, reopen the browser and launch ChatGPT once again. This might solve the problem.
Use Another Web Browser
Even after clearing the cookies and asking for permissions, if ChatGPT is still showing an error code, there are chances that the error is in your browser. This happens a lot, especially in browsers like Chrome.
Try using ChatGPT on your phone or in any other browser. If ChatGPT works in another browser, reset your previous web browser, which might fix your problem. Or you can use ChatGPT in the other web browser.
Disable/Enable VPN
One of the most common reasons you can't access ChatGPT is your blocked IP address. And the simple solution to that is to change your IP address. Don't worry; it is not as tough as it sounds and can be done quickly.
If you are using a VPN while using ChatGPT, ChatGPT might have blocked your VPN's IP address. In that case, turn off the VPN, and your problem will be solved as you will be back on your original IP address, which OpenAI has not blocked.
If you are not using a VPN, get one and change your location. It will change your IP address, allowing you to access it.
Disable Extensions
If you use Google Chrome as your browser, there might be an extension that has blocked ChatGPT. You have to disable these extensions simply from the 'More Tools' options in the top right corner of Chrome.
FAQs
Why does the ChatGPT Error code 1020 issue occur?
It occurs when you cannot access the website. It can happen because of various reasons, which may include a lack of permissions, browser-related errors, and more.
How can we identify the problem resulting in the ChatGPT Access Denied Error?
You can recognize the problem from the error messages on your screen. If you can't recognize the problem, you can always contact OpenAI Support Team.

Subscribe to Email Updates :