If elected president, Donald Trump hopes to "revolutionize" higher education. He pledges to accomplish this in a recently released campaign policy video by creating a federally funded online university where "wokeness or jihadism" are forbidden.
Here you have the details of the news.
Donald Trump Plans to Teach at His New Free University
This week, Donald Trump, the former president, revealed his intention to establish a free university.
Trump announced his intentions to establish the American Academy on social media and hinted at some possible subjects to be taught.
He stated that the institution will be an online learning environment supported by "billions and billions of dollars," gathered following "taxing, fining, and suing excessively large university endowments."
Trump stated:
"This institution will gather an entire universe of the highest quality educational content covering the full spectrum of human knowledge and skills and make that material available to every American citizen online for free,"
"Whether you want lectures, or ancient histories or an introduction to financial accounting or training in a skill trade. The goal will be to deliver it and get it done properly."
Trump criticized universities throughout America. He stated, "In recent weeks, Americans have been horrified to see students and faculty at Harvard and other once-respected universities expressing support for the savages and jihadists who attacked Israel…We spend more money on higher education than any other country—and yet, they're turning our students into Communists and terrorist sympathizers of many, many different dimensions,"
According to the Associated Press, fighting has persisted since Hamas launched strikes in Israel on October 7, and more than 9,000 deaths have been reported on both sides.
The Harvard Palestine Solidarity Groups issued a joint statement condemning Israel shortly after the fighting started, which numerous other student groups have signed.
"We, the undersigned student organizations, hold the Israeli regime entirely responsible for all unfolding violence," the statement read.
The American Academy, according to Trump's announcement, "will be strictly non-political" and a "top tier education option."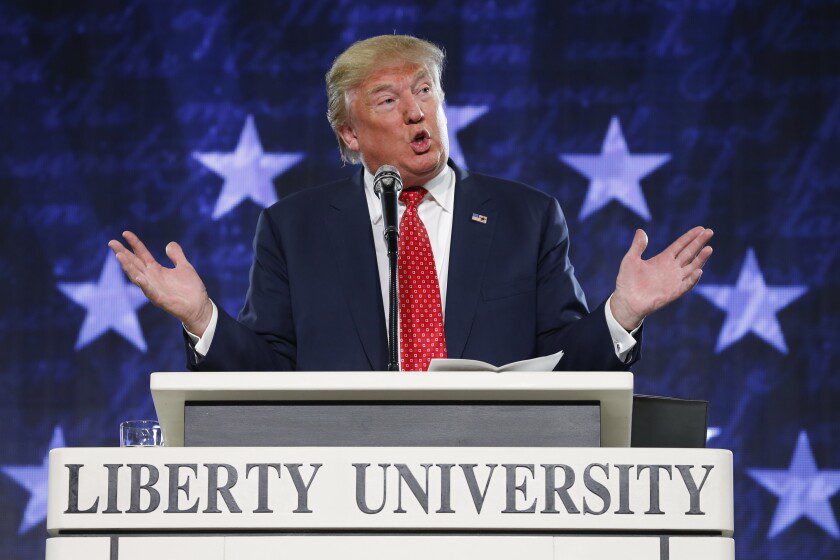 Trump stated, "No wokeness or jihadism allowed. None of that's gonna be allowed."
"Most importantly, the American Academy will compete directly with the existing and very costly four-year university system by granting students degree credentials that the U.S. government and all federal contractors will henceforth recognize."
After the Harvard student groups released the statement, Harvard President Claudine Gay responded, saying, "As the events of recent days continue to reverberate, let there be no doubt that I condemn the terrorist atrocities perpetrated by Hamas."
"Let me also state, on this matter as on others, that while our students have the right to speak for themselves, no student group—not even 30 student groups—speaks for Harvard University or its leadership."
Trump's proposed policy comes at a time when leading universities and other American institutions are under political pressure, most recently for how they responded to Hamas' fatal attack on Israel.
Leading donors, politicians, and business executives have criticized their alma mater and even threatened to stop funding in the future if they continue to allow pro-Palestinian speakers on campus.
America's higher education system would be completely reshaped if the federal government established a brand-new university to compete with the thousands of already-established institutions.
Signup For Our Newsletter