Feel the Beat Release Date, Trailer, Cast, & All You Need to Know: The promising American parody dramatization film Feel the Beat is practically just around the corner, and fans are very confident that the film will cook them up. As the latest gossip indicates, the movie will be very engaging and move simultaneously.
We've put together all the latest updates and show info, so there's everything you have to recall about Feel the Beat.
Feel the Beat
Boss Elissa Down, the up-and-coming film Feel the Beat, will revolve around the life of April's narrow-minded artist. The story will focus on how she pursued her fantasies and, despite the considerable number of challenges, continued to accomplish significantly.
More than her. Due to certain episodes, April has kicked off-Broadway and then moves to her old Wisconsin neighborhood with her father.
A choice she made hesitantly, and in this way, she tries her best to keep a strategic distance from a wide range of problems and individuals on the network, including her first love, Nick. Subsequently, her former movement educator hands out her most valuable company in preparing new youth artists.
Feel the Beat Trailer
A meeting of failures, the gathering makes their work quite troublesome; however, accepting that this is the additional opportunity for Broadway, it was full of vitality to give a valiant effort to instruct them. A parody with a shocking satire story is fully uncovered when April realizes that gratitude for her activities got so much more than just contenders.
Lately, a couple of days ago, Netflix downloaded the official trailer for Feel the Beat, and you can watch it here to understand what it's all about.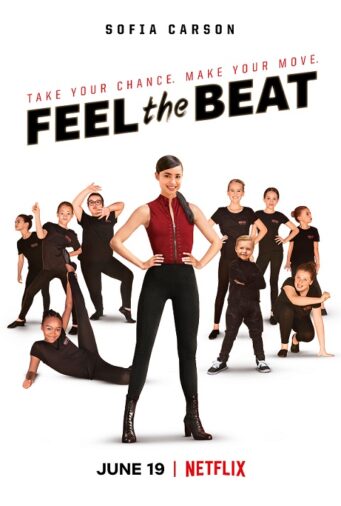 Feel the Beat cast..
Sofia Carson as April
Enrico Colantoni as Frank
Wolfgang Novogratz as Nick
Marissa Jaret Winokur as M.J.W
Dennis Andres as Buzz
Johanna Colón as Lucia
Donna Lynne Champlin as Barb
Brandon Kyle Goodman
Rex Lee as Wellington 'Welly' Wong
Marcia Bennett as Grandma
Lidya Jewett as Kari
Drew Davis as R.J.
Shiloh Nelson as Ruby
Shaylee Mansfield as Zuzu
Eva Hauge as Sarah
Aniko Kaszas as Nadya Khristorozhdestvenskaya
Robinne Fanfair as Patty
Carina Battrick as Michelle
Pamela MacDonald as Ruth Zimmer
Feel the Beat Release Date
Feel the Beat will be announced on 19th June 2020, and you will have the option to stream it on Netflix.

Subscribe to Email Updates :