For the first time after 5 years, former President Barack Obama went to the White House after leaving office in 2017. He praised the advantages of his landmark healthcare reform and also supported his then "Vice President" and current President Joe Biden.
While speaking to the crowd, he made another joke about Biden, referring to him as the "vice-president."
Obama departed the White House on Jan. 20, 2017, to accompany his successor, Donald Trump to the Capitol for his inauguration.
He entered the East Room with welcoming applause from the gathering audience of members of Congress and White House personnel. He observed and commented on the changes that had occurred in the White House after his last visit.
This visit was a result of Biden's ever so low job approval rating due to the mishandling of the war situation and the risk of inflation hovering over the U.S.
"I heard some changes have been made by the current president since I was last here. Apparently, Secret Service agents have to wear aviator glasses now. The Navy mess has been replaced by a Baskin Robbins, and there's a cat running around, which I guarantee Beau and Sunny would have been very unhappy about," he laughed, alluding to his White House pet dogs.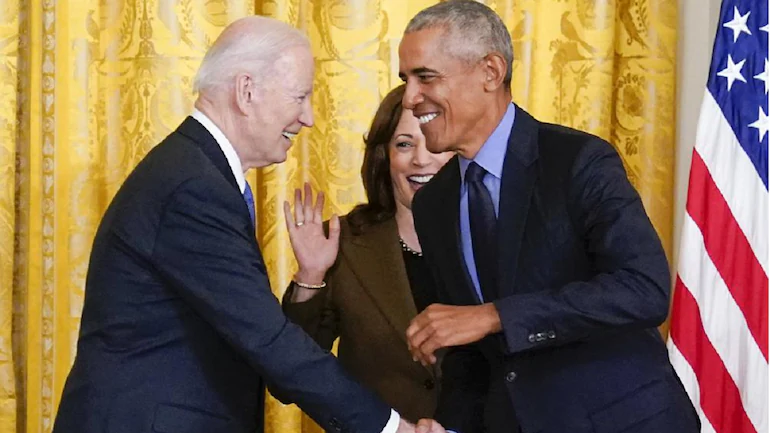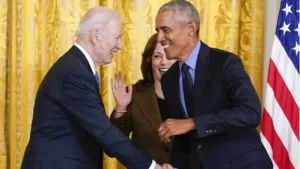 The White House revealed a proposal to eliminate the "family glitch," which prohibits families from qualifying for subsidies on health insurance exchanges even if one of the family members has access to an inexpensive individual plan by their employer.
Biden praised Obama for his leadership on the healthcare reform and also joked about how the two men didn't know who should sit and where, while they both dined.
The implementation of ACA
Biden's 2020 presidential campaign pledged to expand the Affordable Care Act. It was a move that differed from many leftist demands for a Medicare-for-All proposal.
The Affordable Care Act, passed by the 111th United States Congress and signed into law by President Barack Obama on March 23, 2010, is by far the most substantial regulatory change and expansion of coverage in the United States' health care since Medicare and Medicaid were established in 1965.
His pledge to extend and enhance it was a prominent feature of his presidential campaign. In his first year in office, Biden had some minor wins in covering more Americans but his efforts since then have stopped.
Now, seeing the drastic decline in his job approval rating, his government is eyeing to make big changes.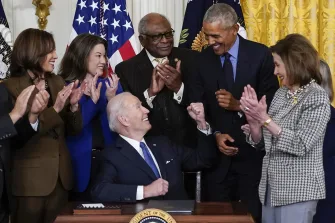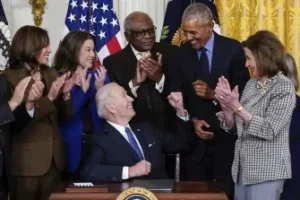 Obama said, "Nothing made me prouder than providing better health care and more protections to millions of people across this country. So when President Biden said he was not going to just celebrate the ACA but announce actions that would make it even better, I had to show up."
Biden's health plan mainly consists of two proposals. The first is an extension of public subsidies for ACA coverage enrollment. Secondly, there are prescription medication pricing regulations. The failed legislative strategy makes the chances of implementation minimal.
However, the White House predicts that if the Family glitch is resolved, it will boost insurance costs for around one million people and provide coverage to 200,000 uninsured individuals.
Biden's job approval rating hit its lowest mark during his presidency amid the war
President Joe Biden's current job approval rating of 42 per cent represents his seventh straight reading below 44 per cent. 54 per cent of Americans continue to dislike his performance.
Also read| Biden's approval ratings plummet in the deep-blue state he won by 29 points.
According to an NBC poll, seven out of ten Americans have little faith in President Joe Biden's capacity to cope with Russia's takeover of Ukraine.
In the meanwhile, the slumping US economy deteriorated further, with inflation reaching its greatest level since 1982. The gas prices also are extremely high. Many say that Biden has drastically failed in the management of the economy.
Signup For Our Newsletter