In this article we will cover everything about the upcoming Frank Rally – Location, timing, schedule, freebies, agenda for Frankspeech Rally that is hosted by the founder of mypillow mike Lindell. Mike Lindell announced last year in 2020 that he is planning to launch a new social media network called "Frank – The Voice of free speech. " Originally, Frankspeech was supposed to be launched on 16th April, but it was postponed.
On 19th April, Frankspeech finally got launched, but users weren't able to register as the site faced a cyber attack. After the attack Mike Lindell did a 48 hour long livestream called Frankathon where he discussed various issues and attacks that he faced on the day of frankspeech launch by chinese and other country hackers.
Watch the frank Rally Live  – CLICK HERE TO WATCH
What is Frank Rally?
Frank Rally is basically a rally hosted by the founder of Frankspeech mike Lindell. Mike lindell wanted free speech to be out there and thus he decided to launch FRANK. Since the website is constantly getting attacks, the website launch has been postponed. Mike is hosting this rally so that people can come and participate in the movement of free speech and equality. According to Mike lindell Freedom of speech is everyone's right and everyone should be free to speak anything they want.
"Frankspeech is a new kind of social media platform combination of youtube and Twitter," said Mike Lindell. The Tag line of frankspeech is, "The Voice of free speech. But as per mike Lindell in his recent video, he says, "You don't get to use the four swear words: the c-word, the n-word, the f-word, or God's name in vain."
How to participate in Frank Rally? ( Location )
Frank Rally will take place on May 10th 2021, at the Corn Palace South Dakota.
Full address for the Frank Rally is 604 N. Main Street , Mitchell City, South Dakota. ( Refer below image for more info )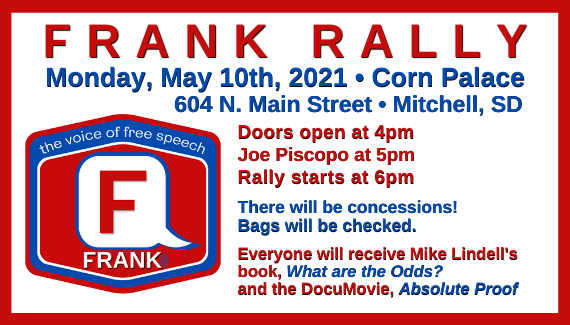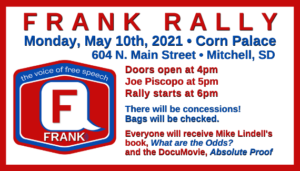 Frank Rally Timing / Agenda
Frankrally hosted by Mike lindell can be the launch date of his upcoming app – Frankspeech. The timing of Frank rally starts at 4pm, the show will be hosted by the famous american comedian Joe Piscopo . Joe will be doing a comedy set before the rally for warmup. Later on the rally will start around 6pm. Please wear masks and follow social distancing for the event.
Schedule of Frankrally, 10th May 2021
4:00 pm – Entry for the rally in Corn Palace.
5:00 pm – Joe piscopo open mic , laughter session.
6:00 pm – Rally starts
Freebies – Everyone will be getting a free copy of What are the odds?  book by Mike and a CD of the documentary Absolute proof 
No Guns "Guns are not allowed in the event for everyone's safety" – Mike Lindell
Please note –  There will be food and drinks arrangement, Bags will be checked too. Please wear masks and follow social distancing.
If you want to participate in the rally you should be there in Mitchell at the venue – Corn Palace. The event will be mainly focused on promoting free speech and the launch of Frank social media.
This can also be the day when Mike Lindell officially announces the platform, in front of hundreds of people live. Frankspeech launch is delayed and rumour are that the launch can be done in the Frank rally in south Corn Palace in Mitchell, South Dakota. dakota on May 10th.
Conclusion
Thank you for reading. Keep reading world-wire.com for more content like this. Don't forget to subscribe World Wire Telegram Channel for instant news on various updates on new information.

Subscribe to Email Updates :