Watch Donald Trump's Full podcast with Nelk Boys ( Full Video ) Online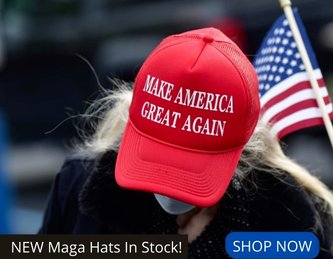 Use: MAGA10 for 10% OFF
Watch Donald Trump Interview with NELK Boys – Full podcast
You can watch the Nelk boys podcast with Donald Trump here
YouTube has removed the Full Send Podcast's video interview with former president Trump for violating YouTube's community guidelines on misinformation. It seems that Trump's blatant lies about the 2020 presidential election led to the removal of the video, despite the interview covering various topics.
Shortly after the video was taken down, Trump compared it to Russian censorship of the war in Ukraine.
In his statement, Trump asks, "Whatever happened to free speech in our country?" He acknowledges later the issue YouTube had was with his discussion of the "rigged 2020 election."
Trump continued, "It is both incredible and not surprising that the Big Tech lunatics have taken down my interview with the very popular NELK Boys so that nobody can watch it or listen to it." The Russian people cannot understand that they're fighting a war with Ukraine; that's where our media is going, and that's where our country is going, to just study history.
The former president appeared to warn that the video might be taken down during the podcast interview, saying, "Let's see what happens when Instagram, Facebook, Twitter, and all of them take it down.".
You'll see a mostly blank screen saying, "This video has been removed for violating YouTube's Community Guidelines."
In the email Forgeard got, YouTube didn't explain exactly what violated the policy, but later told The Post the video was taken down "for violating our election integrity policy, which prohibits content that falsely claims widespread fraud changed the outcome of the 2020 US presidential election."
Donald Trump Takes a Dig against big tech on the podcast
"What happened to freedom of speech?" Trump lamented on Friday. Incredibly, but not surprisingly, the nerds have taken down my interview with the very popular NELK Boys, so no one can watch it or listen to it."
Spotify and Apple still have the interview.
Donald Trump continued to compare the video's removal to Russia's suppression of information. "In Russia, the people aren't allowed to know they're fighting a war in Ukraine, and that's where our media is going, and that's where our country is going. Just study history, Trump wrote. "Are we going to allow it?" he asked. "We're going to hell! !"
In the latest act of Big Tech's crackdown on Donald Trump's lies around the 2020 presidential election, YouTube has pulled his interview with the Nelk Boys from his video podcast.
Donald Trump's Statement after the removal
Trump stated: Google is full of fake news and stories about me. Nothing positive gets reported. Even NELK Boys' record interview with me was taken down because I told the TRUTH, which the Radical Left couldn't handle. The Media and Big Tech are doing everything they can to destroy our country. They're the enemy of the people!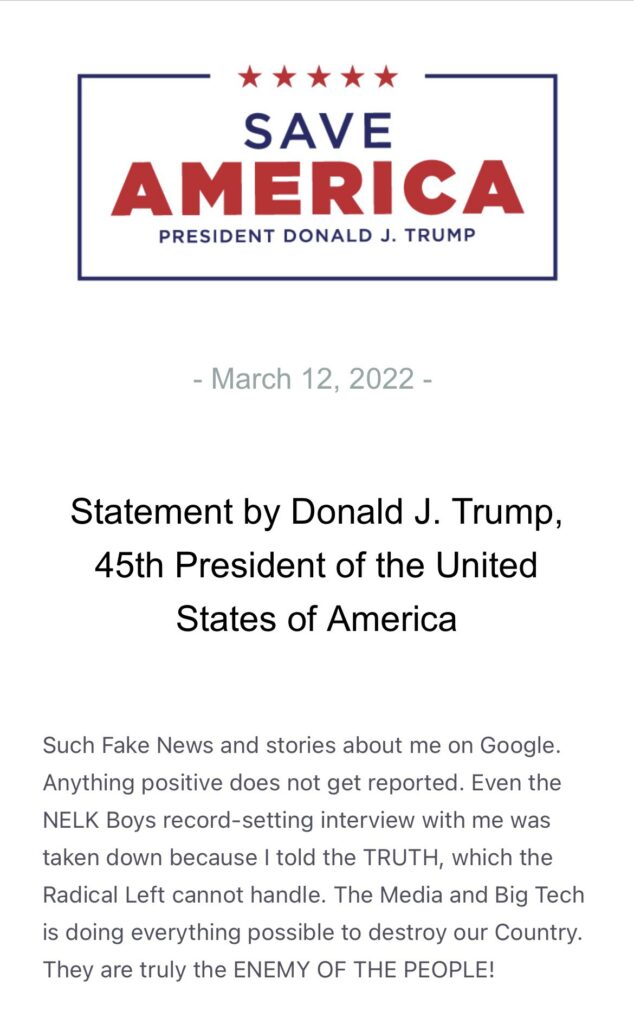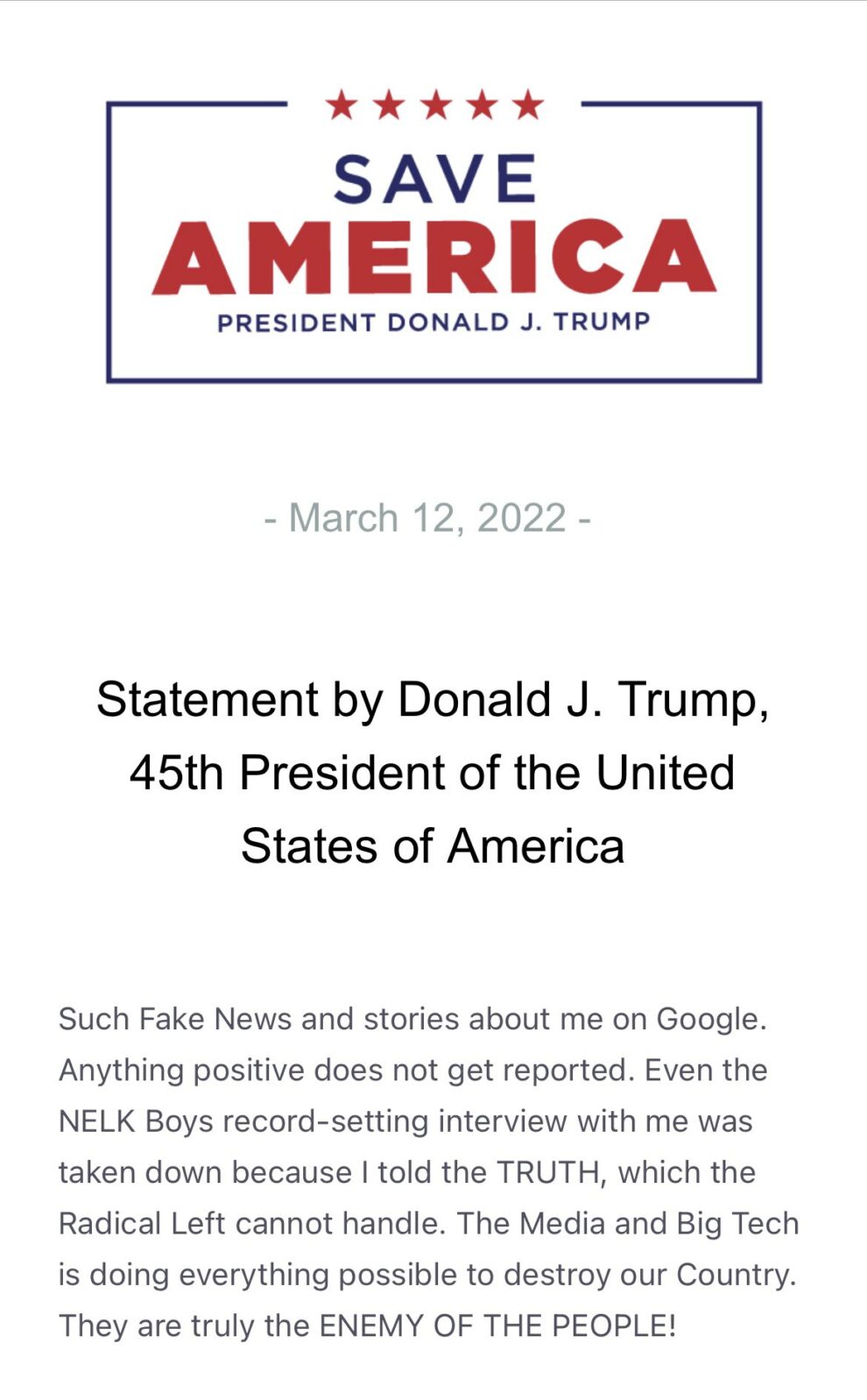 Who are the Nelk Boys
Nelk Boys is an entertainment company and YouTube channel run by Canadians and Americans.
Full Send Entertainment is known for its prank videos, vlogs, and brand Full Send Entertainment. According to a description on the group's website, the group's founders, Kyle Forgeard and Jesse Sebastiani are "two of the most recognized figures for young people in North America".
What kind of videos do Nelk boys make?
Along with pranks, Nelk's videos are themed around North American college culture. Videos of the group combine vlogs and actual pranks.
NELK made a name for himself by creating the brand "Full Send", which Forgeard defined as "whatever you do, give it your all". The group has also popularized a number of other terms, including "Rona Season," a reference to the group's constant consumption of Corona beer. Sebastiani has referred to the group's trademark words as "Canadian-influenced slang".
Full Send is Nelk's clothing line. Clothing is sold in one-time Supreme-style drops, where each style has limited availability and is only available once. When the whole drop sells out, no Full Send clothing can be purchased until the next drop, when new styles become available.
History of Nelk boys
In 2010, Forgeard founded the YouTube channel, then called NelkFilmz, with founding members Marko and Niko Martinovic, and Lucas Gasparini.[21] In 2014, Forgeard met Jesse Sebastiani at an MTV Canada conference, who would later become a prominent member of the group.
The Nelk posted a video titled "Coke Prank On Cops" in January 2015 in which they told Los Angeles police officers they had "coke" in the trunk, leading the officers to think they were referring to cocaine when in fact they were talking about Coca-Cola. The video became a topic of controversy in May 2016. The group received a warning, and the Los Angeles Police Department issued a statement warning potential copycat pranksters. The video has 46 million views and is their most viewed video, having almost three times as many views as their second-most viewed video.
Gasparini, who had left Nelk as a full-time career in June 2017, re-joined in 2021.
As part of a prank, Sebastiani walked into a Barnes & Noble store in January 2019 with fake blood smeared on a white jumpsuit and asked workers for books about covering up crime scenes.
After being discovered by Forgeard for his drinking and smoking challenge videos, Stephen Deleonardis joined Nelk in May 2019.
Nelk finished the "spin the globe challenge" in Europe. Nelk was planning a meetup in a public park in Ireland without notifying the police. Thousands of fans swarmed the area in an unsafe manner, causing the meetup to be cut short. Jason Pagaduan was then removed from the group. Nelk moved into the "Full Send House" in Los Angeles, California in February 2020. Sami Sirur and Cousin Jay also joined Nelk at this time.
Nelk Boy's Year of Success
On September 8, 2021, Nelk uploaded the first episode of their "Full Send Podcast", exclusive to YouTube and Apple Podcasts.
In January 2022, the Nelk Boys and their crew were intentionally kicked off a Caribbean cruise ship in the Bahamas onboard Celebrity Summit and shared a video of their shenanigans aboard.
On January 19, 2022, Nelk launched a non-fungible token called "Full Send Metacard". Over 10,000 Metacards were minted, selling out in less than 10 minutes and bringing Nelk over $23 million in profit.
On March 9, 2022, Nelk interviewed Donald Trump on an episode of the Full Send Podcast. In less than 24 hours, the interview received 5 million views on YouTube, which was soon after removed by YouTube. Within a week, Full Send Podcast became the second most popular podcast in the US on Spotify. This was one of the most successful podcast by Nelk Boys.
Nelk Boys and Donald Trump Podcast
Donald Trump is known for giving interviews, Recently he was seen on a podcast with a youtube collective group called as NELK boys. Donald Trump discussed a lot of issues like the Afghanistan crisis, the Ukraine-Russia war and various other issues on this topic. You can watch the full podcast on world-wire.
You can watch the Nelk boys podcast with Donald Trump here

Subscribe to Email Updates :