Incumbent Republican governor Brian Kemp has announced that he will run for re-election. 
Kemp's primary challenger is former senator David Perdue, who Trump has personally endorsed. 
Key players in 2022 Georgia gubernatorial elections 
On April 16, 2021, former Democratic turned Republican state representative Vernon Jones declared his challenge to Kemp in the primary.
Kemp's challenger from the Democratic party is Stacey Abrams, former Minority Leader of the Georgia House of Representatives and founder of Fair Fight Action, who Kemp defeated in the general election in 2018.
Libertarian Shane T Hazel, the most recent nominee for US Senate in 2020, has also declared that he will run. Independent Al Bartell has filed paperwork.
Conservative Christians rallied behind Perdue in 2020
Perdue is said to have benefited from the traditional Christian base that has long boosted Georgia's Republicans in 2020.  The reach of "the evangelical vote in Georgia is extensive and very strong," Timothy Head, executive director of Faith and Freedom, said in an interview.
Perdue earned favor with Georgia's conservative Christians in 2020 because his primary opposition Jon Ossoff was of Jewish heritage. It remains to be seen whether Perdue will hold the same appeal to the Christian vote bank, considering that Perdue's primary opposition this time is Brian Kemp, a member of Emmanuel Episcopal Church in Athens. 
The White vote advantage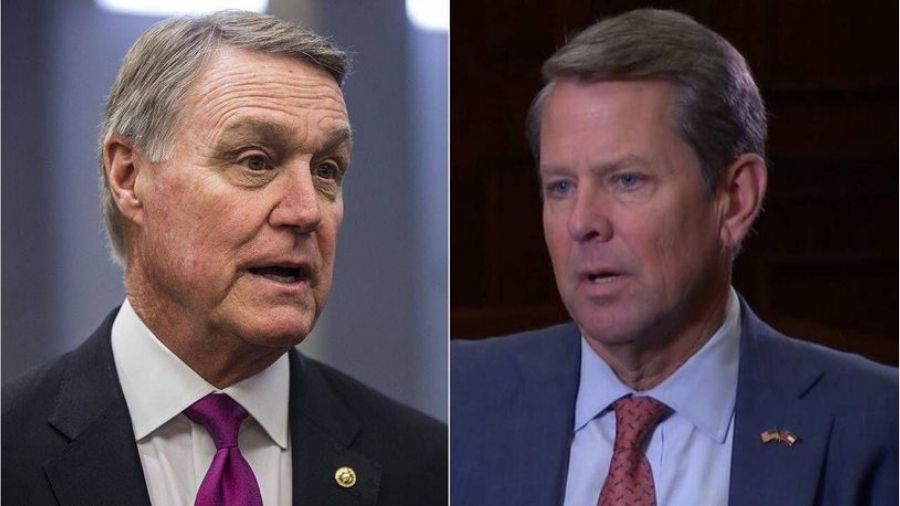 Kemp and Perdue can undoubtedly be expected to reap the benefits of the 'white' vote bank, considering Vernon Jones's stance in his election campaign. 
Vernon Jones' election manifesto on Twitter proclaims 'Running for Governor of Georgia to Defeat Brian Kemp, Stop Stacey Abrams, and #TakeGeorgiaBack.'
Another tweet that Jones has pinned to the top of his Twitter page reads, "The Democrat Party destroyed the black community. Now, it's time for the black community to destroy the Democrat Party.  Join me in my fight to become the next Governor of Georgia." 
Jones' election propaganda certainly seems to be angled at rallying the Black community. While this might earn Jones the confidence of the vast African- American community in Georgia, it might also cost him the coveted 'white vote advantage' which he has all but handed to Kemp and Perdue on a golden platter. 
Perdue' racist jibe at Harris and Ossoff in 2020 runoff
Perdue advertised that his Democratic opponent, Jon Ossoff's nose was enlarged, a dog whistle reference to Ossoff's Jewish heritage. He later took the ad down and stated the picture looked distorted because of an 'inadvertent' error on the part of the editing team. 
Perdue mocked Democratic vice presidential nominee Kamala Harris by repeatedly mispronouncing her name during a campaign event. Perdue called Harris "Kah-mah-la or Kah-ma-la or Kamamboamamla." Some commentators noted that Perdue, who had been serving with Harris in the Senate since 2017, undoubtedly knows how to pronounce her name.
Both these incidents still stand fresh in the minds of Georgia's Jewish and Asian- American communities. Whether Perdue has well and truly ruffled the religious feathers of these two communities remains to be seen by their response in the 2022 elections. 
Kemp reminisces on victories as Governor.
Incumbent governor Brian Kemp revisited his gubernatorial victories to consolidate his position in the 2022 elections. He seems to be taking the 'let the work do the talking' route to gain voters' confidence. It comes across as the most trustworthy and classy tactic of the lot, as Kemp is advertising his competency as Governor rather than a 'white man' or a Christian. 
All of Kemp's posts on Instagram and Twitter provide an insight into his life and ideology as Governor. While it may seem that his profiles on these two social media platforms are devoid of election propaganda, it is a subtle but effective way of, for want of a better phrase, tooting his own horn as Governor. 
One of Kemp's posts on his Facebook page dated December 8 reads: 
"I've spent my time as Governor fighting for hardworking Georgians and building an economy that brings a new opportunity to our state almost weekly, and that's what I'll continue to do. We've had record success, and we're just getting started!"
This, of course, is a way for Kemp to reiterate his competency as Governor and establish his supremacy over other gubernatorial candidates in the 2022 elections.
Stacey Abrams' well-rounded approach
While Vernon Jones is gaining traction with the Black community and losing favor with other ethnicities due to his election propaganda, Stacey Abrams seems to have noticed and has been playing her cards defensively right from the beginning.
While her ethnic background as an African- American gubernatorial candidate has already made her a cult favorite with the Black and women communities, Abrams has also positioned herself not to lose traction with other ethnicities.
A tweet that Abrams has pinned to the top of her Twitter page reads: 
"THANK YOU to folks of all backgrounds and in every corner of our state who joined our campaign in our first week. As other candidates focus on fighting each other, my focus will be where it has always been: With Georgia's people. #gapol"
Another tweet that garnered a whopping 2.5K upvotes reads:
"Despite internecine battles on the other side, the general election will be hard-fought. Whoever emerges from their primary will be well-funded. Help make sure we have the resources we need to build #OneGeorgia in which all our people can thrive. "
This stance certainly seems to be working, as is evident from a tweet by Lauren Groh- Wargo (@gwlauren) that Abrams retweeted:
"While David Perdue and Brian Kemp fight each other, Stacey Abrams will be fighting for the people of Georgia."
Also read:

Subscribe to Email Updates :