Gintama: The Final Movie New Preview, Release Date, Plot, & What to Expect?: It is definitely the end of an era for sure. Dragon Ball resumed after years, One Piece reaching its last arc(Allegedly), New generations of Naruto taking over, and now Gintama ending. Now, the upcoming movie's official site released a new visual and official trailer of the movie. The announcement teaser was released in August, which was enough to hype up the fans. Fans are really excited about the movie as they were waiting for the finale for so long. This movie will be the final saga in the Gintama series.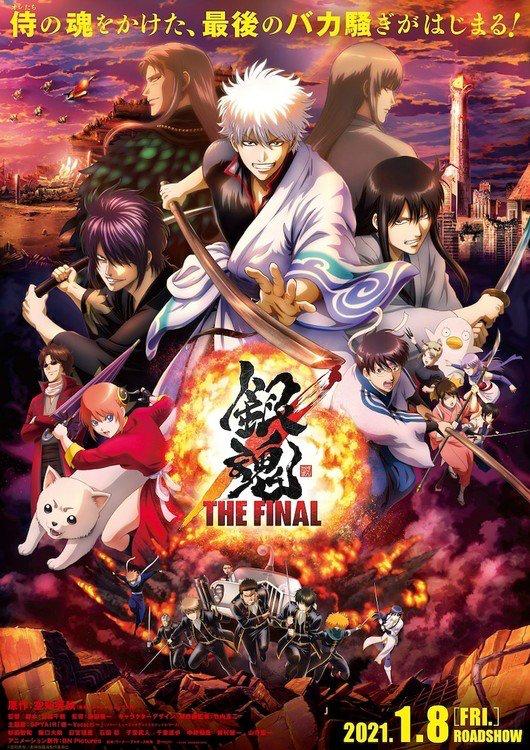 Gintama: The Final Movie Plot
The FINAL MOVIE will be the end of the Gintama saga. It will continue from the last movie, Gintama: The Movie: The Final Chapter: Be Forever Yorozuya, released in 2013, which was a great movie. It was a time-traveling saga where Gintoki was killed, and White Curse attacked the world. The movie ended when Gintoki and the white demon defeat the Emmi and the reunification of Gintoki, Kagura, and Shinpachi. Now the new movie should follow this one, and if it is going to follow the manga, it is going to be an epic finale.
The movie's main plot has not been revealed yet os we can't say anything for sure. But the movie is being made with the full co-operation from Gintama writer Hideaki Sorachi. So, we can say that the movie will follow the last few chapters of the manga, and if it is going to follow the manga, you are in for a hell of a ride. The movie will be an emotional ride, and we suggest you get your tissue box ready because controlling your tears will be really hard.
Gintama: The Final Movie Release Date
The movie is all set to be released on January 8, 2021. It is revealed that this movie is "Finale" for real this time. The movie will be based on the original manga's final chapters and will add some new elements to it.
Gintama: The Final Movie Cast And Characters
The good news for fans is that the previous cast members will reprise their role for the upcoming film. With Tomokazu Sugita as Gintoki, Daisuke Sakaguchi as Shinpaci, and Rie Kugimiya as Kagura.
The other cast members are yet to be revealed, but considering all the aspects all the old character might have the voice member.
Staff:- 
The film is being directed by Chizuru Miyawaki. Warner Bros Japan is producing the movie, Hideaki Sorachi, himself is working on a brand new visual for the film. The other staff members are yet to be revealed and we will update you as soon as we get some new information.
Gintama: The Final Movie Preview
The official website of Gintama posted the full trailer and a new visual on Saturday. The new trailer also shows us a glimpse of the theme song of anime "Wadachi" by SYAIR.

Subscribe to Email Updates :