Are you switching to a new mobile and don't know how to find your T-Mobile PIN? If yes, you have stumbled upon the perfect page.
Recently, I purchased a T-Mobile phone. However, I could not recollect my PIN when I began setting it up. That meant I could not transfer my SIM to the new phone without the T-Mobile PIN.
Many of you might still not know how you can get this PIN. It may be possible that you change the default PIN and don't remember the new one.
Based on my experience, I will share where you can find your T-Mobile PIN in case you forgot or lost it or how to set one in your new phone.
So, without further delay, let's begin.
What Is A T-Mobile PIN, And Why Do You Need One?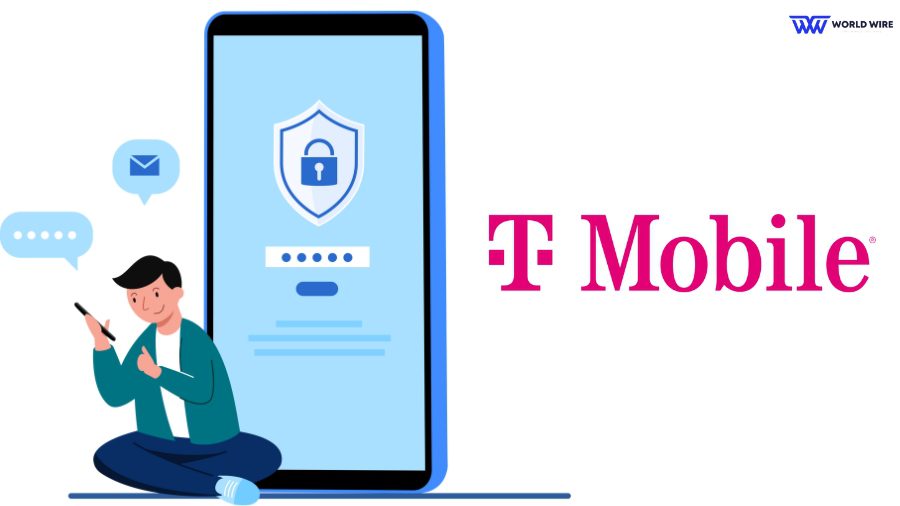 T-Mobile PIN or Personal Identification Number is a secret code to secure your account from unauthorized access.
Just like we add some passwords or PINs to our devices to keep our personal information safe, in the same way, the company also provides its customers with a PIN facility to help them protect their accounts from anyone trying to access their account information without their permission.
The T-Mobile PIN is a 6 to 15-digit number. You need this PIN to be able to use your SIM service and to keep your account secure.
When you put your SIM card in your new phone, you must enter your T-Mobile PIN before using it.
Also, the company uses this PIN to verify whether it is you when you contact their customer services. This way, the company ensures that only authorized persons can access your account details.
Note: If you have just purchased a new phone, you may need a lot of internet to update its software and download apps but worry not, you can get a "Free Internet from T-Mobile"
How To Find Your T-Mobile PIN Using The T-Mobile App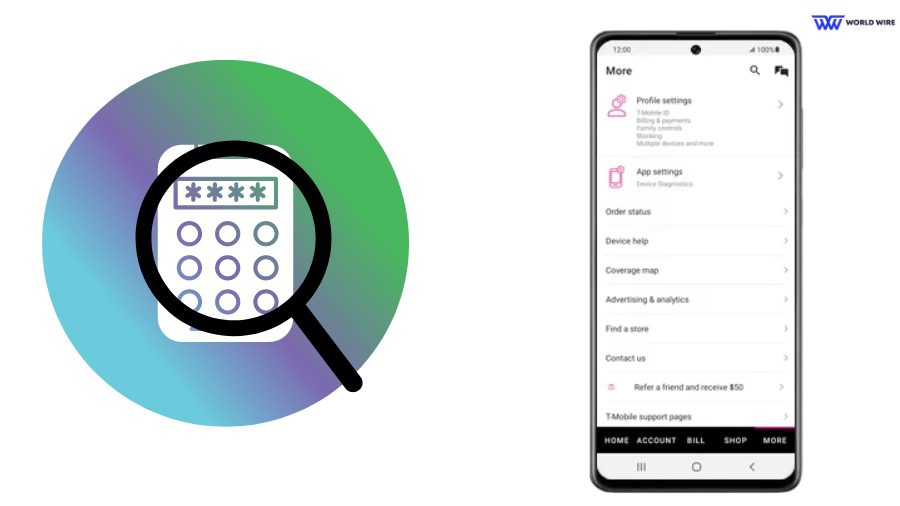 Every T-Mobile phone comes with a default PIN. Although you can change this PIN whenever you wish, you will first have to enter this PIN into your mobile phone every time you insert a SIM card.
So, the question is, how do you find your T-Mobile PIN?
T-Mobile provides easy access to your PIN by allowing you to find the PIN by using your T-Mobile application if you have your account credentials.
Here are the steps to find your T-Mobile PIN with the T-Mobile app.
Open the T-Mobile app and log in with your credentials.
Open the main menu icon.
Select the "Settings" icon below.
Next, select the "Security Settings" icon.
Under the Security Settings, click on the "PIN Settings" option.
Once you do this, the app will show the T-Mobile PIN for your account.
If you are switching to another phone, read our guide on "T-Mobile Bring your own phone," as not every phone is compatible with the T-Mobile network.
How To Recover T-Mobile PIN
Suppose you forget your T-Mobile PIN or can't find it through the T-Mobile app or official website. In that case, you might wonder how to recover your T-Mobile PIN to unblock and gain access to your T-Mobile phone.
To recover your PIN, you need to have a Personal Unblocking Key (PUK) code
You can get this code by contacting T-Mobile customer service and explaining that you need help recovering your PIN.
The company's customer care team may ask you a few questions, such as your name and address, to verify your identity or the details of the account holder when you reach out to them to retrieve your T-Mobile PIN.
Once they verify your identity, they will provide you with a PUK code.
The next step is to insert your SIM in the blocked phone and enter your received PUK code.
You will be prompted to create a new PIN.
Enter your new PIN when prompted.
Re-enter the new PIN to confirm.
Finally, click on the "Done" icon.
Setting up T-Mobile PIN Number
If you wish to change your T-Mobile default PIN, you will have to set up your T-Mobile new PIN number. You can do so through the T-Mobile app or the official website.
T-Mobile App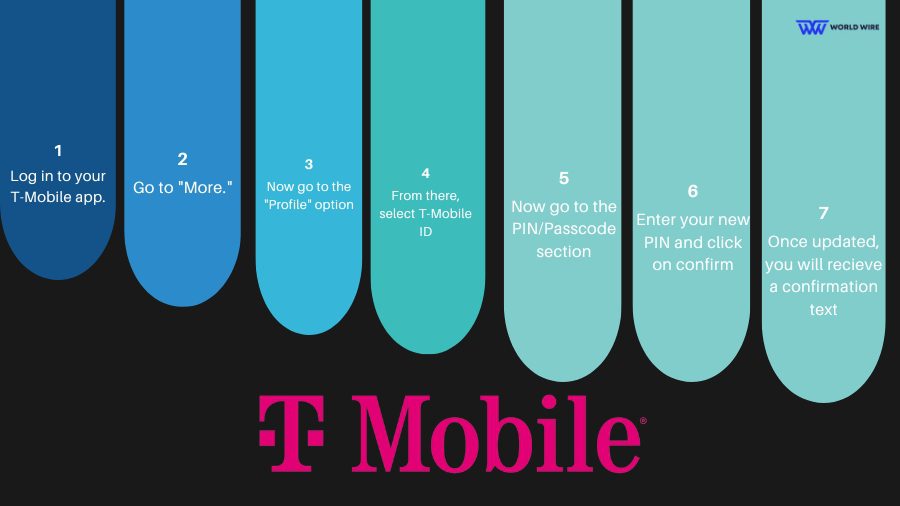 Here are the steps to set up your T-Mobile PIN.
Log in to your T-Mobile app.
Go to "More."
Now go to the "Profile" option
From there, select T-Mobile ID
Now go to the PIN/Passcode section
Enter your new PIN and click on confirm
Once updated, you will recieve a confirmation text
T-Mobile Website
Here are the steps to update your T-Mobile PIN from its official website. so you can easily find and remember it next time.
Open your browser and visit "https://www.t-mobile.com/signin"
Click on Profile and then go to the T-Mobile section
Here, you have to complete a two-step verification process to confirm your identity.
Once confirmed, visit PIN/Passcode and click on Edit.
Now enter your new PIN 2 times and click on Save
You will recieve a confirmation text from T-Mobile
Please note that T-Mobile has specified some requirements to set up your PIN, which includes the following.
The PIN must have a minimum of 6 and a maximum of 15 digits.
The numbers must be in non-sequential form. For example, it should not be like 23456789.
The numbers in PIN must not be in a repeating manner, such as 66666.
You must not keep your mobile number's beginning or end digits as your T-Mobile PIN.
Your T-Mobile PIN must not be the same as the mobile number or your billing account number on the T-Mobile account.
You cannot set your Federal tax ID number, Social Security number, or date of birth as your T-Mobile PIN.
Frequently Asked Questions
Is T-Mobile PIN 4 or 6 digits?
The T-Mobile PIN is 6-15 non-sequential numbers. It cannot have repeating digits such as 5555 or sequential numbers like 12345678.
How do I find my T-Mobile prepaid account number and PIN?
Your 10-digit phone number is the account number if you have a T-Mobile prepaid account. You can find the PIN by calling 611 from your T-Mobile phone.
How do I find my transfer PIN on the T-Mobile App?
You can find your transfer PIN on the T-Mobile app by following these steps.
Download and sign in to the T-Mobile app.
Select the "Account" tab.
Choose the "Profile settings" option
Click on the "Line Settings".
Then select the "Request a transfer PIN" option.
You will get your transfer PIN.
How many numbers are in the T-Mobile transfer PIN?
There are 6 digits in the T-Mobile transfer PIN.
What is PUK?
The PUK (Personal Unblocking Key) is a code of 8 digits used to unblock your SIM card when you enter the wrong PIN code 3 times.

Subscribe to Email Updates :