Join Joe Oltmann – Reality Of Ukraine at Illinois Freedom Alliance Headquarters. Illinois Freedom Alliance is a local group of patriots dedicated to protecting our constitutional rights.
In addition to attending protests at school board meetings, we are joining the fight for healthcare workers and anyone else who has been persecuted for exercising their bodily autonomy and shining a spotlight on election integrity.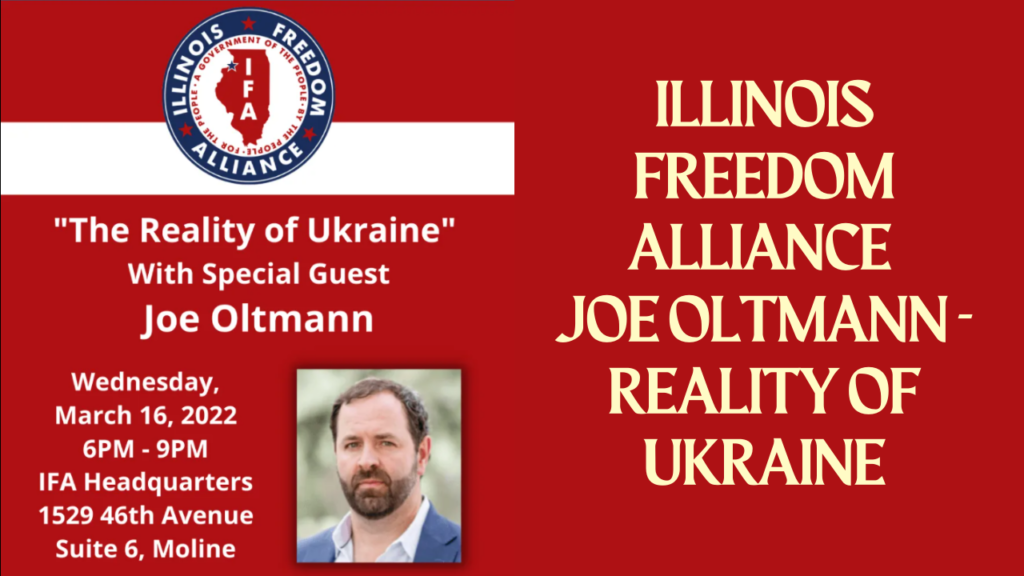 As well as the perverse sex education plan, we oppose the educational shift towards socialism. IFA will always protect our First Amendment against the new "Woke" culture. As well as the Second Amendment, we will defend those rights.
The Reality Of Ukraine with Special Guest Joe Oltmann
A successful entrepreneur, Joe Oltmann is the Founder of Pin Business Network, which exposed the director of strategy and security for DOMINION Voting Systems as a member of ANTIFA. 
On Wednesday, Joe Oltmann will be speaking at IFA Headquarters in Moline, Illinois. Joe has been the recipient of several awards, been recognized for his work on election integrity, is the Founder of multiple organizations, and is one of the co-hosts of the Conservative Daily Podcast, one of the most popular political podcasts in the US.
"Courage is more infectious than fear, and in order to preserve our nation, we must be willing to make significant sacrifices." – Joe Oltmann.
Also, Read | One Damn Thing After Another -Book about Trump
Book Tickets For the IFA Joe Oltmann – Reality Of Ukraine
You can book your tickets on https://www.illinoisfreedomalliance.us/ukraine, Mention all the required details and Reserve Your Seat!
When:
Wednesday, March 16, 2022

6 PM-9 PM EST
Where:
IFA Headquarters,

1529 46th Avenue

Suite 6, Moline
Also, Read | How does the Russia-Ukraine conflict affect the U.S economy?

Subscribe to Email Updates :