Ivana Trump Burial Site: Where was she buried after the funeral? Ivana Maria Trump was a businesswoman, media personality, socialite, fashion designer, novelist, and model who died on July 14, 2022. Ivana lived in Canada before moving to the United States. 
She married Donald Trump in 1977. She held significant management positions in The Trump Organization as vice president of interior design, CEO and president of Trump's Castle casino resort, and manager of the Plaza Hotel.
Throughout the 1980s, Ivana and Donald Trump were famous players in New York society. The couple's divorce, formalized in 1992, received substantial media publicity. Following her divorce, she launched her apparel, jewelry, and beauty lines, which she sold on QVC London and the Home Shopping Network.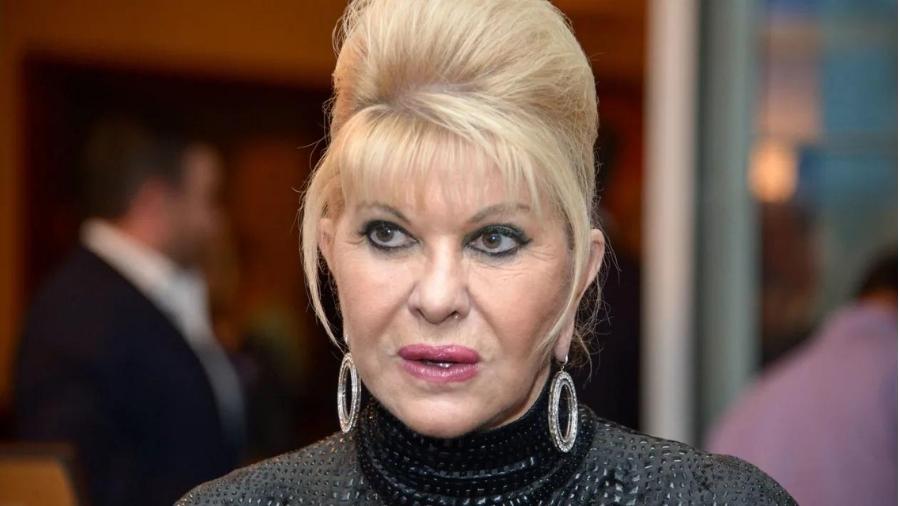 From 1995 through 2010, she ran an advice column for the Globe called "Ask Ivana," She published various books, including works of fiction, self-help, and the autobiography Raising Trump.
Ivana Trump Burial Site:
 Where was she buried after the funeral?
Ivana Trump Burial Site at the Trump National Golf Club cemetery in Bedminster, New Jersey.
The ex-wife of former President Donald Trump was buried in a rose gold-hued casket at the tony golf club, following her funeral in Manhattan earlier in the afternoon, which has a pool complex next to 17th-century farm buildings.
"It was wonderful," a source said of Ivana's funeral service, which included Donald and his three children, Donald Jr., Ivanka, and Eric.
According to a source in attendance, the 45th president told the gathering "just what a wonderful woman she was and what a strong woman she was, and she controlled a room."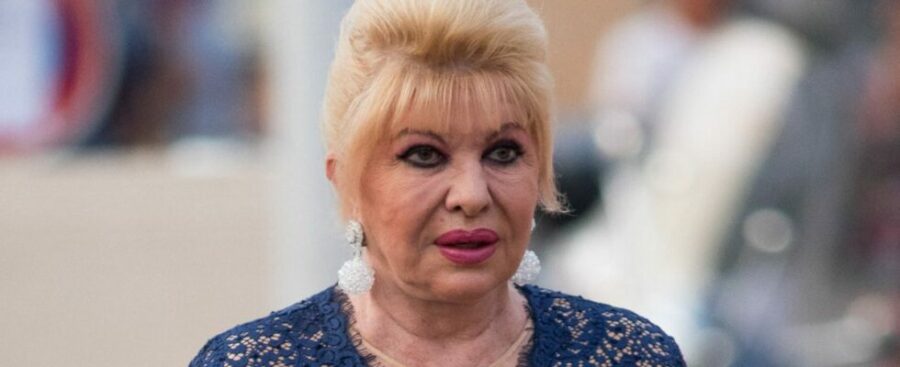 It is only a small piece of granite with her name carved. It is not far from the main clubhouse.
The former couple's children had earlier addressed the approximately 100 mourners at St. Vincent Ferrer Catholic Church on the Upper East Side, praising their "trailblazer" mother as an inspiration.
At the tribute, the New York City society woman was hailed as "a force of nature" and "the epitome of the American ideal."
Many people were perplexed by the decision to bury Ivana at Trump National Golf Club Bedminster. She is the first person to be buried on the former president's New Jersey estate, and the ground had to be consecrated for her to be buried in a conventional Catholic manner. 
A New York Post photographer visited the spot and discovered that, while Ivana's grave isn't technically on the golf course, the overall ambiance is surprisingly low-key.
President Trump statement on the death of Ivana Trump, his former wife and the mother of their three children. pic.twitter.com/k7fcsjC5uO

— Mollie (@MZHemingway) July 14, 2022
For years, Trump has expressed a desire to be buried at the New Jersey golf course. In a 2014 state document, his corporation even referred to it as his "favorite property." 
According to a 2017 Washington Post investigation, he had been attempting to persuade local authorities to allow him to establish cemeteries on the golf course since 2007. 
Two of his ideas were approved in 2017 after repeated tries, although work had not commenced. According to the 2017 article, the Trump Organization still needed to apply for governmental authority to turn the area into a public cemetery.
Also, Read | Ivana Alawi Age, Family, Net-Worth, Bio , Siblings and more
Ivana Trump Cause of Death- How did Ivana Trump Die?
Officials and law-enforcement sources said Friday that Ivana Trump died after falling down the steps of her Manhattan home, where a maintenance guy discovered her body next to a cup of spilled coffee.
A personal aide and a cleaning lady arrived at the 73-year-old Trump's Upper East Side home on Thursday, rang the doorbell, and dialed her phone, but no one answered, according to sources.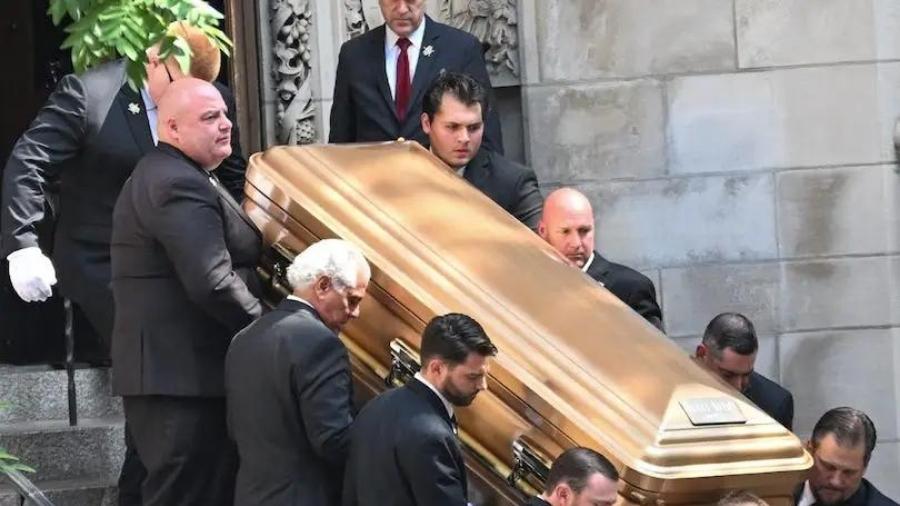 According to sources, the couple summoned the building's super, but he could not open the door since it was double-locked from the inside.
According to sources, a maintenance worker was called to the scene, opened the door, and discovered Trump on the stairs with a cup of coffee spilled next to her.
According to the New York City Medical Examiner's Office, the ex-wife of former President Donald Trump suffered "blunt impact injuries" to her torso. The ME's office officially deemed her death an "accident."
The socialite entrepreneur had been suffering from hip discomfort and was having so many difficulties walking that she couldn't even leave her house for a quick trip to the Hamptons. she was so shaky on her feet at times that she required the assistance of a personal health aide to walk about her neighborhood.
The night before she was discovered dead, Trump was seen out and about. she dined at her "favorite Italian" restaurant, Altesi's, just a few blocks from her home, and was "in high spirits," according to the restaurant's owner.
Also, Read | 'Proud First Wife' : Anecdotes from the era named Ivana Trump
While her demeanor was upbeat, Aletesi's owner Paola Alavian noted that the Czech-American appeared "maybe a little fatigued" and ordered a "very, very modest amount of food."
According to police, Trump went into cardiac arrest before falling down a flight of stairs in her four-story Upper East Side townhouse.
Ivana Trump Grave
Trump's grave is photographed alone against a backdrop of trees and vegetation. The tomb overlooks a substantial green expanse on the country club's vast estate.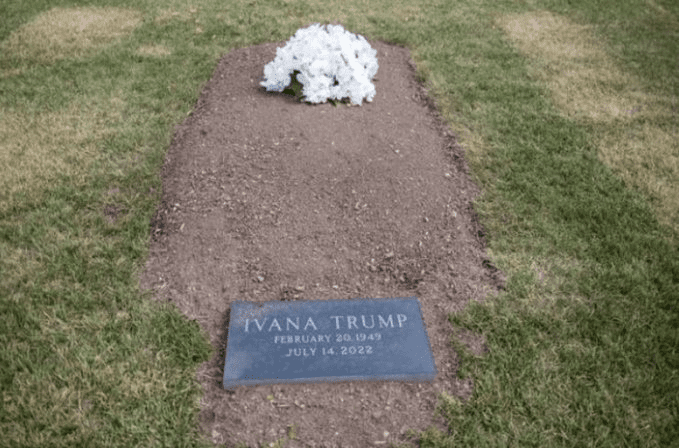 The spot where Ivana was buried has a bouquet of more than two dozen white flowers and a marker that reads Ivana Trump with the dates she was born and died in all capital letters.
The grave is located in an area where golfers will not notice it as they tee off for a round of golf. The modest scope of the club is found behind the first tee.
According to the Washington Post, Donald Trump relayed plans in 2017 to develop a 10-plot graveyard overlooking the first hole of the golf course for family members.

Subscribe to Email Updates :