Kimberly Reynolds is an American politician serving as the current governor of Iowa since 2017. She is a member of the Republican Party. 
Kim Education and early life
Reynolds was born Kimberly Kay Strawn in St. Charles, Iowa. She attended high school at the Interstate 35 Community School District and graduated in 1977.
Reynolds attended Northwest Missouri State University, for one semester (Fall 1977). She took classes in business, consumer sciences, and clothing sales and design. Soon after, she dropped out of college one semester later.  Later, she took classes at Southeastern Community College in the late 1980s.  She then went on to take accounting classes at Southwestern Community College between 1992 and 1995. She left both of these institutions. Reynolds began taking partially online classes at Iowa State University in 2012. She received a Bachelor of Liberal Studies degree in December 2016.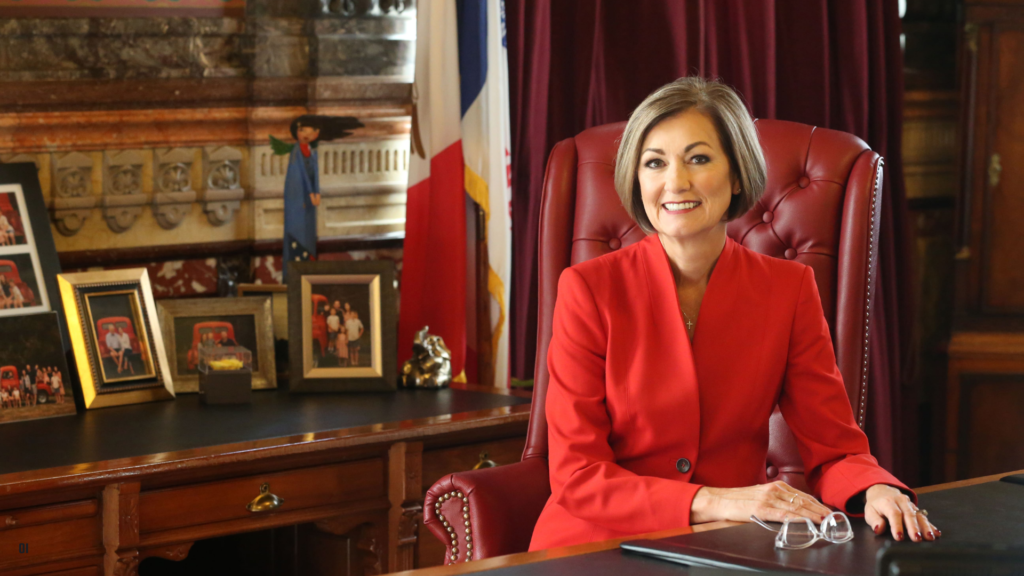 Kim Career
Reynolds previously served as the 46th lieutenant governor of Iowa from 2011 to 2017. Before she was elected lieutenant governor, Reynolds served as Clarke County treasurer for four terms and then served in the Iowa Senate from 2009 to 2010. Reynolds became governor of Iowa in May 2017 when her predecessor, Terry Branstad, stepped down to become the United States ambassador to China. She won a full term as governor in the 2018 gubernatorial election.
Kim Reynolds Religious beliefs
Gov. Reynolds is a conservative Christian. 
Reynolds chose a leader from a conservative Christian group as the sole speaker for the public at her May 2nd, 2020 news conference to discuss lifted restrictions on religious gatherings.
Greg Baker, executive vice president of the conservative Christian group the Family Leader, highlighted the work of many Christian churches across the state that have been making face masks, working with food banks, and distributing food to those in need. He did not mention the work of any non-Christian religion.
"We are seeing the attitude of our Lord and Savior Jesus Christ here as ambassadors," Baker said during Reynolds' daily news conference on the coronavirus in Iowa. "And Jesus came to not be served, but to serve and give his life as a ransom for many."

Subscribe to Email Updates :