Guilfoyle claimed she had just come from Fox News CEO Roger Ailes' office, according to the insider. He was dissatisfied with her work as a contributor and intended to terminate her, according to Guilfoyle.
Guilfoyle, on the other hand, devised a strategy to save herself.
Her adored father had lately passed away due to cancer. Guilfoyle's mother died of leukaemia when she was 11 years old. At that moment, Guilfoyle required something different from the Fox executive than he typically provided: pity.
Guilfoyle burst into uncontrolled laughter and exclaimed, "But Roger — I'm an orphan!" according to a Fox News insider.
The 39-year-old was spared by Ailes. She was going to stay at Fox. Guilfoyle was retained by Ailes as a legal contributor. She was offered a co-host spot on the popular panel show "The Five" in 2011, which included a prime leg-cam chair. Guilfoyle has gone from being afraid of losing her job to being a true Fox News star.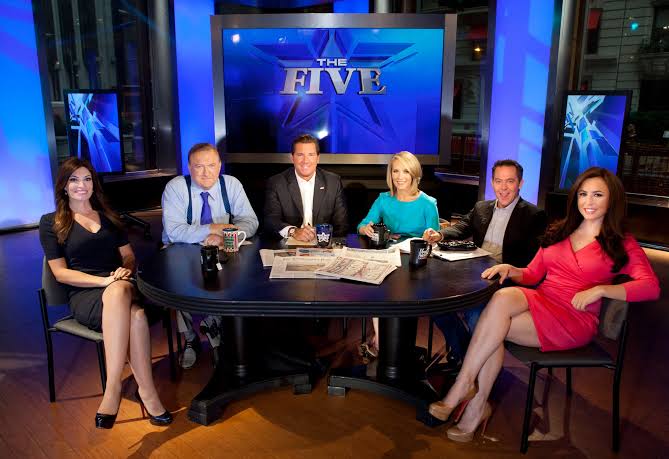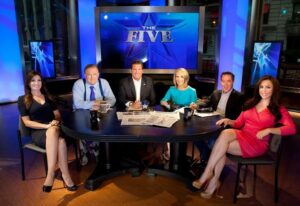 According to the Fox News insider, Guilfoyle laughed as she described the incident. This source was suspicious of Guilfoyle's strategy but sympathetic to her situation.
"When the chips are down, she'll work, she'll fight," the insider said. "And she was really sad during that time. I remember she was very scared. Her second marriage had ended, she was about to get fired, she had a little boy."
Guilfoyle did leave Fox News quite sometime later in 2018, stating that she 'wanted to focus on politics' but the real reason behind her departure, as many speculated, was the sexual assault allegations against her by her assistant.
Such rumours only add fuel to the fire of the masses' (read: Democrats) conception of Guilfoyle as a skilled temptress, who got together with Don Jr. only to fulfil her political ambitions.
Here, we come to the rescue of Guilfoyle (not that she particularly needs rescuing) and explore her role in the rise of Don Jr. as Trump's most ferocious right-hand man.
But first, let's back up a bit here, shall we? 
'Just' Ivanka Trump's brother- Don Jr.
Former President Trump joked during his first presidential campaign, "Don, you can finally do something for me — you can go hunting," urging Don Jr. to utilise his unpopular passion to court favour with middle America. Don Jr. is now a sought-after Trump surrogate, with some speculating that he will run for office himself.
For years, Guilfoyle and the Trumps have circulated in the same New York City circles. Ronan, her son, went to the same Manhattan private school as Kai, Don Jr.'s oldest daughter.
Guilfoyle and Don Jr. began dating in 2018, shortly after Vanessa, Don Jr.'s wife of 13 years and mother of his five children, filed divorce papers in February.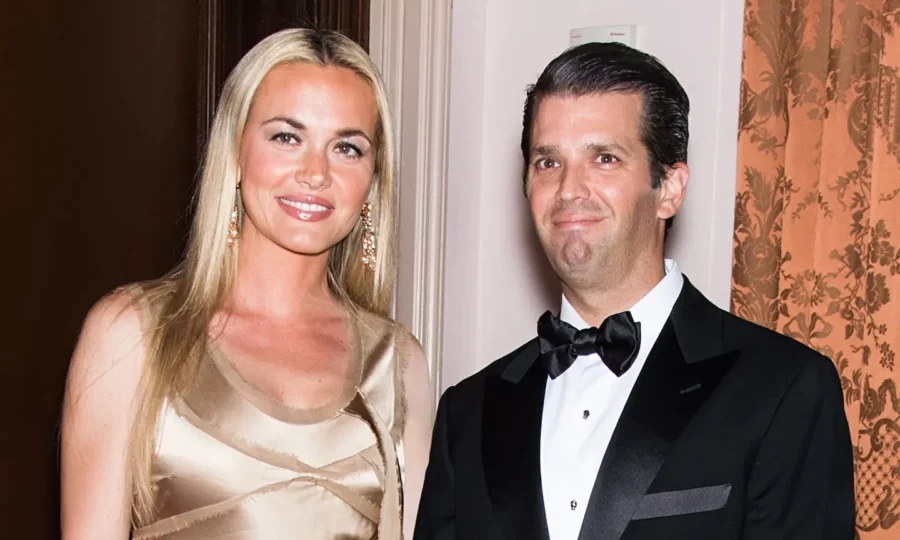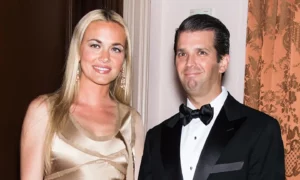 "Don't forget that Vanessa, Don Jr.'s ex-wife, was uninterested in politics. She wasn't a political wife. They weren't a power couple in the first place, "Hay said. Don Jr. discovered a true companion and political aide in Kimberly.
Guilfoyle and Don Jr. made it plain three months after Vanessa filed for divorce that the president's son had chosen a new first lady of his own. They started appearing on Guilfoyle's Instagram, hunting and fishing in Montana, mugging with Bret Michaels at a Poison concert, and posing for a selfie on the White House colonnade, lovingly holding hands.
Don Jr. and Kimberly Guilfoyle – 'The Prom King and Queen of MAGA Land'  
Before her abrupt departure from Fox a few weeks later on July 20,  Guilfoyle was already plotting her next move.
"Right before she got axed, when she was still on 'The Five,' she reached out to the New York Post trying to plant an item about the fact that she was a contender for the White House press secretary job," a former New York Post staffer said.
"She wanted in," a colleague from Guilfoyle's early days in television who still socializes with her said. "Somehow, she was going to get on the president's staff. And that didn't happen, but she got into the family." Hay added, "She's a human Venus flytrap."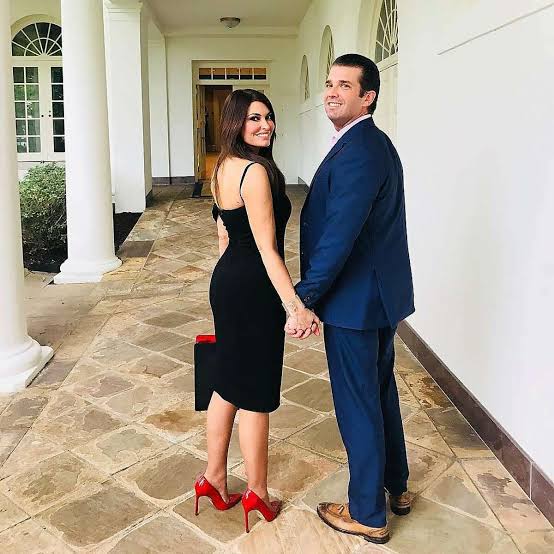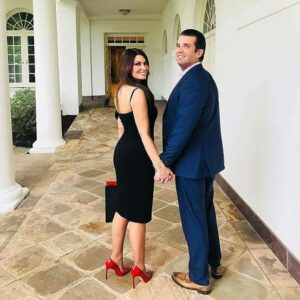 Guilfoyle joined America First Action, a pro-Trump super PAC, as vice-chairperson in 2018. Guilfoyle was appointed as a senior advisor to Trump's 2020 reelection campaign by Brad Parscale, Trump's now-disgraced campaign manager, in April 2019.
"I have been present on numerous occasions where the president turns to Kimberly and seeks her counsel on issues of policy like the judiciary and tax reform," a family friend and senior campaign advisor said.
Guilfoyle pleased Trump so much in her advisory role that he invited her to manage the fund-raising campaign for Trump Victory, a fundraising organisation that focuses on mid-tier donors, a demographic Trump has struggled to attract.
"A lot of the professional fundraisers thought she was just being given a title and were very sceptical, and she's been an animal," former White House press secretary Sean Spicer said. "She is tenacious when she comes to raising money."
But what about the benefits Don Jr. reaped from his alliance with Guilfoyle?
"She's definitely made Don Jr. more serious," R. Couri Hay, a New York publicist, told Business Insider. "She's had years and years on TV. She's helped guide and train and been very influential in Don's increasingly very secure, very formidable, very opinionated television personality.
"She's been able to guide him and lead him in the political waters. And he is basking in it and loving it."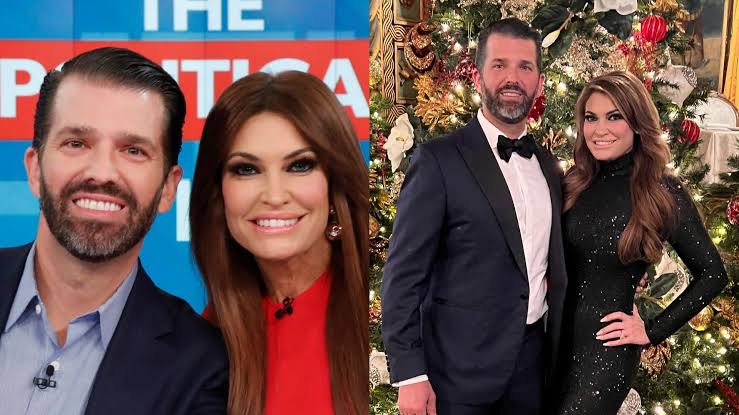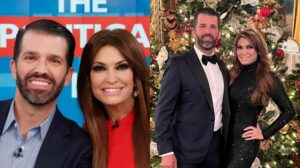 For those who have followed Guilfoyle's story, none of this comes as a surprise. They watched how she influenced the career of her first husband, Gavin Newsom, who is now California's governor. After leaving her work as a district attorney in San Francisco, they watched her reinvent herself as a New York media celebrity. They've seen her determination and skill to manage a crowd and leverage her celebrity, just like President Trump.
As one former Fox News colleague said, "It's interesting to me that Donald Trump Jr. ended up with a female version of his father."
The longtime friend said Don Jr. never wanted the attention that came with politics. "But with Kimberly, he went from zero to 10. It was like a light switch," she said.
'If Trump wins, there will be a White House wedding'
No matter what the outcome of this election, Guilfoyle is sticking by the Trumps, sources say.
"Donald Trump wants to leave behind a legacy of Trumps, and Kimberly Guilfoyle is part of that picture," a Guilfoyle friend said. "She's tall, she's beautiful, she's busty — of course the president loves her."
"If Trump wins, there will be a White House wedding. That's a plan I've heard repeated a number of times," Hay said.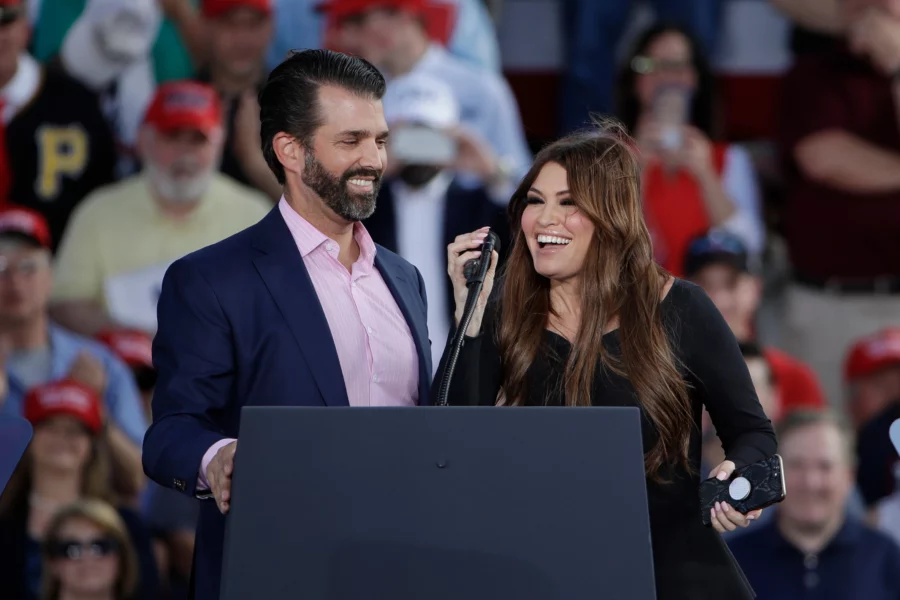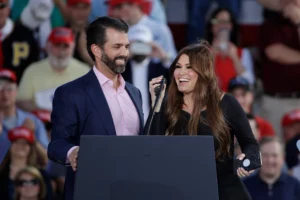 Despite people saying Don Jr. is happiest hunting and fishing, he welcomes the popularity he's been able to bring to the campaign with Guilfoyle's help.
"Kimberly and Don Jr. are a very powerful couple together," the senior campaign advisor said. "They have perfected the 'Make America Great Again' messaging.
"They complement each other on the campaign trail, and her extensive television experience has been evident in the way that Don has been able to hone his messaging points to support his father."
All said and done, Kimberly certainly seems to be taking the 'let the work do the talking' route as regards bashing her haters is concerned. As long as Don Jr keeps rising like a juggernaut as he has been since his association with Kimberly became official, haters won't have anything left to do but sulk in a dark corner. Nice, Kim, good going!

Subscribe to Email Updates :