In this article, we have covered everything about Marco Rubio, such as his bio, age, height, wife, polls, education, and much more.
So, without any further ado, let's get started –
Marco Rubio – Bio, Age, Height, Wife, Polls, & Education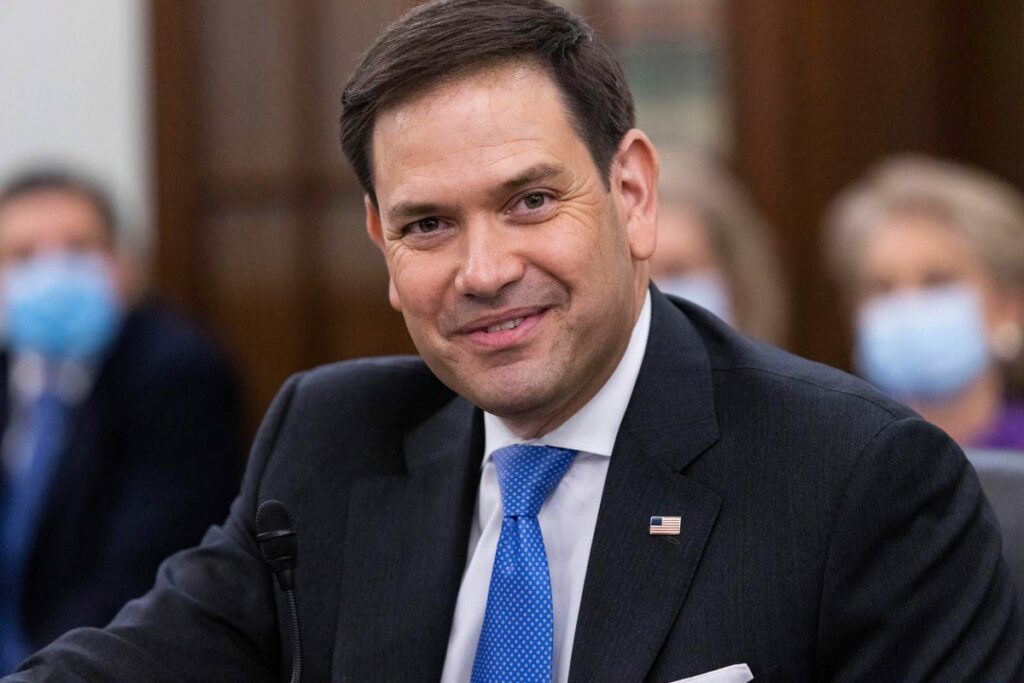 Marco Rubio is an American politician. He was elected to the United States Senate as a Republican in 2010 and began his term representing Florida the following year. Later, Marco also ran for his party's nomination in the 2016 US presidential election.
Marco Rubio Biography
Marco Rubio is a Florida senator who has been in office since January 2011. He previously held the position of Speaker of the Florida House of Representatives.
Being a law student, he became involved in politics and was appointed City Commissioner for West Miami before being elected to the Florida House of Representatives. His political career accelerated, and he rose to become the House Majority Leader and Speaker of the Florida House. Marco Rubio also runs his law firm and is an adjunct professor at Florida International University.
Marco Rubio Career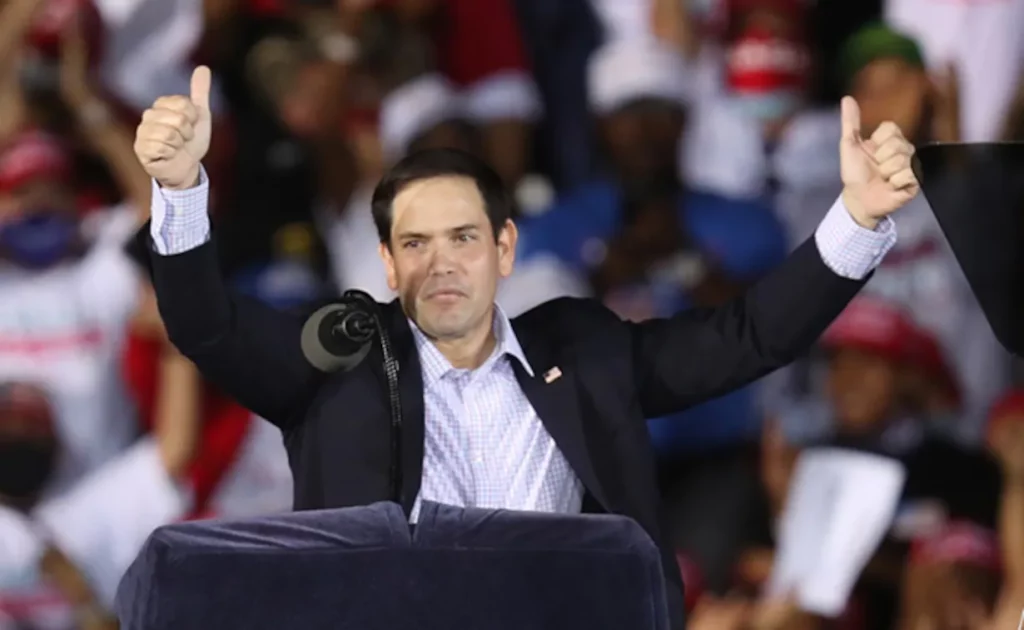 Rubio was elected to the West Miami City Commission in 1998; the following year, he was elected to the Florida House of Representatives.

He was elected to the Florida House of Representatives from the 111th district in 2000, succeeding Carlos Valdes. During his tenure, he held the positions of Majority Whip and Majority Leader. He actively promoted a populist agenda of lower taxes, better schools, a leaner and more efficient government, and free market empowerment.

In 2006, he was elected Speaker of the House. In that capacity, he introduced a plan to reduce state property taxes to 2001 levels. He supported efforts to promote literacy and mentor black children, believing young African-American males did not believe in the American dream.

His term as Speaker of the House ended in 2008, and he returned to the legal profession and established his firm. During this time, he also began teaching as an adjunct professor in the Department of Politics and International Relations at Florida International University (FIU).

He launched his campaign for the United States Senate in 2009. In the 2010 United States Senate election in Florida, he shocked everyone by defeating his opponents, independent candidate Charlie Crist and Democrat Kendrick Meek.

Marco Rubio was elected to the United States Senate from Florida in January 2011. He voted against the 2011 Budget Control Act and co-sponsored the reducing the size of the Federal Government through Attrition Act.

He sits on several senators' committees, including the Commerce Subcommittee on Oceans, Atmosphere, Fisheries, and Coast Guard and the Foreign Relations Subcommittee on Western Hemisphere, Transnational Crime, Civilian Security, Democracy, Human Rights, and Global Women's Issues.

He is a member of the Senate's bipartisan "Gang of Eight," He co-authored the Border Security, Economic Opportunity, and Immigration Modernization Act of 2013, which provides a path to legal status for illegal immigrants. In 2015, he announced his intention to run for the Republican presidential nomination in 2016.

Before becoming a speaker, he wrote the book '100 Innovative Ideas for Florida's Future,' based on ideas gathered from Florida residents. As the speaker, he assisted in putting many ideas presented in the book into action. Measures to combat gangs and sexual predators and promote energy-efficient buildings, appliances, and vehicles were among the ideas that eventually became laws.
Also Read – Jim Bognet – Bio, Wiki, Age, Height, Net Worth, and more
Marco Rubio Personal Life
Marco Rubio was born in Florida to Cuban immigrants who came to the United States before Fidel Castro's rise. He grew up in a working-class neighborhood, watching his parents struggle to provide for him and his siblings. Rubio's parents immigrated to the United States from Cuba in 1956, during the dictatorship of Fulgencio Batista.
Before moving to Las Vegas, his family first settled in Miami, where his father worked as a bartender and his mother as a hotel housekeeper. Marco, who was raised Roman Catholic, was baptized as a Mormon in Nevada but later returned to the Catholic Church. The family eventually became citizens of the United States.
The Rubios returned to Florida in 1985. Marco met his future wife, Jeanette Dousdebes, as a teenager. In 1998, the couple married and had four children.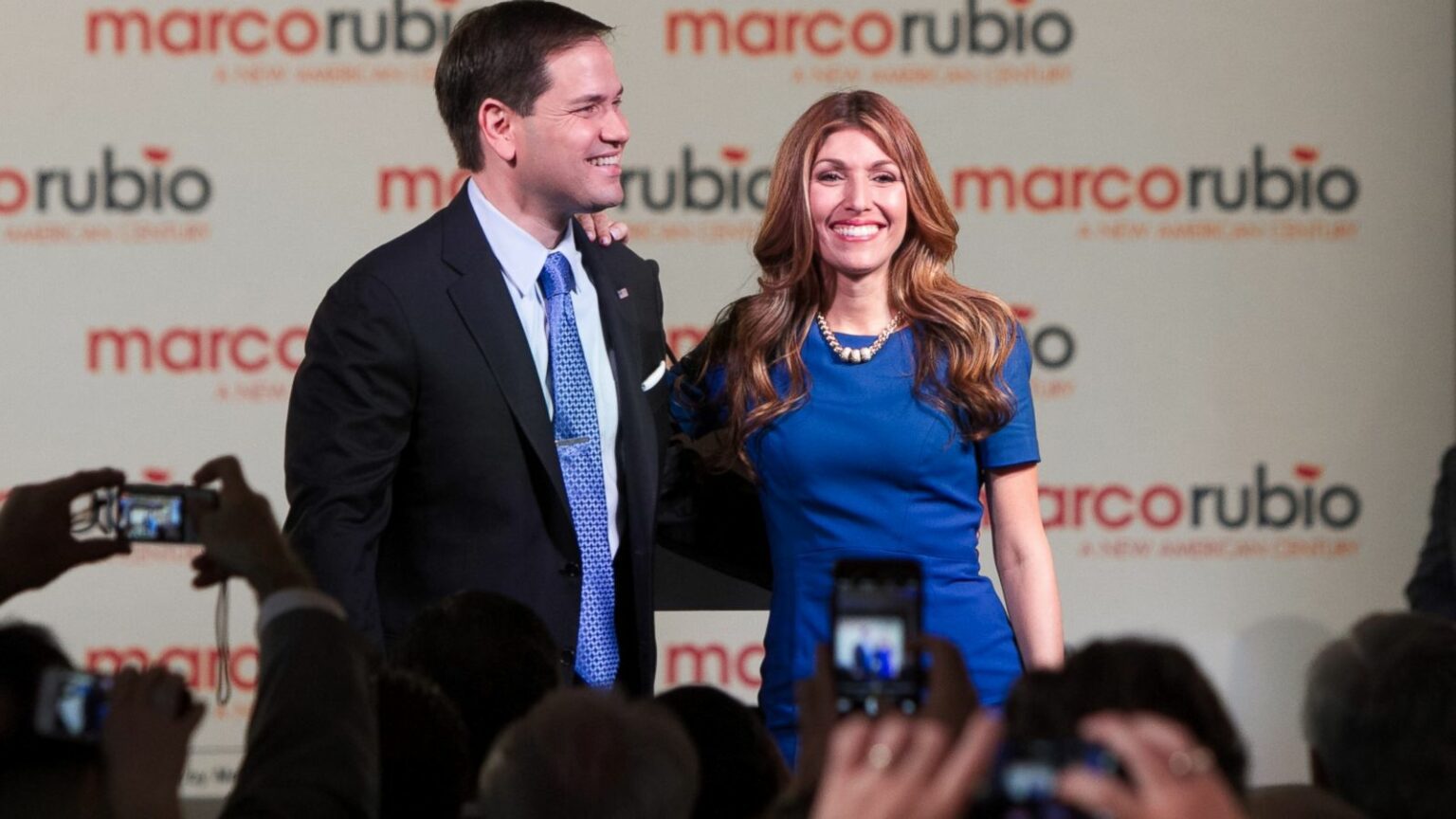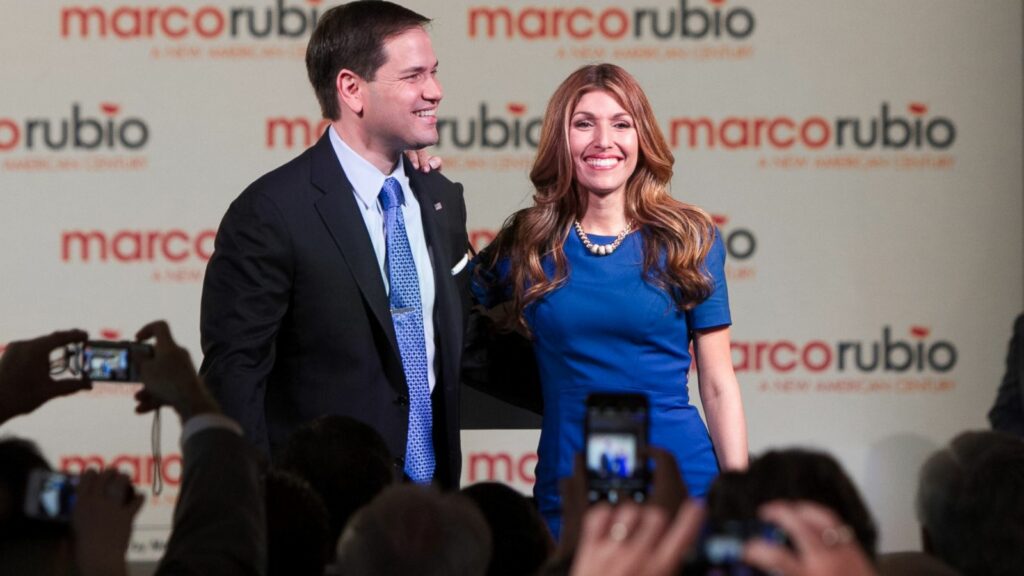 Senator Rubio grew up in West Miami and still lives with his wife Jeanette and their children. One of the many reasons he enjoys living in Florida and representing its people is the diversity of their backgrounds and stories.
Marco Rubio Education
Rubio graduated from South Miami Senior High School in 1989. He attended Tarkio College in Missouri for one year on a football scholarship before enrolling at Santa Fe Community College (now Santa Fe College) in Gainesville, Florida.
In 1993, he received his Bachelor of Arts in political science from the University of Florida and completed his Juris Doctor cum laude from the University of Miami School of Law in 1996.
During that time, he worked for Republican Ileana Ros-Lehtinen, the first Hispanic woman elected to the United States House of Representatives. After graduating from law school in 1996, he served on the West Miami City Commission before being elected to the Florida House of Representatives in a special election.
Also Read – Blake Masters – Bio, Wiki, Lifestyle, and more
Marco Rubio For Senate
Senator Rubio's top priority is to ensure that he and his staff are available to assist Floridians with any federal assistance they may require. Senator Rubio's federal casework team received the 2019 Democracy Award for Excellence in Constituent Services from the Congressional Management Foundation (CMF). The crew assisted nearly 20,000 Floridians with issues ranging from veteran affairs to passport services in 2021.
Senator Rubio's top priority is to pass good legislation. Despite unprecedented partisan division and dysfunction in Washington, Senator Rubio has achieved accurate results for Florida and the country yearly.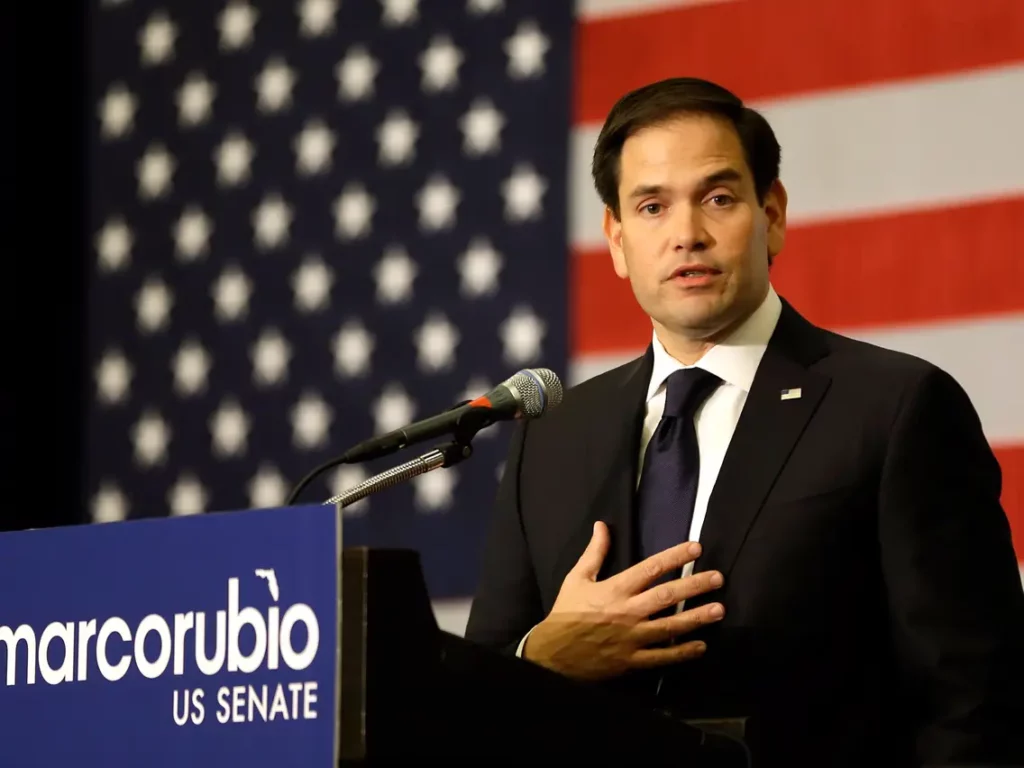 His VA Accountability Act helped America's veterans, his Child Tax Credit expansion helped working families, and his Paycheck Protection Program kept small businesses open during pandemic lockdowns.
Senator Rubio's efforts recently resulted in a crackdown on Uyghur slave labor in China and generous funding for Everglades restoration projects. That is why, according to nonpartisan analyses by GovTrack and the Center for Effective Lawmaking, he is the Senate's number two leader and the most influential Republican.
Senator Rubio fought against the Washington establishment's big government vision when he entered the Senate in January 2011, supporting the replacement of ObamaCare with a better healthcare system and opposing bloated budgets. He is still advocating for common-sense policies that create good jobs and real prosperity for working Americans.
Senator Rubio is the Vice Chairman of the Senate Select Committee on Intelligence, where he oversees our country's intelligence and national security apparatus. Senator Rubio also serves on the Foreign Relations Committee, where he works to advance human rights and America's interests worldwide; the powerful Appropriations Committee, which allocates federal government funding; and the Special Committee on Aging, which focuses on the needs of older Americans.
Senator Rubio also serves on the Small Business and Entrepreneurship Committee, which works to help small businesses thrive in the twenty-first century. As the former Chairman of this committee, Rubio authored the historic Paycheck Protection Program, which has provided a lifeline to millions of small businesses and American workers facing economic hardship due to the COVID-19 pandemic.
Also Read – Greg Gutfeld – Bio, Wiki, Age, Wife, Personal Life, and more
Marco Rubio Polls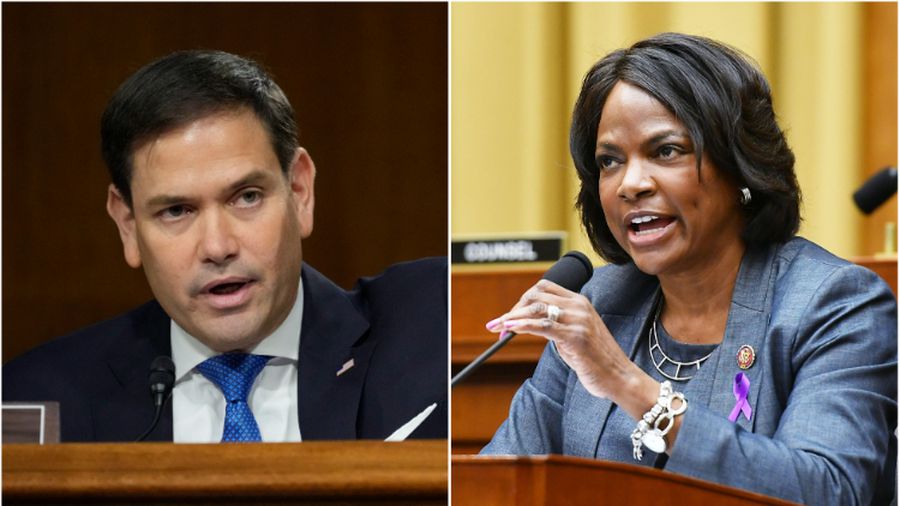 A recent wave of polls suggests Republican Sen. Marco Rubio may face a tougher-than-expected reelection fight. In the last two weeks, three polls have shown putative Democratic Senate nominee Val Demings tied or ahead of Rubio in Florida.
Demings received 48% support from registered voters, more than the GOP incumbent, according to a University of North Florida poll released Tuesday. 7% of those polled said they would vote for someone else. This poll comes just days after two other polls released last week found the race tied: One study, conducted by two progressive groups in Florida, found that the two candidates received 45% of the vote each.
Another poll released last week by the Democratic group EMILY's List found Demings and Rubio to have 46% support. Recent polls show a much closer race than polls taken earlier this year. In February, a University of North Florida poll found Rubio leading Demings by 12 percentage points, 46% to 34%. The data appear to contradict the widely held belief in both Washington and Florida that Rubio will easily win reelection.

Subscribe to Email Updates :