Mike Lindell has hosted a new event called Momentoftruth.com, this is something similar to a cyber symposium that he hosted last year. The event is mainly focused on bringing our various facts and figures about the 2020 elections.
Click to Watch live: – Watch Moment of Truth live stream
Momentoftruthsummit.com – How and where to watch?
If you want to watch the moment of truth summit, you can signup for an email alert :
Moment of Truth Summit Schedule, Livestream, Speakers. Mike Lindell, CEO of MyPillow and one of the most prolific spreaders of debunked election conspiracy theories in the US, will be hosting a Moment of Truth Summit in Springfield on 20th August.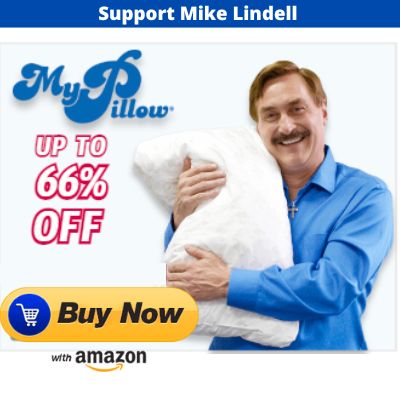 Described as the "Moment of Truth Summit," the event will be held at the University Plaza Hotel and Convention Center in Springfield from Aug20-21. It will include a presentation by Lindell, expert discussions, Speakers from 50 States, a World Premiere of a film that focuses on conspiracy theories about voter fraud, calls to action, new evidence reveal, and much more.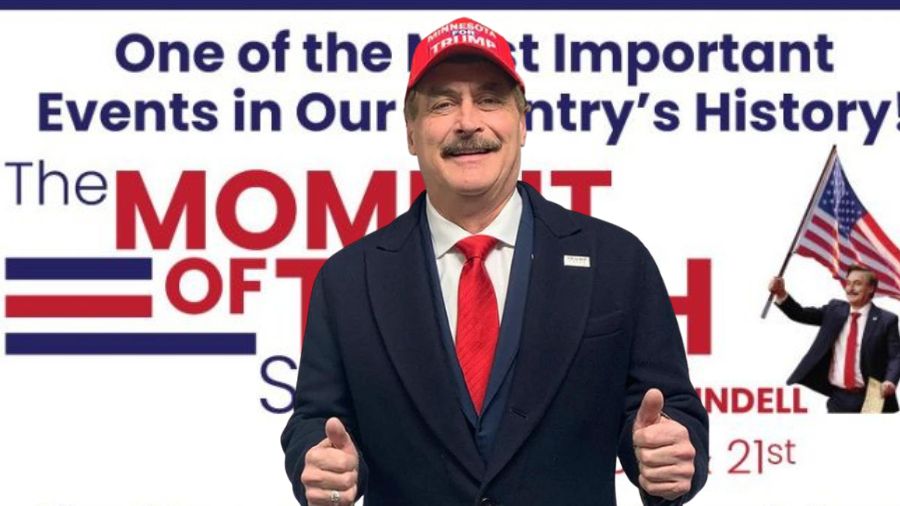 The event "Moment of Truth Summit" gained initial attention in July when Lindell's clip revealing the event on a right-wing news channel went viral across social media. He regards it as the most prominent event in our lifetimes but provides little other information. He said the event would be an "invite only" process, sending invitations to grassroots personalities such as podcasters and church leaders.
Moment of Truth Summit Schedule
Mike Lindell has planned the 48-hour Summit properly and fragmented it into six segments.
Moment of Truth Summit Schedule August 20th Day 1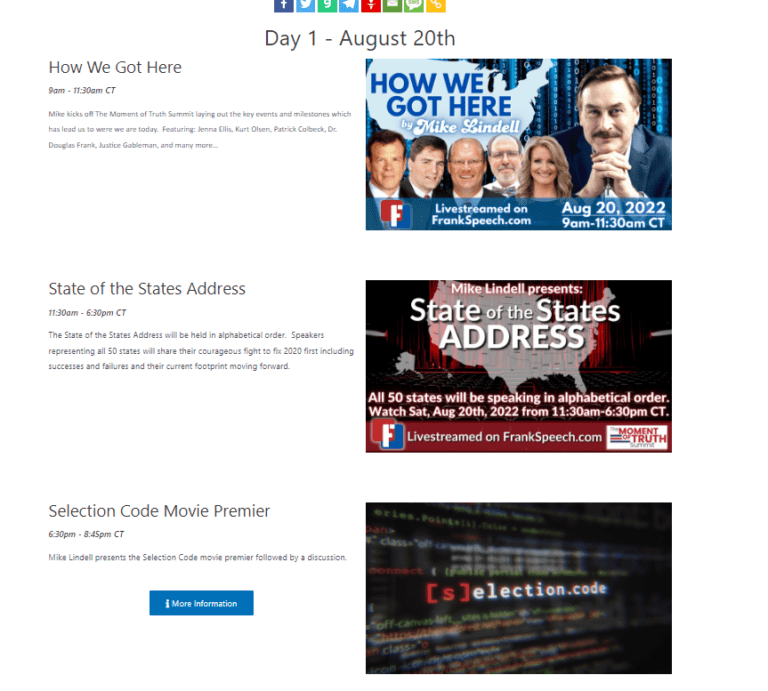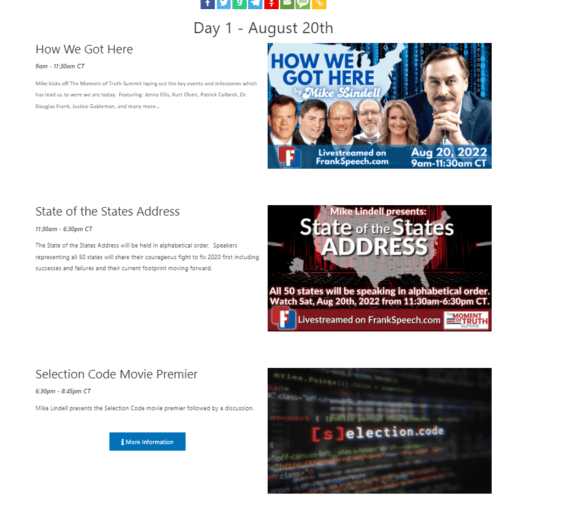 The Summit is Scheduled for 2 Day event with Six Segments; all the segments are mentioned and described below: 
How We Got Here, 9 AM – 11:30 AM CT
Mike starts the Summit by outlining the key events and milestones that got us where we are. 
State of the States Address, 11:30 AM – 6:30 PM CT
The State of the Speech States is held in alphabetical order. Speakers representing all 50 states will share their brave fight to fix 2020 first, including successes and failures and their current footprint into the future.
Selection Code Movie Premier, 6:30 PM – 8:45 PM CT
Mike Lindell presents the film premiere of Selection Code, followed by a discussion. 
Moment of Truth Summit Schedule August 21st Day 2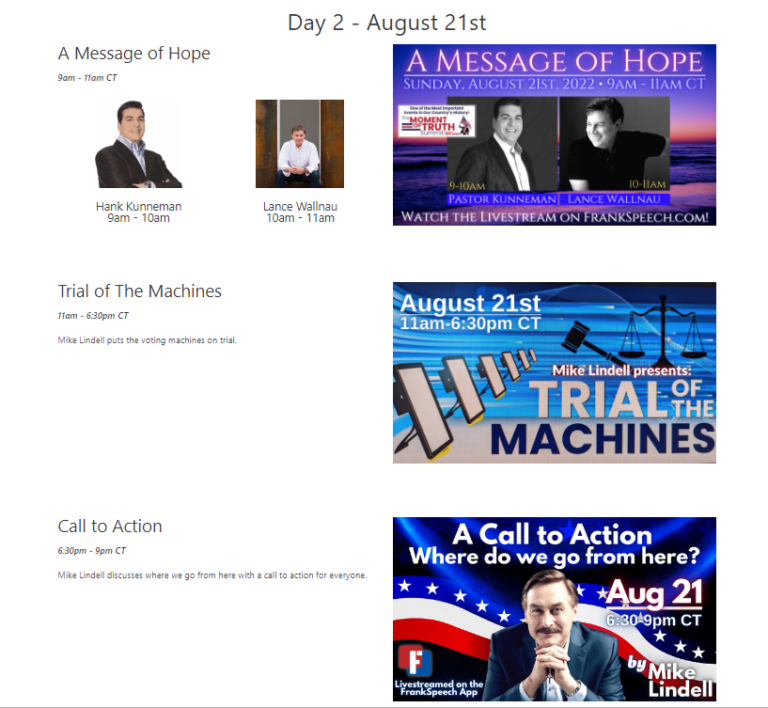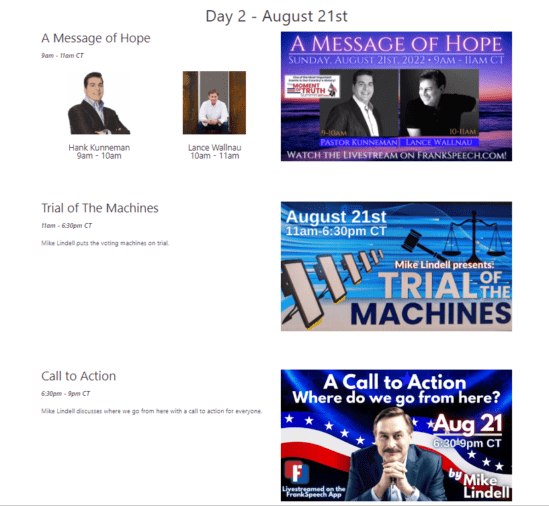 On Day 2, the Summit will Start with A Message of Hope. The Summit will Start at 9 AM by the Hank Kunneman.
A Message of Hope, 9 AM – 11 AM CT
Hank Kunneman and Lance Wallnau will start Day 2 with A message of Hope.
Trial of The Machines, 11 AM – 6:30 PM CT
Mike Lindell puts the ballot machines on trial. As he mentions, the Summit is for the Election. Mike Will put the voting machine on trial during the live event.
Call to Action, 6:30 PM – 9 PM CT
Mike Lindell discusses how to proceed with a call to action for all.
Watch Moment of Truth Summit Live Stream 
The Summit by Mike Lindell will be streaming live on 20th August to 21st August. Viewers can watch the full coverage of this Summit and the Premiere of the Selection Code Movie through World-wire live stream. 
To Join us on 20th August at 9 AM CDT, subscribe to our Email List & Telegram Channel to get the Livestream URL delivered to your inbox when the stream starts.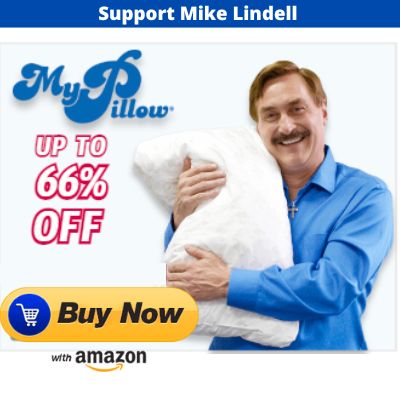 For more updates on the Moment of Truth summit and the world premiere of Selection Code Movie, Join Our Telegram Channel and stay tuned.
To Watch Live Visit – How to Watch Moment of Truth Summit by Mike Lindell?
Viewers can also enjoy the live stream of the event on Lindell's website FrankSpeech.com
Moment of Truth Summit Speakers 
A few prominent speakers at the Summit are former Trump White House advisor Steve Bannon, son of Brazilian president Jair Bolsonaro.
More than 200 politicians and representatives of the federal and state governments take part in it. 
Plus, 1,000+ RSVPs will participate, including influencers, TV, media, radio, podcasts, and more.
About Trial of the Machines at Election Summit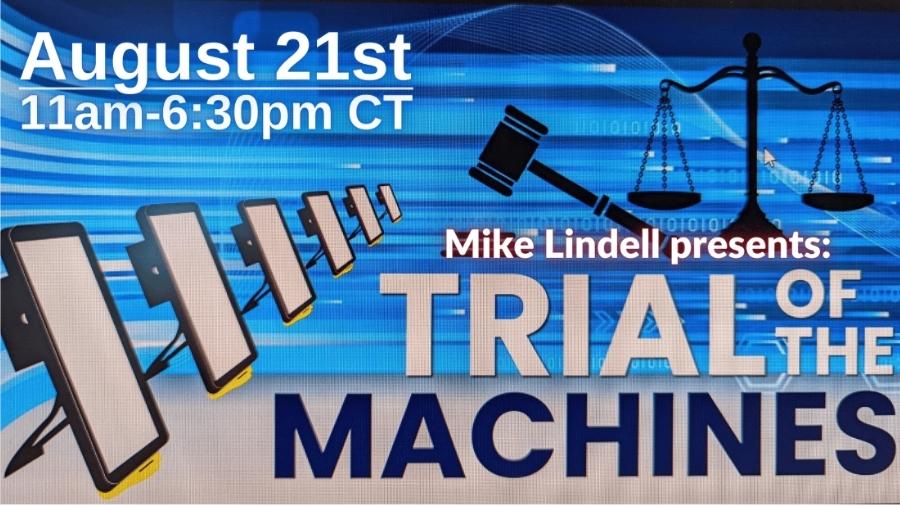 MyPillow CEO Mike Lindell revealed plans over the weekend to host a trial where the voting machines are the accused.  
While discussing with Steve Bannon at the Conservative Political Action Conference (CPAC), Lindell explained that the trial of the voting machines would take place at his upcoming summit "Moment of Truth" in late August. 
Mike Lindell announced "the trial of the machines" will take place at his next election fraud summit.

"Think of the movie 'The Terminator' with drones coming down," he told a crowd at CPAC. pic.twitter.com/xpaAm1jXpi

— David Edwards (@DavidEdwards) August 7, 2022
Lindell said he would "have the proof of the machines" on the second day of his Summit.
The Pillow executive warned the crowd that countries with electronic voting systems never "eliminate the machines." 
"There's always hacks and, you know, we're into artificial intelligence and all that," Lindell said. 
He urged us to think of the movie 'The Terminator,' which had crashing drones and added that it is already happening in Australia.
Lindell hoped his Summit would rid the country of voting machines forever.
Moment of Truth Summit Venue:
University Plaza Hotel & Convention Center
333 S John Q Hammons Pkwy
Springfield, MO 65806 United States

Subscribe to Email Updates :