Monster Girl Doctor Release Date, Plot, Cast, and Spoiler Monster Musume No OishaSan: Monster Doctor is coming to treat you all very soon and you all should be really excited.
Monster Musume No Oisha is fantasy anime based on novel series by Yoshino Origuchiof of the same name. It is being published by DashXBunko since June 2016. The English version of the novel was started in December 2017 by Seven Seas Entertainment.
Monster Girl Doctor Release Date
It was announced on November 14, 2019, by Bandai Namco Arts on their official site, and on June 10, 2020, the official Twitter page of the anime released a visual and confirmed that the Novel series will get an anime adaptation on July 12, 2020.
Monster Girl Doctor Plot
A long time ago a war lasted over a century between humans and monsters. The war has been so long that nobody remembers why the war was started. Everybody got tired of the killing and a treaty was formed to end the war.
Dr.Glenn is a doctor who has his own medical clinic in the town of Lindworm. He runs the medical clinic with his assistant Sapphire, who is a monster. Dr.Glenn treats every patient with care whether the patient is a centaur who was injured in war or whether it's a mermaid or whether it's a golem, Dr.Glenn doesn't discriminate between his patients. Basically, Dr.Glenn is a human doctor that treat monster girls. But is the Lindworm as simple as it is shown? What will happen when Dr.Glenn will find out about the dark secret about the city of Lindworm.
Monster Musume No Oisha-San:  Production Staff
Directors: Yoshiaki Iwasaki (We Never Learn: BOKUBEN, The Familiar of Zero, Last Period: the journey to the end of the despair)
Studio: Arvo Animation (We Never Learn: BOKUBEN)
Writer: Hideki Shirane (Date A Live, Is It Wrong to Try to Pick Up Girls in a Dungeon?)
Character design: Hiromi Kato (Kobato., Chain Chronicle, ID-0)
Compose: TO-MAS
Monster Musume No Oisha-San: Cast and Characters
Saori Ōnishi(Anohana: The Flower We Saw That Day )as Saphentite "Sapphee" Neikes
Shunichi Toki(Demon Slayer: Kimetsu no Yaiba)as Glenn Leitbeit
Sarah Emi Bridcutt(Blood Lad) as Tisaria Scudia
Yukiyo Fujii(Dragon Ball Super) as Lulala Haine
Atsumi Tanezaki(Durarara!!) as Scadi
Maki Kawase(Vinland Saga) as Kunai
Sayumi Suzushiro(Dr. Stone) as Ily
Miho Okasaki(Ahiru no Sora) as Meme
Ai Fairouz(Fruits Basket) as Kei
M.A.O.(Black Clover) as Rona
Hisako Kanemoto(Assassination Classroom)as Dione
Yukana(Angel Heart) as Cthulihu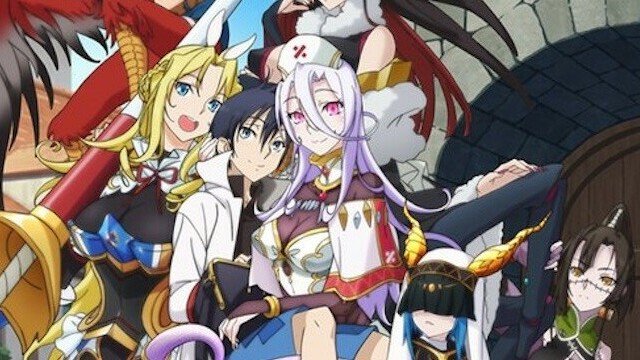 ARCANA PROJECT will perform the opening music(OP) of the series titled "Campanella Habiku Sora De"(In the sky where the bell rings). The ending song is performed by Aina Suzuki and the ending song is titled "Yasahisa no Namae"(The Name of Kindness). The opening song will be released on September 9, 2020. It will be co-produced by Bandai Namco Art's and DEARSTAGE.
Monster Musume No Oisha-San: Where to watch?
On June 10 the official twitter page of the anime announced that the anime will air on TOKYO MX, Sun TV, and on KBS Kyoto on July  12. It will also be aired on BS11 two days later after the official release.
【放送情報!】
「モンスター娘のお医者さん」
TOKYO MX 7月12日より毎週日曜23:00~
サンテレビ 7月12日より毎週日曜23:30~
KBS京都 7月12日より毎週日曜23:00~
BS11 7月14日より毎週火曜24:30~
※放送日時は予告なく変更になる場合がございます#モン医者 #m_doctor https://t.co/5beo6Qeguz pic.twitter.com/nXdbvPRz9j

— TVアニメ『モンスター娘のお医者さん』公式 (@mon_isha_anime) June 10, 2020
Monster Musume No Oisha san hasn't released the official episode count for the series yet, but it is believed that the series will have 24 episodes run.

Subscribe to Email Updates :