Famous Bollywood actor Nana Patekar visited Sushant Singh Rajput's parents on this Sunday, Nana Patekar said, "I just met his father. And what else I can do," after visiting the late actor's parents.
Nana Patekar visits Sushant Singh Rajput's Parent's
Nana Patekar was in Bihar for a cultural function of CRPF in mokamah of Patna district; Nana Patekar refrained answering any questions regarding CBI investigation or comments on Sushant's death by the media. 
Sushant Singh Rajput ( 34 years old) was found dead in his apartment situated in Bandra on June 14. The Family of the late actor has announced that the actor's social media accounts will now be maintained as legacy pages.
The Family of the late actor also announced that the house situated in Patna, where Sushant spent his whole childhood, will now be maintained as a memorial. Even a foundation named after Sushant to be set up for supporting young talents.
Sushant Singh Rajput's suicide CBI investigation
There has been a complete outrage about nepotism in Bollywood after Sushant's death people also have been regarding this as a murder conspiracy and are demanding a detailed CBI inquiry on this, many petitions on change.org have been registered and also have been signed by many people.
Reports suggest that before Sushant's death, he played a warfare video game and had a party last night. He then took a glass of juice and went into his room after which he was found dead, looks suspicious, and doesn't it?
Dil Bechara movie release date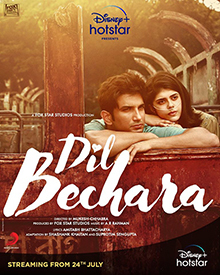 Sushant Singh Rajput's last movie, 'Dil Bechara' based on John greens 2012 novel, fault in our stars, is going to release on July 24 exclusively on the OTT platform Disney+ Hotstar. It will be free for streaming for both the subscribed and non-subscribed users.
The movie was all set to release on May 8, 2020, but was postponed due to coronavirus pandemic.
Signup For Our Newsletter