No Guns Life Season 2 Release Date, Cast, Plot, and Spoilers (Check Updates): No Guns Life was an action anime that was missing from everyone's life. The anime is filled with hard-fought action scenes that amaze the fans to no extent. It is not just an action anime, it also delivers a political message.
No Gun Life is an anime based on the manga of the same name. The manga was started in August 2014. While the anime was announced on March 18, 2019. It was leaked that the anime will have 2 cours run that will include a total of 24 episodes. The anime will be divided into four volumes with the first two v0lumes being released in February and April of 2020. Later the news was confirmed by the production house.
No Guns Life Season 2 Release Date
At first, it was announced in December 2019 that part 2 of the anime will release in April 2020, But due to COVID Pandemic it was delayed and on June 22, 2020, it was announced that part 2 of the anime will release on 9 July, 2020.
No Guns Life Details
No Guns Life is produced by MADHOUSE production, With director Itou Naoyuki(Overlord) and writer Katou Michiya, Sound Director is Gou Fumiyuki and the music is handled by Kawai Kenji.
No Guns Life Cast and Characters
Juuzo Inui by Junichi Subawe
Tetsurō Arahabaki by Daiki Yamashita
Mary Steinberg by Manami Numakura
Olivier Vandeberme by Yoko Hikasa
Kronen von Wolf by Yuya Uchida
Pepper by Inori Minase
Seven by Yuko Sanpei
Hugh Cunningham by Yoji Ueda
Karen By Reina Ueda
No Gun Life Plot'
No gun Life story revolves around Ex-Army officer turned cyborg Juuzou Inui. He is a part of the 'EXTENDED'. Extended is a group of Army officers turned Cyborgs. Juzo has his head replaced by a gun and all of his past memories have been erased.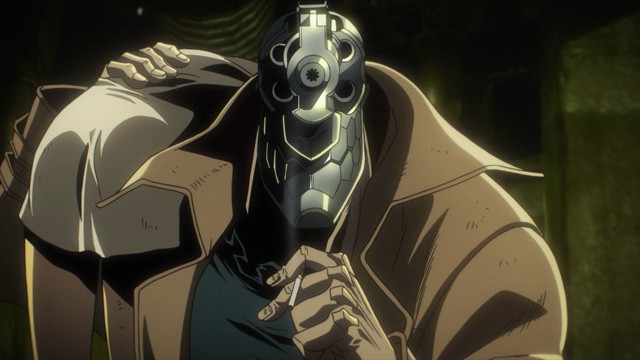 He is on the run. He is hiding from the Security Bureau and one day another member of Extended comes knocking on Juzo door. He told Juzo that his son has been kidnapped and he needs Juzo's help to save him. Juzo agrees after a lot of effort and they are set in a voyage that will make him face street mafias, megacorporations and not to mention a special agent who knows how to deal with the EXTENDED. But why all of these people are hunting down the kid? What secrets are hiding with him? Is the rescue mission as simple as it sounds?
Not to mention those who have read the manga will know what will happen. But the manga reader also knows that the action scenes we are gonna get in the anime will be epic. Those cut-throat fight to death scenes are enough for an adrenaline rush.
Where To Watch No Guns Life
No Guns Life is streaming on Hulu, so you can watch it from there. No Guns Life is releasing its 13th episode on 9th, July. Every new episode will release weekly, so new episodes every Tuesday. If you are a fan of action anime and political thriller too this anime is for you.

Subscribe to Email Updates :