According to sources, Former President Donald Trump will be taking the stage at the upcoming Student Action Summit (SAS) which is going to be held in July and will be hosted by Turning Point Action. The summit is scheduled to take place in Tampa, Florida. The summit will take place on two dates. The first is on 22/07/2022 at 7:00 AM on Friday and another one is on 24/7/2022 at 11:59 PM on Sunday respectively.
Charlie Kirk, who is the founder and President of Turning Point USA, has shared his excitement about the announcement on Twitter, stating, "Honored to have the 45th President back against at #SAS2022 this July in Tampa, Florida."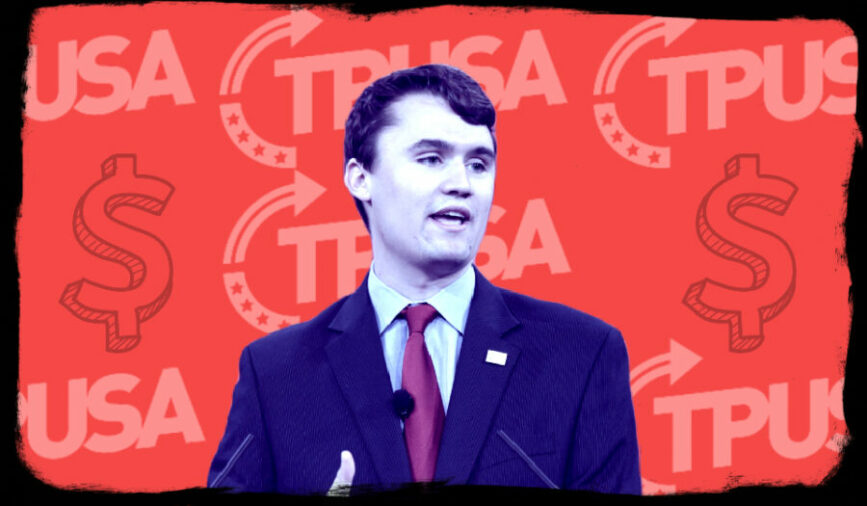 He added, "And this is just the beginning…dozens more incredible guests still to be announced in the coming weeks. This event will be bigger and better than ever."
President Trump attended last year's SAS held in the Arizona Federal Theatre. "I am looking forward to speaking at Turning Point Action on Saturday afternoon, in the Great State of Arizona…" Trump stated in 2021.
According to the event's official website, more than 5,000 activists from all 50 states will attend this seminar as also highly profound conservative media personalities. The meeting boasts many leadership training workshops and networking events with political leaders.
Turning Point Action's comments about the event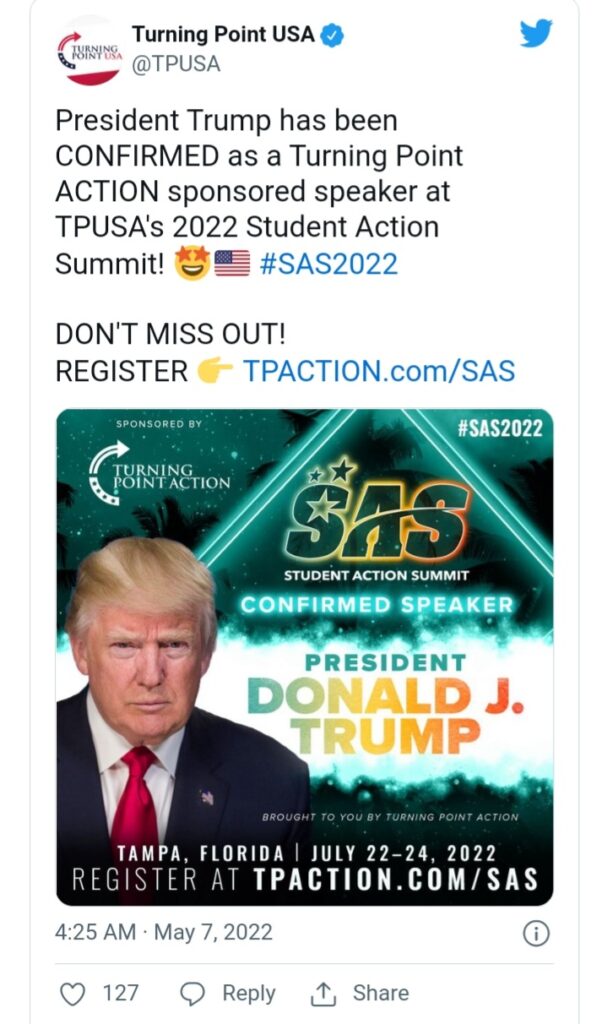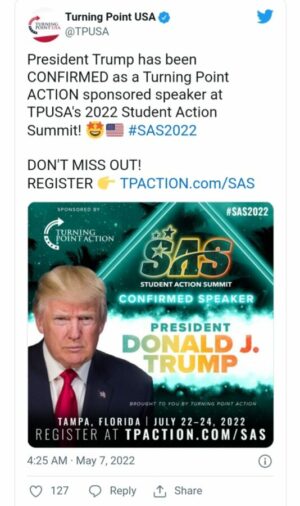 "Following a TPUSA conference, these activists return to their campuses more energized than ever and with the proper tools and training on how to defend conservatism on their campus. Join us as we continue to make history at the largest and most unique events our movement has ever seen!" reads TPUSA's statement.
What is Turning Point USA?
Turning Point USA is described as a "student movement for freedom," where student activists on campuses around the country mobilize to educate their peers on the meaning of free markets and limited government.
Turning Point USA (TPUSA), or Turning Point, is also described as an American nonprofit organization that advocates in high school, college, university and campuses for conservative values. The organization was founded in 2012 by Charlie Kirk and Bill Montgomery. TPUSA's sister organizations include Turning Point Endowment, Turning Point Action, Students for Trump, and Turning Point Faith. The group also works with PragerU. According to The Chronicle of Higher Education, TPUSA "is now the dominant force in campus conservatism."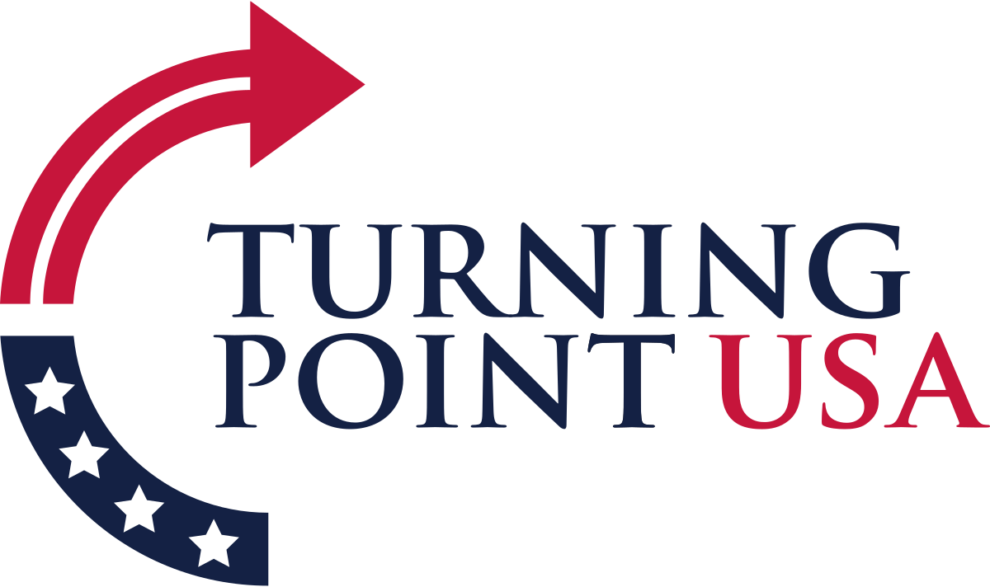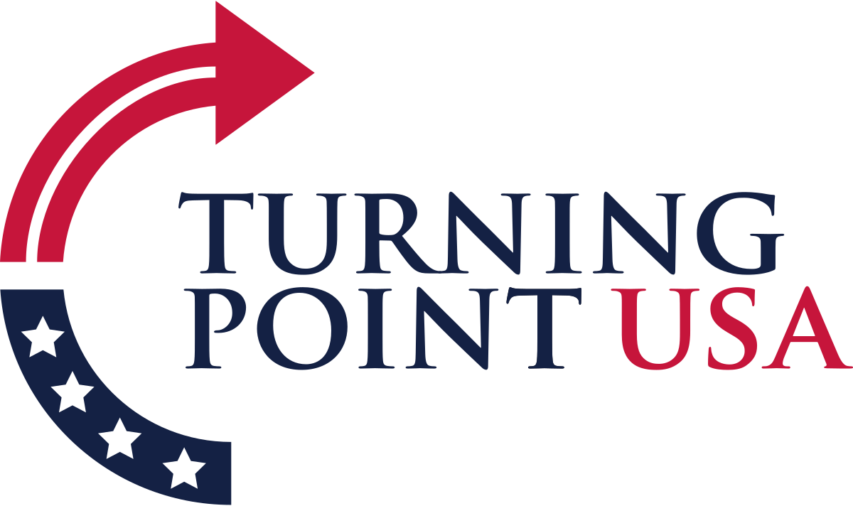 The organization is known for its Professor Watchlist, a site that claims to uncover professors that TPUSA says "discriminate against conservative students and advance leftist propaganda in the classroom".  According to The Chronicle of Higher Education, TPUSA has attempted to influence student government elections to "combat liberalism on college and university campuses." The School Board Watchlist website was started by TPUSA in 2021. The names and photos of school board members who have adopted mask requirements or anti-racist curricula are published by it.
TPUSA annually hosts several conferences on various topics throughout the year, such as the Teen Student Action Summit, Young Women's Leadership Summit, Young Black Leadership Summit, Americafest, and Young Latino Leadership Summit is hosted by TPUSA annually. The organizations which fund it are conservative donors and foundations, and Republican Party politicians as well.
About Charles Kirk
Charles Kirk (full name Charles J. Kirk was born October 14, 1993) is an American conservative activist and radio talk show host. He founded Turning Point USA with Bill Montgomery in 2012. He has been serving as its executive director since 2012. He is the CEO of Turning Point Action, Students for Trump, and Turning Point Faith, president of Turning Point Endowment, and a member of the Council for National Policy. Kirk has written three books.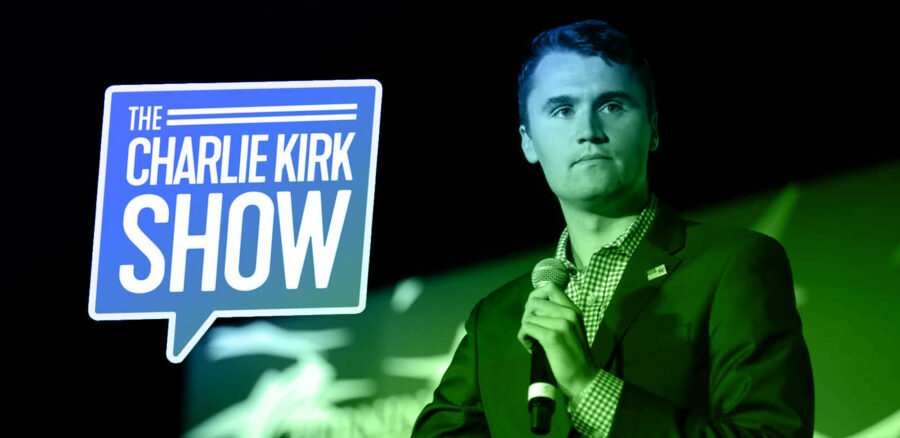 Also read|Kash Patel on The Charlie Kirk Show About Bill Barr, Durham, and Ketanji Brown Jackson
Kirk was one of the supporters who had promoted misconceptions and corruption theories too, including allegations of voter fraud in the  U.S. presidential election of 2020. He had also promoted falsehoods and conspiracy theories about the COVID-19 pandemic.

Subscribe to Email Updates :