Seven Deadly Sins Season 4 Release Date, Plot, Recap, New Preview & Where to Watch?: Netflix released a new promotional video for the upcoming final season of Seven Deadly Sins. The final season is titled The Seven Deadly Sins: Dragon's Judgement. The trailer also revealed the release date of the anime. Seven Deadly Sins is an anime adaptation of the manga of the same name. Written and illustrated by Nakaba Suzuki. A new key visual was also released.
The series was first premiered on October 5, 2014. The first season of the anime was very well received and so was season 2. Season 3 was criticized for its animation, but storywise, it was right on par with the first 2 seasons. Now, season 4 is going to come out very soon and according to various sources, this is the last season of the anime.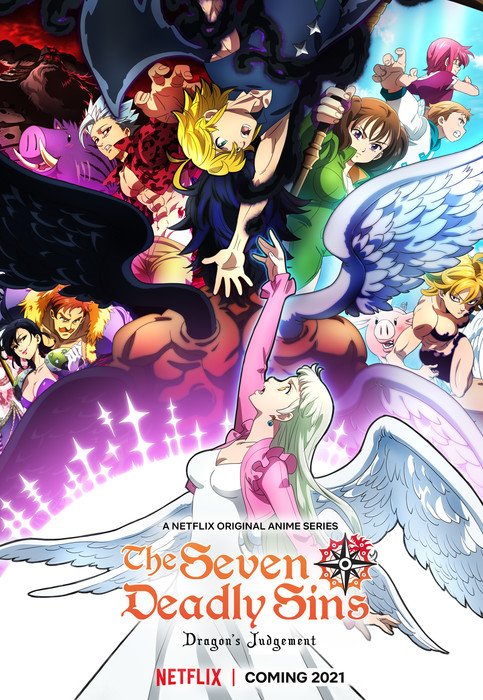 Seven Deadly Sins Season 4 Plot
Meliodas killed Fraudin in the finale of last season and everyone got to know that he is the son of Demon King. All the members of Seven Deadly Sins were in different locations. King and Diane are still in the forest.
If you have read the mange you will know that a war is coming and we are gonna have a major character development of Meliodas who right now is afraid that he will give in to the darkness and won't be able to save Elizabeth.
Seven Deadly Sins Season 4 Release Date
The series is all set to be released on January 6, 2021, on TokyoTV in Japan. Earlier it was supposed to be released in October this year, but it was delayed due to the COVID pandemic. The worldwide streaming details are not out yet, but it is obvious that it will land on Netflix sooner than later. We will update you as soon as some information is released, so keep an eye out here. We request you to use only legal sites as it will help the works of creators and will motivate them.
Seven Deadly Sins Season 4 Cast
All the major characters and cast members will return for season 4. There might 1-2 new minor characters throughout season 4, but there will not be a major change in cast members.
Meliodas Voiced By Yuki Kaji
Elizabeth Voiced By Sora Amamiya
Hawk Voiced By Misaki Kuno
Diane Voiced By Aoi Yuuki
Ban Voiced By Tasuhisa Suzuki
King Voiced By Jun Fukuyama
Gowther Voiced By Yuhei Takagi
Merlin Voiced By Maaya Sakamoto
Escanor Voiced By Tomokazu Sugita
The staff of the previous season will return for one last time to work on this project. Susumu Nishizawa will return as the director, Mavy Jack with Studio DEEN will look at the production. Rintarou Ikeda will look at the script and Rie Nishino will handle the character animation. Hiroyuki Sawano, Kohta Yamamoto, and Takafumi Wada will compose the music. 
Seven Deadly Sins Season 4 Preview
Netflix released a new promotional video yesterday, which showed us a few glimpses of the upcoming season. The trailer gave fans hope for a better season than the last one. Fans are really excited for this season and we hope they get the season they deserve.

Subscribe to Email Updates :