Sushant Singh Rajput Net Worth, Property, Cars, Land on Moon, & Expensive Telescope: In what came as terrifying and astounding news for fans in India and people in the Bollywood industry, talented Actor Sushant Singh Rajput committed suicide at his Bandra residence on Sunday, June 14, 2020.
The actor was immensely touted for his performances in films like MS Dhoni- an Untold Story, Kai Po Che, Kedarnath, and ironically, his last big hit Chichore. He wasn't only a wonderful artist but wanted to enjoy life to the fullest courtesy of his hobbies and likings. Let us take a look at what he left behind, though his legacy is immaterial and he's going to stay in our hearts forever.
Sushant Singh Rajput Net Worth
Actors in today's dog eat dog world barely have time, and when they do, they like to quench their thirst for interesting things, no matter how expensive they are. So did Sushant, he was extremely awestruck by celestial bodies and used to talk about the stars, sun, moon, and various unknown facts about the space!
He was extremely fascinated by the rings of Saturn and to fulfill his dream to see them through his eyes, he brought the very rare Meade 14″ LX600! He was like a child receiving a candy that he much wanted, he took to Instagram to let his followers know "It's one of the most advanced telescopes in the world and I'm going to be able to see Saturn's rings through it."
Sushant Singh Rajput Property
What's more, the actor was also interested in flying and he owned a flight simulator that is usually used to train amateur pilots. He again took to Instagram to share this. "#LovingMyDream 1/150 ! 'GET A FLYING LICENSE !!' Buying this beauty (Boeing 737 Fixed Base Flight Simulator) to start loving/living my first of 150 dreams; to fly." So one can say that he was looking forward to flying a plane professionally.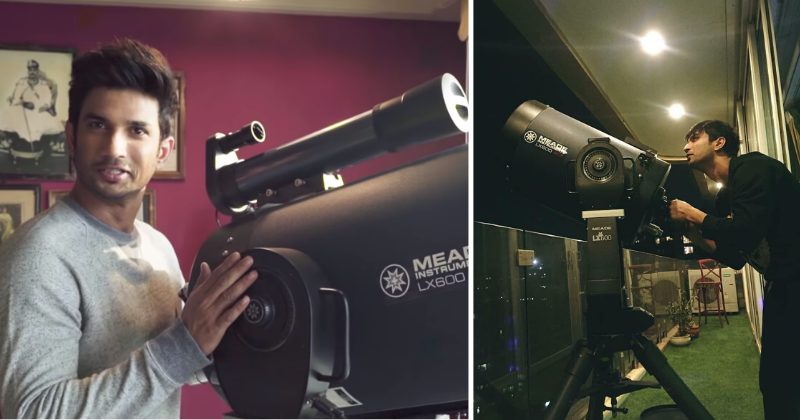 Also a bike enthusiast like his fellow counterpart MS Dhoni, Sushant Singh Rajput owned a glamorous and expensive BMW K 1300. He also owned a stylish sports car Maserati Quattroporte along with the formidable Land Rover SUV!
One of the most valued possessions of Sushant Singh Rajput is a piece of land on the moon! He is the only Indian to do so, he owns a piece on the far side of the moon called Muscoviense or the 'Sea of Muscovy.' He did so by contacting the International Lunar Lands Registry! How fascinating! It is allegedly estimated that Sushant Singh Rajput's net value was around Rs. 60 crores. He also charged between 5-7 crore rupees for a movie.

Subscribe to Email Updates :