If you want a one-word answer, the answer is yes; you can swim in Miami in December. However, there are a few things that you need to keep in mind.
In this article, we have covered all those things that may help you enjoy your vacation in Miami.
So, without any further ado, let's get started –
Can you swim in Miami? – Complete Guide
Miami is a coastal city in Miami-Dade County in southeastern Florida, U.S.
The city of Miami is located on the Atlantic beach, some 2° north of the Tropic of Cancer. It has a warm subtropical marine climate, with an average annual temperature of 24° C. The temperature stays between 23° C to 27° C year-round, making Miami a perfect destination for vacation and fun.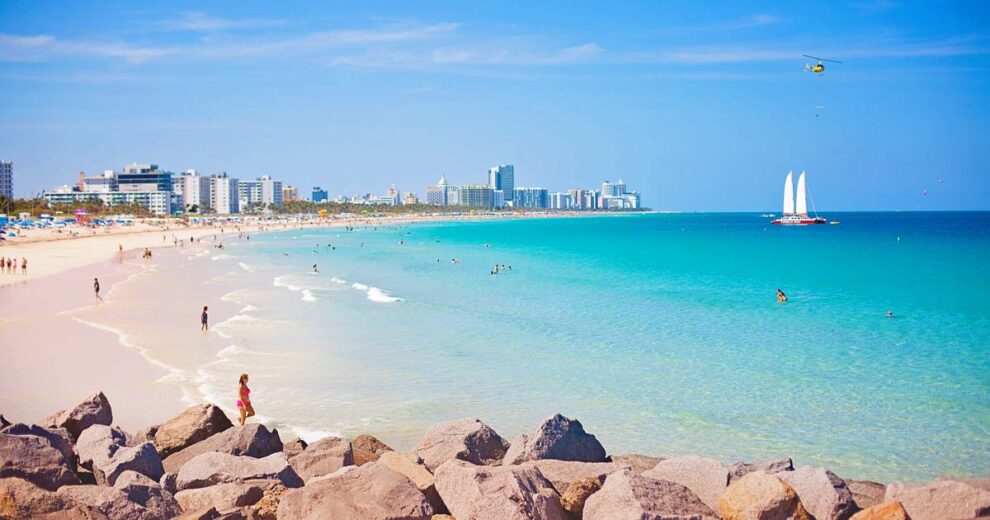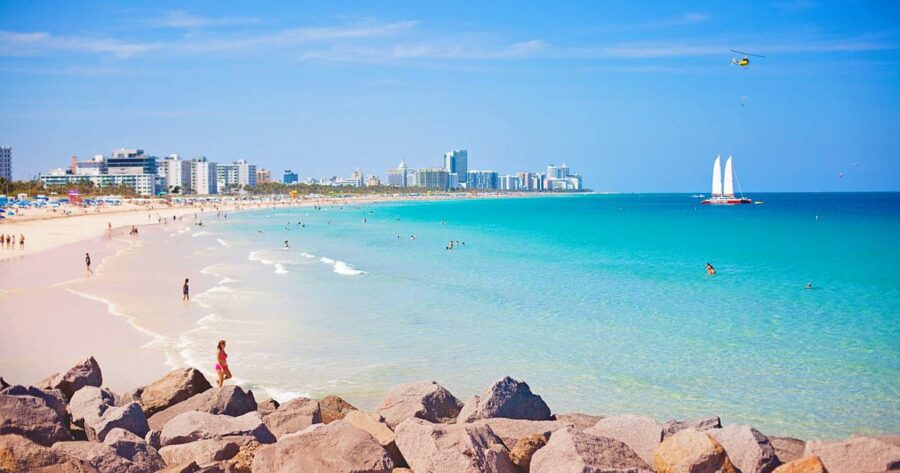 The city is the most southerly major town in the continental United States. Miami, with its comprehensive hotel facilities, provides an opportunity to experience its outstanding climatic aspects like the ocean setting and mild weather all around the year. The city has always been one of the great tourist destinations in the world for its wonderful environment. 
In this article, we have covered a lot of things such as the best time to visit Miami, the best places for accommodation, popular places to swim in Miami, and more.
Best time for swimming in Miami
The best time to enjoy swimming in Miami is during the late winter and the entire spring, from February- May. The water temperature is perfect for swimming during these months of the year.
On top of that, you will get perfect pricing during these months as the high season ends at this time. Visiting Miami in these months gives an extra advantage to move more freely and cherish your journey as there are fewer people around.
Some of you may have doubts about whether you can swim in December in Miami.
As the water temperatures are optimum throughout the year, ranging between 23°C to 27° C, you can also enjoy swimming in Miami in December. Therefore, people can admire the mild weather in Miami in winter and can have a great swimming experience. Further, they can have joy doing many water activities with their family and friends.
However, traveling to Miami in December may cost you extra money. The only drawback of swimming in Miami in December is that prices are high as many people prefer winter to go on vacation, and beaches are loaded with people during this time.
Is it more affordable to swim in Miami?
If you are a person who loves to save extra charges on your trip, you can prefer staying at a hotel where rent starts from $80 to $200, depending on your lodging.
You can also choose a luxurious resort where you can receive superior services and can even have more alternatives for entertainment during your outing. The rent for such an expensive hotel starts from $150 to $500 per day, rendering it a perfect place for higher earners.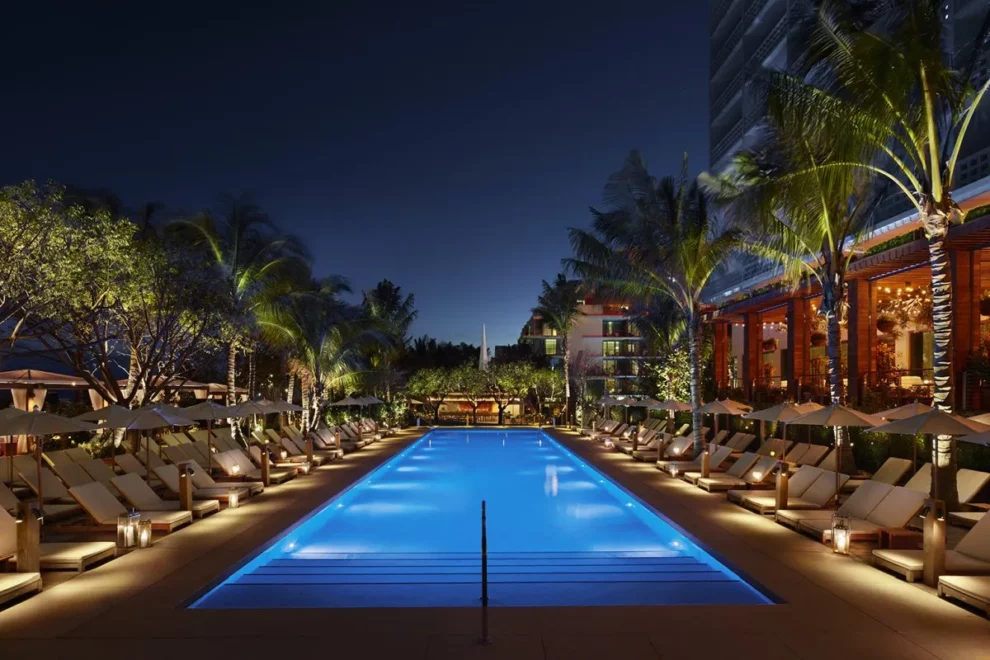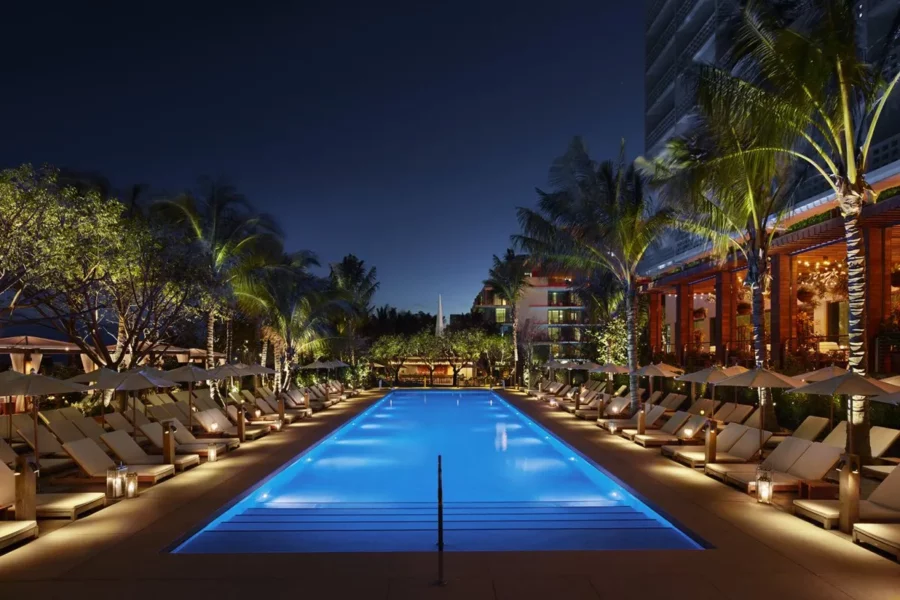 But overall, Miami is not too costly. A trip to Miami for swimming will cost you less than a trip to swim in Alaska or swim in the Dead Sea. But in the end, it all depends on where you plan to stay. 
Is Miami safe to Swim in?
Yes, Miami is quite safe to swim in. However, there are a few things that you need to consider.
For example, while choosing to swim in Miami from February to May, you can avoid the danger of a hurricane. The hurricane season touches the coast of Miami from 1st June to 30th November. During these safe months, you can swim in Miami without fearing the threat of the strong water currents, the heavy storm during the day, and other weather conditions assembled by hurricanes at this time of the year.
Hence during these months (February – May), your journey is safe and less difficult overall.
Best places to swim in Miami
Once you have made up your mind that you are visiting Miami for a vacation, the most important thing that you need to do is create an itinerary. Obviously, you must have some places in your mind, but if you want some recommendations, here we have prepared a list of the best places to swim in Miami –
Venetian Pool Coral Gables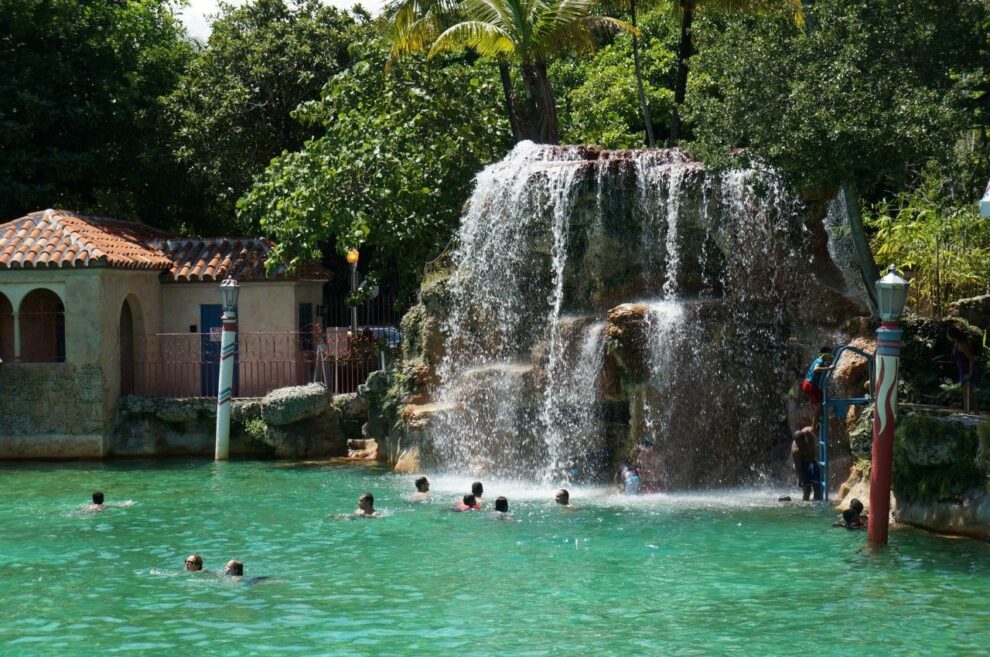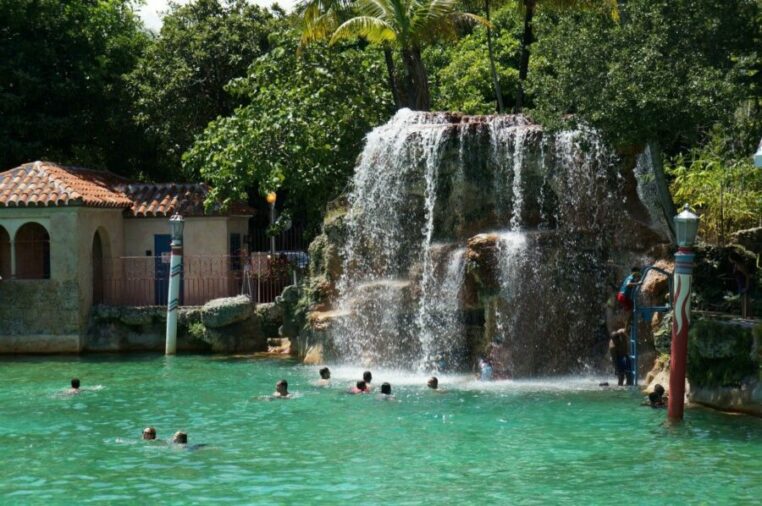 The Venetian Pool is a historic public pool and was constructed in 1923, praising Italian architecture made of coral rocks. It is fed from an underground spring that fills 820,000 gallons or 3,104,037.66 liters of water into the pool daily. This is safe water to swim in Miami if you don't want to go to beaches.
The pool also has plenty of green grass and shadow, and therefore you can relax while swimming. You can experience swimming underneath the waterfalls at this pool. You can have the experience of swimming in one of the largest freshwater reservoirs in the country at the Venetian Pool.
The pool has ample spaces, and you will find yourself with so much area available that you can enjoy the pool without really worrying about crowds. Even with many people around at the pool, you will still have some room to yourself.
The entry rates vary depending on whether you are a guest or a Coral Gables resident. For residents, adults of age 13 years and older, the admissions rate is $6.50. For children ranging from ages 3 years to 12 years old, the admissions rate is $5.50. The admission rate for non-residential children is $16 and $21 for adults.
Oleta River State Recreation Area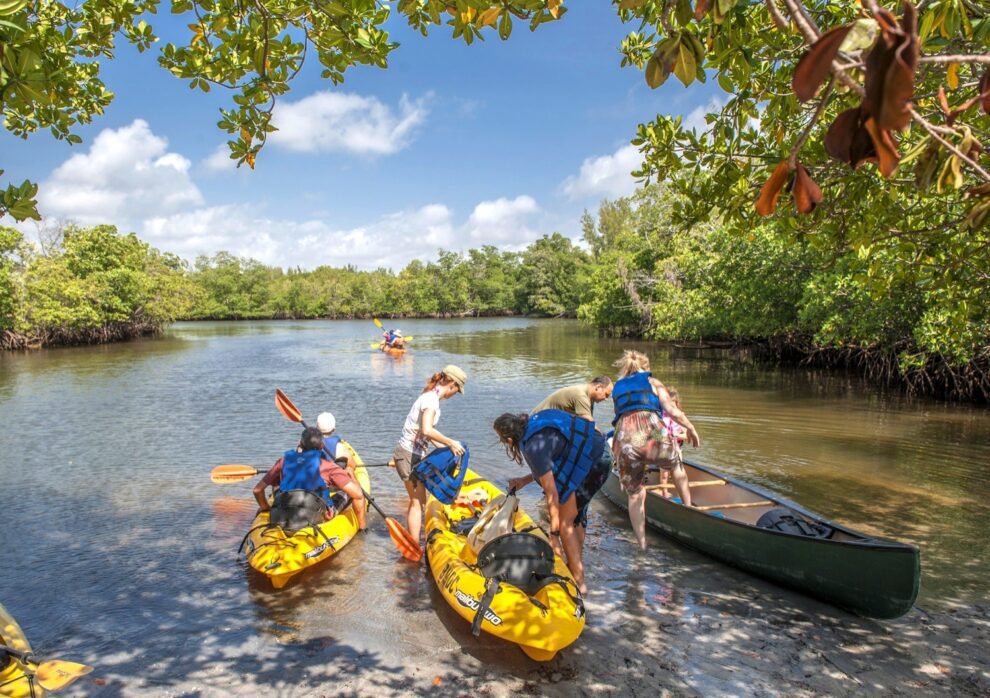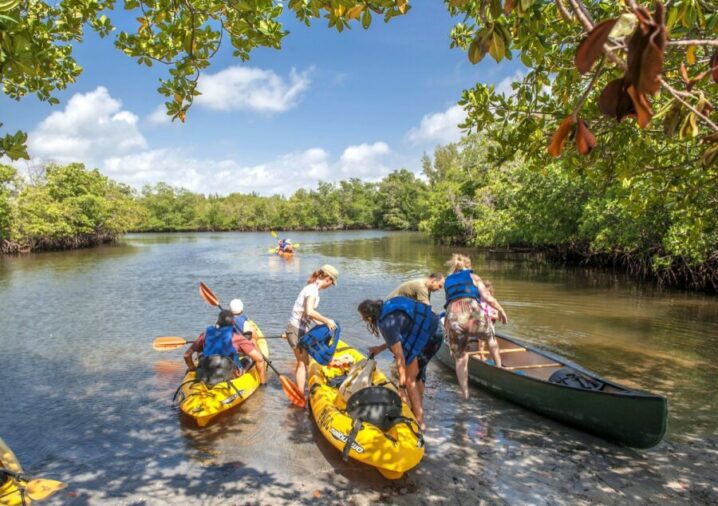 The park is spread over 1,043 acres and is Florida's largest urban park. This park is held against the Oleta River on Biscayne Bay. The Oleta River is a 1,200-foot beach and is located in a tropical forested area that boasts mangroves, exotic plants, and wildlife.
The park is famous for kayaking. The Oleta River State Park has simple, air-conditioned lodges and a youth campground for organized groups, so you can even stay at night. The park is open from 8 am until sunset, all days a year.
You can visit the Oleta River Outdoor Center from 9 am to 1 hour before sundown, Monday-Friday, and from 8 am to 1 hour before sunset on Saturday and Sunday.
Jonathan Dickinson State Park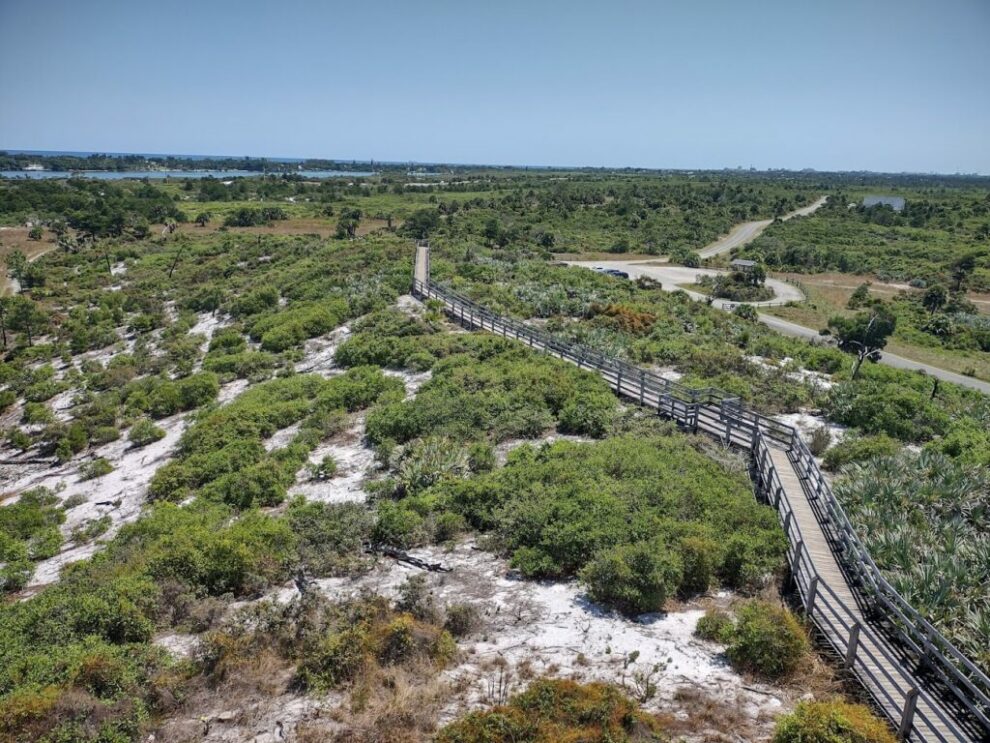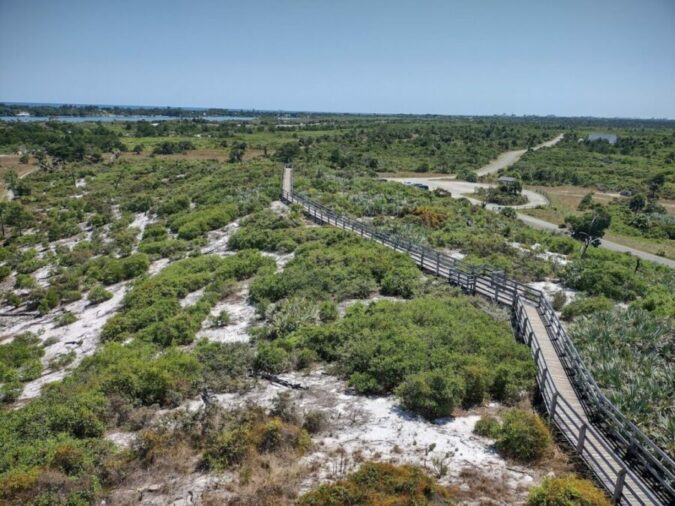 Jonathan Dickinson is located in Martin County, Florida. The park has sand pine scrub, pine Flatwoods, mangroves, and river swamps. The park runs along the Ocean to Lake Trail.
This park is well recognized for its Camp Murphy Mountain Bike Trails. Apart from swimming, this park also offers amenities such as bicycling, boating, boat tours, fishing, cabins, canoeing, kayaking, hiking, horse trails, picnicking areas, wildlife sighting, and enormous camping facilities.
It also comprises the Elsa Kimbell Environmental Education and Research Center, which displays the park's natural and cultural history. This park runs a 44-passenger boat for tours of Trapper Nelson's homestead.
The Park is open from 8 am to 5 pm until sunset 365 days of a year. The vehicle charges start from $6, depending on the members in the vehicle. Therefore, if you want an affordable and safe place to swim in Miami, Jonathan Dickinson State Park would be a great choice.
Red Reef Park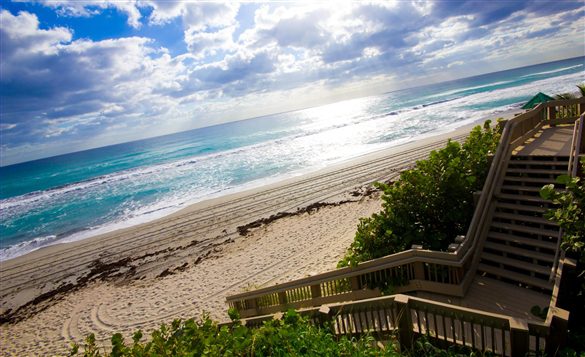 The Red Reef Park occupies 67 acres on one of Florida's most beautiful highways, State Road A1A. Apart from swimming, snorkeling, and blue fishing, this park offers the Red Reef Executive Golf Course and the Gumbo Limbo Nature Center. Red Reef Park is known for its extensive picnic facilities.
The park is open from 8 am – 10 pm daily. There is no admission fee, but there is a vehicle entry fee of $16 on weekdays and $18 on weekends. You can take advantage of the metered parking accessible across the street from the park to save extra dollars. The metered parking rate is $2 per hour on weekdays and $3 per hour on weekends. However, these bucks can also add up quickly.
Larry and Penny Thompson Park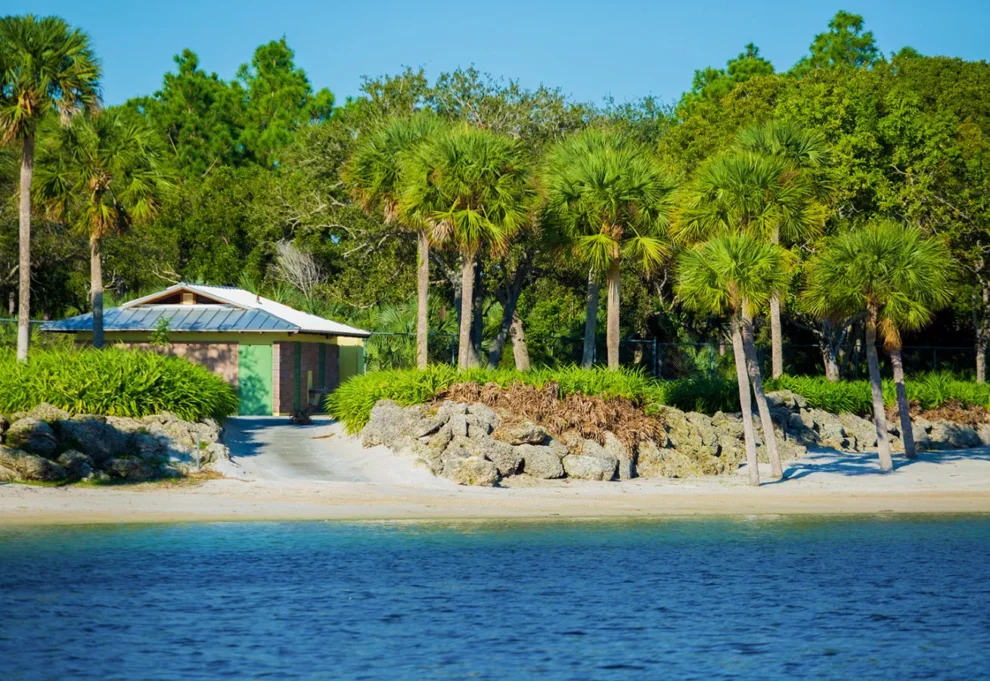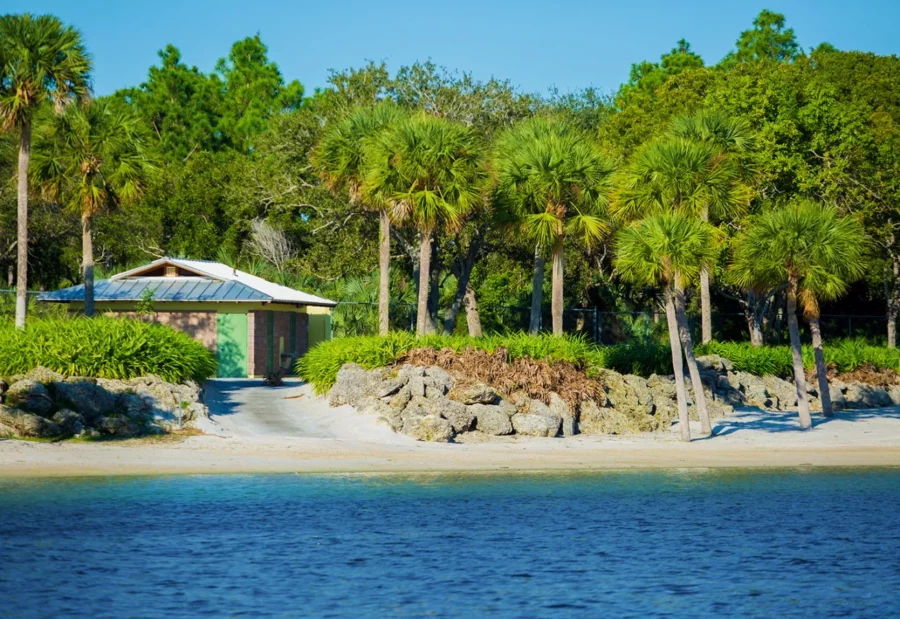 Larry and Penny Thompson Park are spread across 270 acres of forestland behind Zoo Miami in Southwest Miami-Dade. This park, along with Campground, serves as one of the city's natural treasures.
The park contains large areas of wildflowers, rock pinelands, palmettoes, and a natural shelter of indigenous mango, avocado, mango, and lychee.
It was named after famous Miami Herald journalist Larry Thompson and his wife Penny, a leader in women's aviation.
Both Larry and Penny were supporters of creating better parks and planting more trees and flowers in Miami-Dade County. The park has a freshwater lake with its beach that operates seasonally. Public swim hours start from 11 am to 5 pm but begin on weekends only. The beach is open for children of ages 3 to 17, adults, and seniors over age 62. The charges are as mentioned below.
Adults – $3.0

Children (ages 3-17) – $2.0 

Seniors over age 62- $2.0
Closing Comments
There you have it – a detailed guide that can help you plan your trip to swim in Miami.
Miami is a great place for a vacation. It is known for its luxurious lifestyle and legendary nightlife. However, it is also quite popular for the arts and Cuban culture that you can experience here. Overall, Miami is an amazing place to go, and if you are planning to do so, I hope this article has helped you.
However, if you think we have missed something or have any questions, feel free to shoot them in the comment section below. Our team will try to respond ASAP.
Signup For Our Newsletter