Are you looking for a way to fix your T-Mobile hotspot data not working issue and want to connect your smartphone to the internet? If yes, then you have stumbled upon the perfect page.
T-Mobile is one of the top telecommunication service providers in the United States that offers wireless services, including voice, text, video calling, and data communication.
T-Mobile is known for its reliable 4G/5G network nationwide. However, even the best network can sometimes create issues interrupting your connectivity.
Similarly, T-Mobile customers sometimes complain about their Hotspots not working adequately. Knowing some fixes that solve this issue would be helpful if you are one of them.
In this article, we will share information on how to fix the T-Mobile hotspot not working issue.
So, without further delay, let's begin.
Why Is The T Mobile Hotspot Not Working?- Common Reasons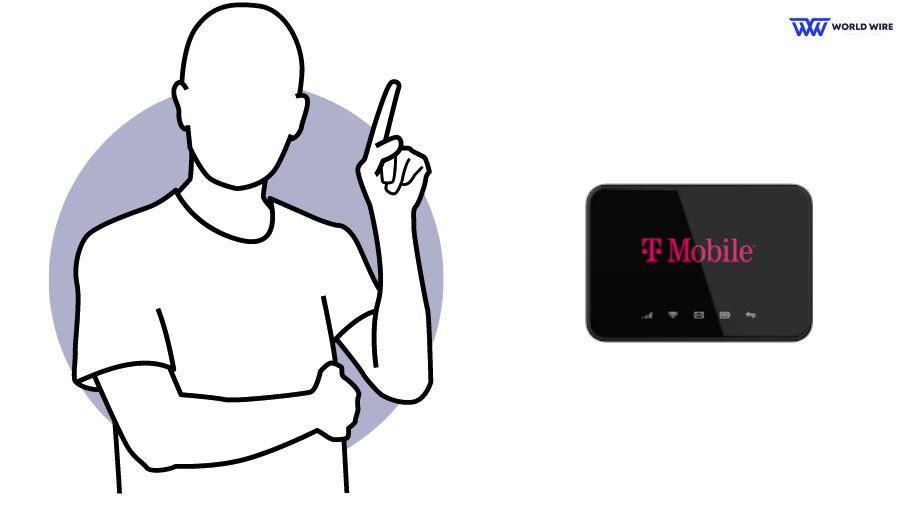 Before we begin learning about the fixes to resolve T-Mobile data not working, let's read about the probable reasons why you may face such issues, as awareness about the reasons may help you find a correct fix.
Here are some common reasons.
Poor network availability
Most often, we face connectivity issues when we are at places where our provider's network coverage is pretty low, not enough to serve us.
So, if you face T-Mobile not working, chances are you might be at a place where T-Mobile's network coverage is poorly available or not available at all.
Data Plan
Before you start fixing your hotspot internet not working issue, make sure your T-Mobile data plan has not expired or your daily allotted data limit is not exceeded. You can check your data plan expiration date and data usage by logging into your T-Mobile account.
Incompatible device
Your device must be compatible with the provider's network to offer you the best services. You may experience a T-Mobile Hotspot not working issue if your device is not compatible with T-Mobile's network or its hotspot services.
Inaccurate hotspot settings
Your T-Mobile data may not work properly if you have changed the hotspot settings and have not entered the correct settings.
Other software glitches
T-Mobile Internet not working properly can also arise due to unidentified software glitches in your T-Mobile hotspot.
Natural hindrances
It is not always that the technical problems are the reasons behind your interrupted Internet services. Sometimes, bad weather can cause an obstructed network, affecting your connectivity.
Note: T-Mobile offers free internet to its eligible customers, and if you are a student, you can get a T-Mobile free Hotspot device through its Project 10 Million program
How To Fix T Mobile Hotspot Not Working
While you know the reason, you may be looking for some solutions to fix the T Mobile hotspot Internet not working issue.
Here are a few fixes that you can try to resolve this issue.
Check T-Mobile's network coverage
The first fix you can try is to check the network coverage for your T-Mobile hotspot. You can do so by looking at the signal strength indicator on the top of your device.
If you find weak signal strength or no signal, you may try moving to another location where you receive a good signal. You can use T-Mobile's coverage map to look for the network coverage in your area.
Here is the guide to accessing the T-Mobile coverage map.
Open your browser and visit "https://www.t-mobile.com/coverage/coverage-map."
Enter your address or ZIP code in the provided space.
Click on the "Search" or "Enter" to see the coverage map.
Check if your area falls under T-Mobile's network coverage.
If your area is under T-Mobile's coverage, you must change your location with better signal strength.
If you still face T-Mobile not working, please consider contacting the company.
Restart your device
Restarting your device usually solves your Internet issue. You can try restarting your device by following these steps.
Press and hold the power button of your device until a power menu appears.
Select the "Restart" option from the menu.
Wait until your device restarts.
Turn on the data and check if your hotspot works.
Check your hotspot settings
You can check your hotspot settings to see whether they are correctly set.
Here are the steps to do so.
Go to the "Settings" app on your device.
Select the "Network & Internet" option.
Check your hotspot settings to ensure they are accurately set up.
You may reset the settings to the default configuration.
Check your device compatibility
You can try checking your device compatibility with the T-Mobile network to resolve the T-Mobile not working issue. You can do this from T-Mobile's site by looking for the information on compatible devices.
Alternatively, you can learn whether your device is compatible with their network by calling the T-Mobile customer service at 1-800-937-8997 and providing them with your device's details.
Turn on and off flight mode
Many times, turning your device's flight mode on and off can let you establish your lost Internet connection. You can try this fix to get T-Mobile lost data coverage.
The steps to turn on and off flight mode on your device include.
Open "Settings" on your device.
Select the "Connection" option.
Toggle the button next to the flight mode to turn it on.
Wait for some time.
Then, toggle the button again to turn off the flight mode on your device.
Now, check if your device can connect to T-Mobile's network.
Update your device software
If your device is on outdated software, you may face a T-Mobile hotspot not working.
Please follow these steps to update your device software.
Open "Settings" on your device.
Select the "System" option.
Click on the "Software update" option.
If an update for your software is available, you can "Download and install" it.
If you do not see this option, click "Check for updates" to see if updates are available.
Follow the onscreen instructions to download and install the updates if available.
Once the software is updated, your device will reboot.
Once your device has completed the process, check whether the T-Mobile hotspot issue is resolved or not.
Contact T-Mobile customer service
Suppose you have tried all the above fixes and still cannot access the T-Mobile Internet. In that case, you can reach T-Mobile's customer service at 1-800-937-8997 to get help for your connectivity issue.
Note: If you are in need of a need of a new device to use T-Mobile hotspot, do read our guide on "T-Mobile Free Government phone."
Frequently Asked Questions
Why is my mobile data not working even though it's on?
The most probable reasons behind your data not working includes poor network coverage, device incompatibility issue, incorrect settings, or other software glitches.
Why is my T-Mobile 5G data not working?
Your T-Mobile 5G data may not work if you are in places with poor 5G network coverage. Please change your location and check your network. It is also possible that your device does not support the 5G network, or your device software needs to be updated. You can call T-Mobile to get help establishing your Internet connection.
How do I reset my T-Mobile Portable hotspot?
You can reset your T-Mobile portable hotspot with the help of these steps.
Turn on your device and hotspot.
Find the Reset button (a small hole with a pinhole symbol next to it).
Insert a paperclip into the Factory Reset Pinhole.
Press the Factory Reset Pinhole for six seconds and release.
The device hotspot will reset and restart.
Why does my T-Mobile hotspot stay connected but no internet?
Your T-Mobile hotspot can stay connected, but you may get no internet connection because of these probable reasons.
You are in an area with poor T-Mobile network coverage.
Your hotspot has consumed its data limit.
Your hotspot lacks proper settings.
Your device is not compatible with T-Mobile.
Why does T-Mobile Internet slow down at night?
T-Mobile Internet may slow down at night due to network congestion. This occurs when the majority of people use the Internet at the same time, and the network gets overloaded more than its capacity to serve the number of people at a time. Other reasons can include network maintenance or bad weather.

Subscribe to Email Updates :