Erstwhile competitor in Trump's presidential campaign and present Texas Senator, Ted Cruz announced a rally that he, along with Dave McCormick, will be holding in Coplay, Pennsylvania via the following tweet:
"Join me and @DaveMcCormickPA for a campaign rally on January 25th at Lehigh Valley Sporting Clays in Coplay, Pennsylvania!
Register here!
Hedge fund executive and Republican  politician Dave McCormick confirmed Cruz's claims via the following counter tweet:
"BREAKING: I'm thrilled to announce  @TedCruz 's endorsement of my campaign. As we fight to restore our values, it's an honour to support great Conservative leaders like Ted. #PASen"
Location and schedule
On Tuesday, January 25, 2022, the rally will be held from 4:00 PM – 5:30 PM EST at Lehigh Valley Sporting Clays, 2750 Limestone Street, Coplay, PA. 
Tickets now available for sale 
Tickets for the upcoming rally are now out on the eventbrite.com website.
Steps to book tickets to the rally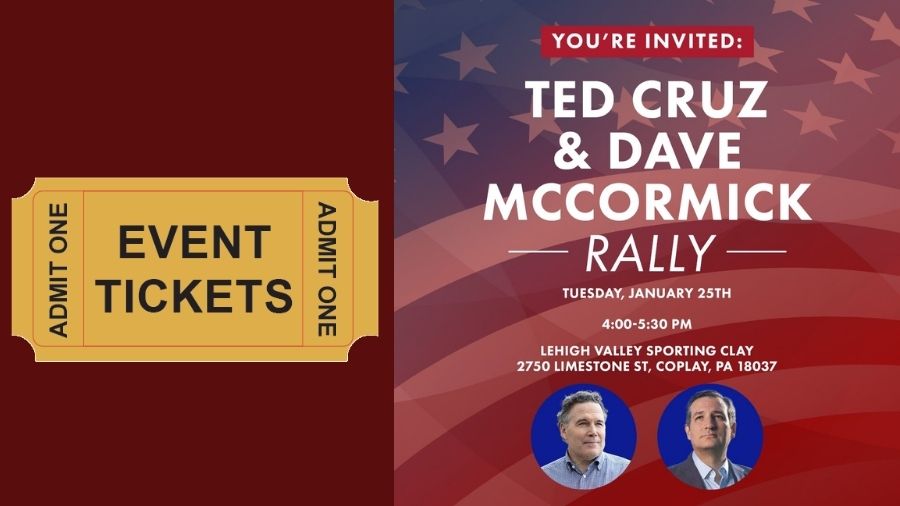 Head over to the Eventbrite website

Hit the "Register" tab at the bottom of the page

Please provide your mobile phone to opt-in to McCormick for Senate campaign alerts, updates and news. By providing your phone number, you consent to receive calls and texts, including automated calls and texts, to that number. You will receive a confirmation text from 47682. Message frequency may vary. Msg&Data Rates May Apply. Reply DAVESTOP to cancel. Reply DAVEHELP for help.
David McCormick announces his run for Pennsylvania senator
David Harold McCormick is an American politician and hedge fund executive. He served as the CEO of Bridgewater Associates, a hedge fund with more than $140 billion in assets, from 2020 to 2022.
A Republican, he was formerly Under Secretary of the Treasury for International Affairs in the George W. Bush administration. In January 2022, McCormick announced that he was running for the U.S. Senate seat held by retiring Senator Pat Toomey.
McCormick is the latest Republican to jump into Pennsylvania's U.S. Senate primary, another candidate competing for oxygen in one of the nation's hottest midterm races.
He confirmed his entry in the race on Twitter on Thursday:
"From working on my family's Christmas tree farm to serving our country in the Persian Gulf War, I have never run from a fight.  My next mission: take back our country and bring America First, conservative leadership to the U.S. Senate.  Battle-tested, Pennsylvania true! #PASEN"
"McCormick has got backbone" -Ted Cruz
Sen. Cruz announced his endorsement of McCormick for the Pennsylvania senate race in the following Facebook post: 
"Dave McCormick has got a backbone, he has a principle, and he will fight for the people of Pennsylvania. I'm proud to endorse Dave McCormick for U.S. Senate!
Join me in supporting Dave:
Watch a video regarding the endorsement from Fox News here.
Ted Cruz came in second after Trump in the 2016 presidential campaign
Rafael Edward Cruz is an American politician and attorney serving as the junior United States Senator for Texas since 2013. A member of the Republican Party, Cruz served as Solicitor General of Texas from 2003 to 2008.
In 2016, Cruz ran for president of the United States, placing second behind Donald Trump in the Republican primaries. 
Cruz and Trump later buried the hatchet.
The competition for the Republican presidential nomination between Trump and Cruz was deeply acrimonious and characterized by a series of public personal attacks. 
While Cruz initially declined to endorse Trump's campaign once he won the nomination, he became a staunch Trump supporter during the latter's presidency. 
After the January 2021 Capitol attack, Cruz provoked widespread political and popular backlash for objecting to the certification of Joe Biden's victory in the 2020 presidential election and giving credence to the false claim that the election was stolen from Trump. 
Also read:
Watch Ted Cruz & Dave McCormick Campaign Rally Live Stream

Subscribe to Email Updates :