The murder Of The first Lady Prime Minister Of India: The incident of October 31, 1984, which added a horrible page to India's history when the first lady prime minister of India Indira Gandhi was assassinated
Indira Gandhi was assassinated by two of her own Sikh bodyguards.
Security personnel assassinated the first Lady Prime Minister Of India
In 1984, Indira Gandhi, known as the "Iron Lady" of India, was shot and killed by two Sikh security guards, Beant Singh and Satwant Singh, in the security of her Safdarganj residence.
Rules were being changed for the public court and interview
The public court used to hold Darbar at Indira Gandhi's Safdarganj home. 
Whenever she came back from a tour of another city, then the Janata Darbar was not operated the next day.
On the evening of October 30, Indira Gandhi returned to Delhi from Bhubaneswar in Orissa after addressing a public meeting. 
According to the rules, the Janata Darbar was not to be handled the next day. Concerning this, his colleagues and security personnel also refused.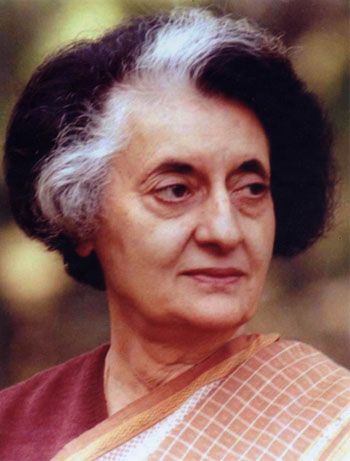 But Indira Gandhi had given an appointment to Peter Ustinov, an Irish film director. Therefore, she flatly refused to accept anything.
Special Secretary RK Dhawan was with Indira Gandhi
At seven in the morning of October 31, Indira Gandhi left from her Safdarganj home for the office on Akbar Road. 
At that time, Head Constable Narayan Singh and his secretary RK Dhawan were walking with Indira Gandhi.
Indira Gandhi saluted, and they fired
There was a gate between the house and the office, on which Beant Singh and Satwant Singh stood as security personnel. 
RK Dhawan once told in an interview that Indira Gandhi herself said hello to Beant Singh. 
After a few moments, suddenly Beant Singh fired three bullets into Indira Gandhi's stomach with her 38-bore government revolver.
Unloaded the entire magazine over Indira Gandhi
Before anyone understood anything, Satwant Singh fired his Stengan's entire magazine bullets over Indira Gandhi.
Indira Gandhi's body riddled with bullets and blood-soaked had fallen to the ground. Till then, Sonia Gandhi too got scared and came out of the house.
The driver of the ambulance who was present at that place at all times was not present there on that delicate occasion. 
RK Dhawan and Sonia Gandhi jointly picked up Indira, and the ambassador left for AIIMS by car.
At 9.32 in the morning, they reached AIIMS with Indira Gandhi. Only blood was apparent in Indira Gandhi's entire body.
Every attempt by the doctors of AIIMS was thwarted.
AIIMS doctors tried every possible way to save Indira Gandhi for several hours. However, the bullets had shattered every part of her body.
Utilized 88 containers of blood but still, she died 
Indira Gandhi's blood group was O negative, which is of only one person out of a hundred. 88 bottles of blood were arranged for Indira Gandhi, and her outflows were also replaced. 
Still, by then all the organs of Indira Gandhi had almost stopped working.
Indira Gandhi had 31 bullets in her body.
Indira Gandhi had a total of 30 bullet marks on her body, and a total of 31 bullets were removed. 
At 2.23 pm, the doctors finally gave up and made a formal announcement of the death of Indira Gandhi.

Subscribe to Email Updates :