What might have ridiculed audiences globally, Gregory was eliminated last week opening the door for Bryan, Kevin, Melissa and Stephanie to fight it off to become the most celebrated chef. What this week offers is a final knockout paving their way up to reach the finals. So, who out of those 4 is going to not make it? Hold your horses, before jumping onto it, let's build it up to the finals!
Top Chef Season 17 Episode 13 Recap
In this episode 'Parma' the contestants are challenged to make their 'primi' and 'secondi' courses with only a couple of ingredients- Parmigiono Reggiano and prosciutto de Parma! The chef and owner of Antica Corte Pallavicini -Masimo Spigaroli is the chief judge for this round. Melissa and Stephanie, certainly the stars of this season, cook prosciutto into a ragu and anolini en brodo respectively and make it to the finals! Bryan sticks to the basics and cooks a chitarra pasta whereas Kevin looks out for a pork cuppa.
So in this fight for survival, the comments on Bryan's pasta suggested that he had the upper hand, except the pasta sauce messed up with the taste of the main ingredient- Parmigiano! As Kevin's pasta is concerned, the judges questioned his choice to put cheese on top. Sadly, a very formidable candidate Kevin had to depart.
Top Chef Season 17 Episode 14 Spoilers
In this mouth-watering epic finale called 'Finito!' The final 3 contestants will battle it out and cook the ultimate meal to bag the most precious award. To win this enormous opportunity, they need to impress their entire judging panel – Tom, Padma, Gial and Nilou! What's more, there are star studded guest judges to follow- Colagreco, Clare Smyth, M. Samuelsson, Hunter Lewis, Janice Wong , Dario C. and none other than Tony Mantuano!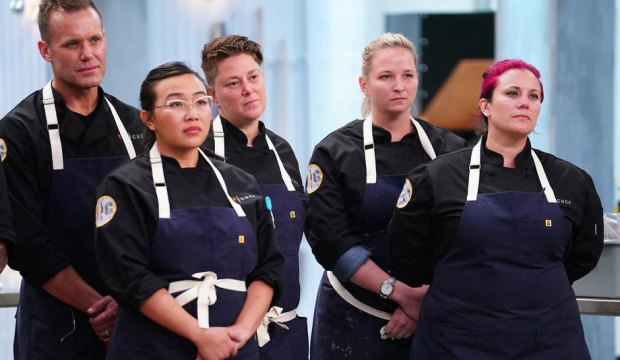 Where to watch Top Chef Season 17 Watch Online
If you are from the US, 'Top Chef :All Stars L.A' will drop on June 18, 2020 on Bravo at 10 pm ET/ 9pm CT. Bravo is enabled with your cable subscription so it shouldn't necessarily be a problem. However , if you are out of the US or require more flexible timings, you can watch it on Bravo's website merely with your cable subscription.
In case you aren't from the US altogether, the best platform to watch will be HULU Live TV which has Bravo in its subscription. For cable-subscription free watching globally, you can head over to YouTube TV, Sling TV, DirecTV or FuboTV. Lastly, you can just rent or buy the episodes on Amazon Prime video, get all set for this cutting-edge competition!
Signup For Our Newsletter