The past months have been tough with the lockdown and quarantine measures to curb the spread of COVID-19. Now, with the borders reopening and easing of travel bans, you must be dying to travel and unwind from the traumatic times.
However, you must be super cautious to avoid contracting the virus. This is not the time to enjoy freestyle traveling.
Luckily, researchers and healthcare professionals have put up measures to help you travel safely amid the pandemic, so you do not have any excuse for not exploring the world.
If you are a student feeling so tired of schoolwork, you can hire experts to handle your assignments so you can focus on your trip. Simply search "write my essay services from EssayPro" on Google or whichever search engine. A myriad of results will pop up so you can select the most trustworthy service.
Without further ado, here is a glance at some crucial safety measures to take when traveling during the pandemic.
Assess the COVID-19 Rates for Your Planned Destination
You may take all the precautionary measures when traveling. But traveling to a destination where the virus is still widely spreading carries some risks.
It is critical to conduct in-depth research on the local infection rate before booking that flight. The last thing you want is to move from a safe destination to a riskier one just because you couldn't wait to travel.
Take your time to study the curve, and if you feel that the area is not safe, change your destination or wait until things get better.
Check Your Health
You have probably heard this more times than you can recall. Individuals with underlying health issues are at a higher risk compared to other people.
If you have a chronic disease or recently caught flu, it would be best to slow down. Older individuals are also at a high risk of fatal Coronavirus consequences, not to mention those with kidney and heart diseases, diabetes, and cancer.
Evaluate yourself to establish if you are safe to travel by plane or go to crowded areas.
Take a COVID-19 Test Before the Trip
You should take a test a few days before your trip. Besides self-awareness, taking the test reduces the chances of carrying the virus to your destination. Moreover, traveling with the virus can be dangerous as your body needs to rest for fast recovery.
Get Vaccinated
The COVID-19 vaccines are finally available for everyone who wishes to get them sooner. It is the best preventative measure you can take to ensure that you are well prepared for whatever may come your way.
Make sure to get the vaccine a few weeks before the travel day. This way, the drug will have enough time to work, and you will have an opportunity to monitor your body's reactions.
Have Your Mask On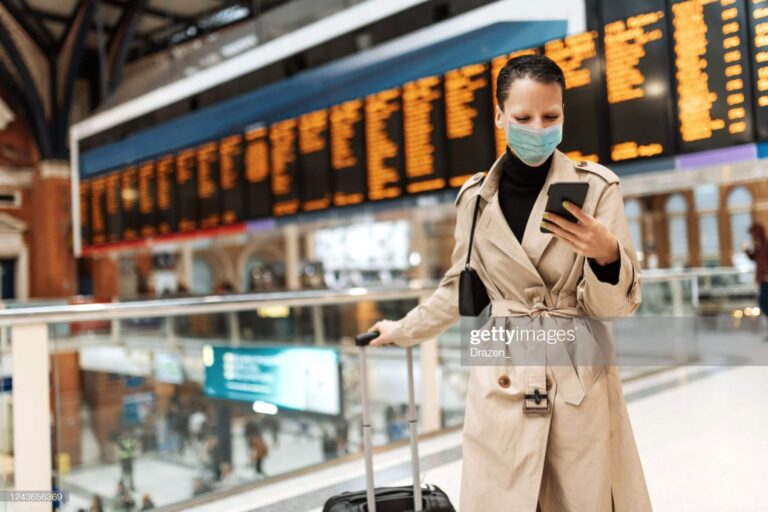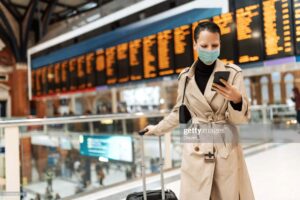 Investing in quality surgical masks should be on the top list of things to do before traveling.
Ensure that you have enough to take you through the trip. If you purchase washable masks, make sure you have more for exchange too.
One of the common mistakes that people make is wearing masks on their chin, thus leaving the nose open. Some individuals even leave it hanging on the neck. Note that you are not wearing your mask just to show off or avoid getting in trouble with the law. You are doing it for your own good and should therefore put it on properly.
Research reliable official sources to establish the best type of mask that will protect you from the virus, keeping in mind that some of them are not medically approved.
Use Your Eye Protector
Being a droplet-spread disease, you should ensure that all openings are covered. These include the eyes. Have your eye protector on throughout the journey. It's better to be safe than sorry.
Take Your Sanitizer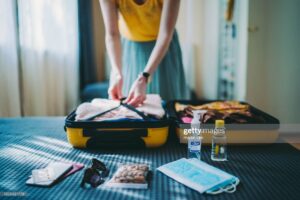 Make sure to pack a big size sanitizer in your luggage and a small one in your carry-on bag. Sanitize regularly each time you come into contact with someone or something. Sanitizers are way more convenient than water and soap because you can use them on the go.
Again, look for the best quality sanitizer, keeping in mind many unreliable brands that take advantage of the current situation. 
Be Choosy With Accommodations
You must be cautious with where you choose to live during your vacation. You could follow all the health guidelines but end up living in a virus dumpster.
Although most hotels are following the outlined hygiene guidelines, some are still lacking in this, and if you are not cautious, you will be putting your health at risk.
Before deciding on accommodation, check reviews on different hotel booking sites to establish if they meet the expected standards during the pandemic.
The right hotel should keep the rooms unoccupied for several days to allow thorough cleaning once guests sign out. They should also use quality cleaning products to sanitize all areas and prevent crowding on their territories.
If possible, you should consider renting an entire house rather than staying in crowded places where you are forced to share elevators and cafeterias.
As soon as you get to the location, open all windows and use your sanitizer to wipe surfaces. Do not just believe the management's word that the areas are clean. It's better to be safer.
Avoid Touching Surfaces
This is not the time to walk comfortably and relax in public spaces. Try as much as possible not to touch surfaces while at the airport and on the plane. If you do, be sure to sanitize immediately.
Final Thoughts
With the tips above, you will undoubtedly have a safe vacation, and you can have all the fun you have been hoping for. As much as traveling is important for your well-being, you should not compromise your health. If you feel that the rules are too hard to follow, you should probably stay home until things get back to normal. 
Signup For Our Newsletter