Former NFL great Herschel Walker comfortably trounced five opponents in Georgia's Republican U.S. Senate primary on Tuesday, setting up a November battle with Democratic Sen. Raphael Warnock in one of the country's most highly watched elections.
Mr Walker, 60, defeated state Agriculture Commissioner Gary Black, former state senator Josh Clark, businessman Kelvin King, retired Gen. Jonathan McColumn, and former Navy SEAL Latham Saddler in the election. Mr Walker received 70 per cent of the vote with 13 per cent of the votes counted. Only Mr Black was in double figures.
Mr Walker's victory was a big gain for former President Donald Trump, who pushed him to run. Mr Walker's facile primary victory is unlikely to be repeated in the general election.
About Herschel Walker
On March 3, 1962, Herschel Walker was born. He is a former American football running back, bobsledder, MMA fighter, and politician. He attended the University of Georgia, where he was a unanimous All-American three times and won the 1982 Heisman Trophy. He is regarded as one of the best college football players of all time, having been named first by Bleacher Report, 247sports, and Sporting News, and second by ESPN. In 1999, he was inducted into the College Football Hall of Fame.
Walker started his professional sports career with the New Jersey Generals of the United States Football League (USFL), eventually moving on to the National Football League (NFL), where he first played for the Dallas Cowboys. He was the centrepiece of a massive deal to the Minnesota Vikings in 1989, and he also played for the Philadelphia Eagles and New York Giants.
Walker is the Republican candidate for Georgia's United States Senate seat in 2022, against incumbent Democratic Senator Raphael Warnock. Walker carried for 5,562 yards during his time in the USFL. His combined running totals for the USFL and the NFL (13,787 yards) would rank him seventh all-time in NFL history.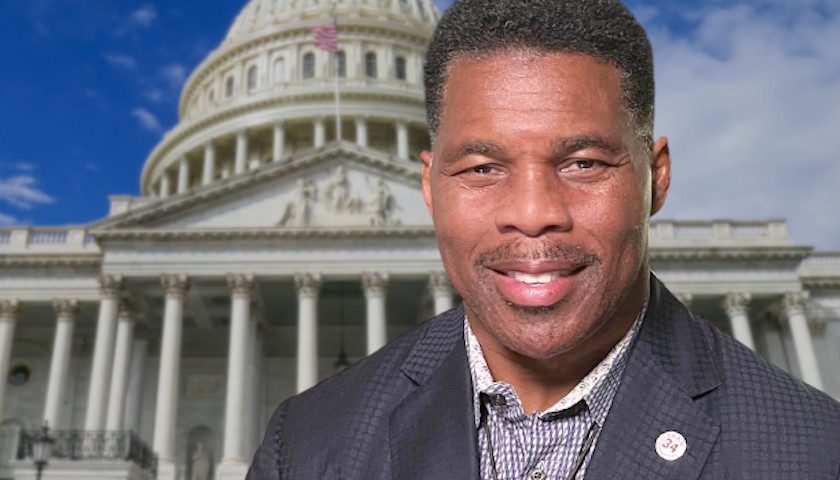 His aggregate all-purpose yards for the USFL and NFL (25,283 all-purpose yards) would rank him first on the NFL's all-time list and second in Pro Football behind Henry "Gizmo" Williams (25,571 all-purpose yards), who played in the CFL, NFL, and USFL.
Walker earned 8,225 running yards, 4,859 receiving yards, and 5,084 kickoff-return yards for 18,168 total combined net yards in 12 NFL seasons, putting him second among the NFL's all-time total yardage leaders at the time of his retirement; 10 years later, he was still ranked eighth.
He has 84 touchdowns: 61 running, 21 receiving, and two kickoff returns for scores. Other than Derrick Mason, Walker is the only player with 10,000+ yards from scrimmage and 5,000+ return yards (all of which were on kickoff returns).
Walker is the only player in history to have accumulated 4,000 yards in three distinct ways: running, receiving, and kickoff returns. He is one of just a few athletes to have more than 60 running touchdowns and 20 receiving touchdowns. He is the first NFL player to have a 90-yard reception, a 90-yard run, and a 90-yard kickoff return all in the same season (1994).
Herschel Walker and politics
Walker is a Democrat. Walker featured in an ad paid for by the US Chamber of Commerce in 2014, supporting Jack Kingston's quest in the Republican primary race for U.S. Senate in Georgia. Walker supported Secretary of State Brian Kemp for Governor in the state's gubernatorial race in 2018.
Walker campaigned for Donald Trump in both the 2016 and 2020 presidential elections, and he spoke on Trump's behalf at the 2020 Republican National Convention. Walker was named to the President's Council on Sports, Fitness, and Nutrition in 2018, a special Government employee post; Trump reappointed him to a two-year term ending on December 17, 2020. Walker backed U.S. Senator Kelly Loeffler in 2020 and served as an honorary co-chair of her campaign.
Walker posted a video supporting Trump's efforts to reverse the election results after Joe Biden won the 2020 presidential election. Walker has promoted several conspiracy theories regarding the 2020 presidential election. Despite his allegation that Biden "didn't get 50 million" Biden garnered more than 80 million votes. Walker claimed "countrywide election fraud" asking Trump and "true patriots" to do a "total cleansing" to "prosecute all the bad actors" He called for recounts in Arizona, Georgia, Michigan, Nevada, North Carolina, Pennsylvania, and Wisconsin.
Walker also promoted a conspiracy theory regarding the 2021 attack on the United States Capitol, claiming that it was a "well planned" distraction from electoral fraud. The gathering was in fact organized by Trump supporters.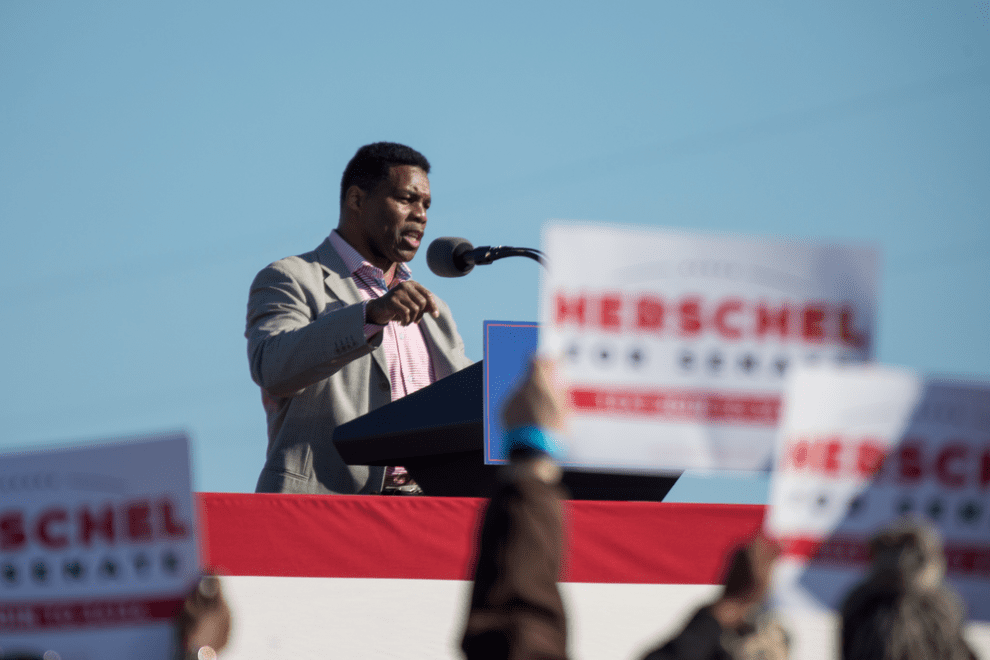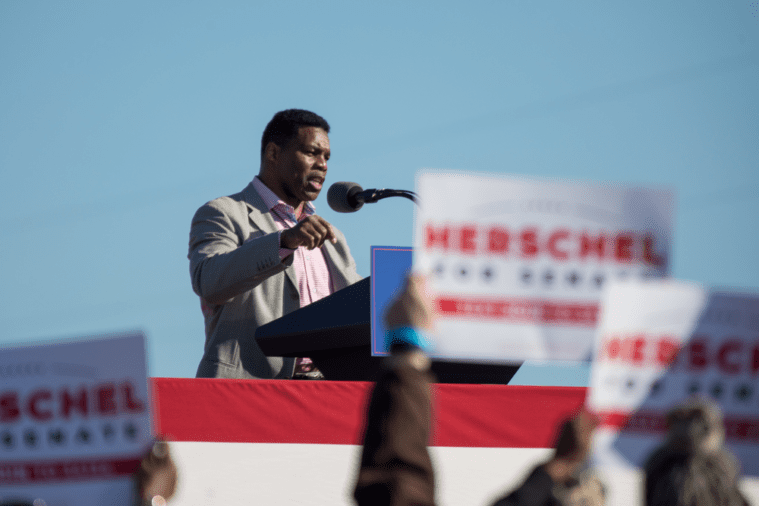 Trump pushed Walker to run for the U.S. Senate in Georgia in 2021, despite the fact that Walker lived in Texas and needed to re-establish residence in Georgia. Walker declared his candidacy for the Senate seat now held by Democrat Raphael Warnock in August 2021. Walker's consideration of entering the race "froze" the Republican field since other potential nominees awaited his decision.
Walker posted a video on Twitter titled "Georgia on my mind" in June 2021, in which he displayed a vehicle with a Georgia license plate, implying that he will run. Also that month, Trump said that Walker told him he was going to run for the Senate.
Some Georgia Republicans were unsure how effective a candidate Walker would be in July 2021, according to Fox News, noting the fact that his stance on matters important to Republican voters was unclear. In August 2021, Walker officially entered the race. In October 2021, Senate minority leader Mitch McConnell backed Walker's campaign, signalling that the Republican establishment was rallying behind him.
The Washington Post stated that Republicans were united around Walker's campaign at the time. Walker began his campaign with excellent favorability ratings and support from self-identified moderate Republicans, according to Politico, and had emerged as the obvious front-runner in the Republican primary despite previous press coverage of domestic abuse charges and his business history.
Subscribe to Email Updates :