Telugu Venky Mama World Television Premiere: Date & Time, Where To Watch: Venky Mama is a Telugu action comedy based movie produced by D. Suresh Babu, T.G Vishwa Prasad under Suresh Productions and Peoples Media factor banners and directed by K. S Ravindra. The film was released on the 13th of December 2019, and now the fans will get to see it on their television screens in the comfort of their homes.
Telugu Venky Mama World Television Premiere
Where will Venky Mama World television premiere happen, and where?
Venky Mama world Television Premier will take place on the 11th of July 2020 that is this Saturday. The film will premiere on the channel "Gemini Tv" at 6:30 pm. Fans will be glued to their television sets this Saturday as their weekend is sorted with this emotional family drama that they can watch now on their screens.
Venky Mama Plot
The movie is an emotional family drama that revolves around the characters of Karthik and Venky Mama. Once, an astrologer predicts Karthik's parents' death after his birth, which happens to become an accurate prediction. Later the astrologer also predicts that Karthik will also bring bad luck to the family he stays with, so he should be sent to his grandparents.
However, Venky Mama does not value what the astrologer says and decides to keep Karthik with him. He also leaves his dream to join the army to dedicate his complete attention to Karthik. Later he finds out that Karthik has left the house without informing, and the story is then set in Kashmir. He tries to explain to Karthik's people while he is held captive; everyone in the place denies knowing Karthik.
Later the story takes a turn and how they find each other, will the prediction made by the astrologer that Venky will die by the hands of his Nephew come true? Will, they both surpass the horoscope astrology, or will the story have a tragic end? All this you can watch on Gemini Tv this Saturday to know what happens in the story ahead.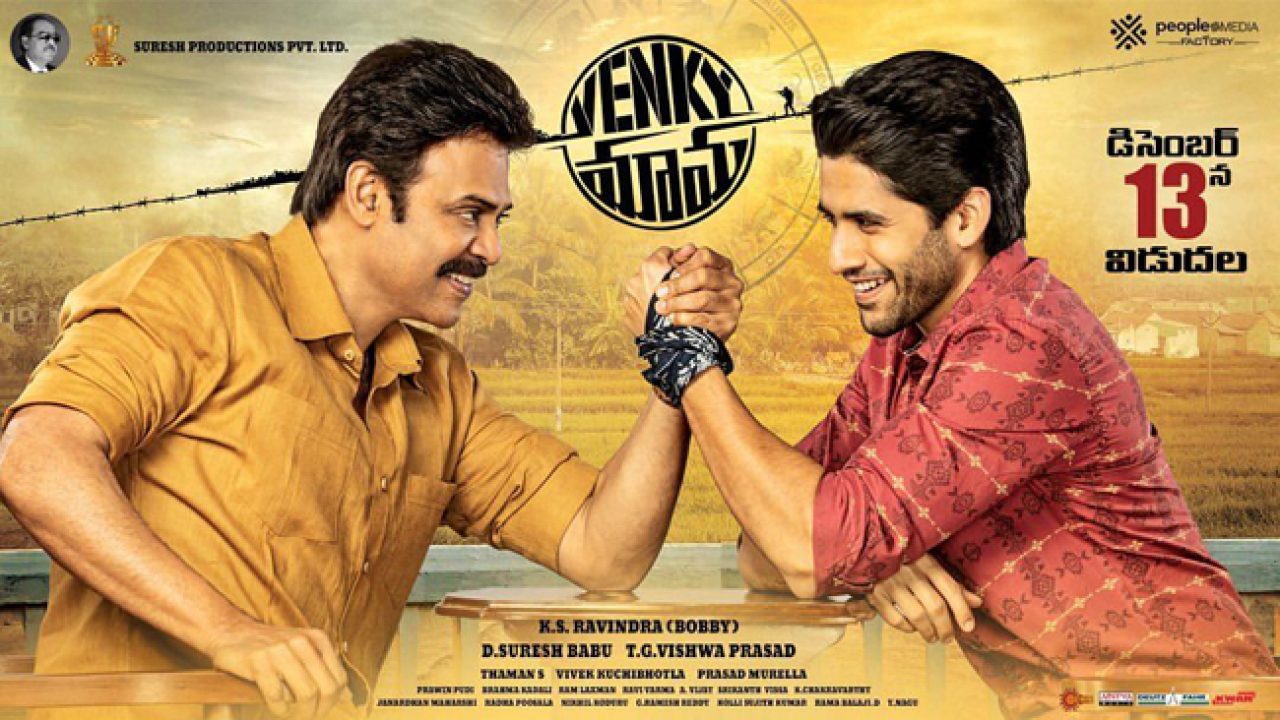 Venky Mama Cast
-Venkatesh as Venkatarathnam, Venky Mama
-Naga Chaitanya as Capt. Karthik Shivaram Veeramachineni / Karthik
-Raashi Khanna as Harika
-Payal Rajput as Vennela
-Prakash Raj as Brigadier Vijay Prakash
-Nassar as Ramanarayana, Venkatarathnam's father
-Geetha as Lakshmi, Venkatarathnam's mother
-Rao Ramesh as MLA Pasupathi, Harika's father
-Sivannarayana as Apparao, Vennela's father
-Charuhasan as Astrologer Namboodri
-Raghu Babu as Advocate Happy Hanumantha Rao
-Aditya Menon as Major Ajay Ahuja
This is the star cast of the movie Venky Mama and many supporting cast who have done a splendid job in the film. The movie had garnered a lot of positive praise from the audience and critics when the film was released and turned into a massive hit. Now that the movie will be premiered on television, the fans are very excited to watch the emotional family drama. Hope you found this helpful, watch the film this Saturday on Gemini Tv at 6:30 pm.

Subscribe to Email Updates :