Cannot Watch the video? 
Try
The "Defeat the Mandates American Homecoming" rally at the Lincoln Memorial in Washington, DC is expected to draw tens of thousands of Americans as early as 11:30 a.m.
Watch Anti Vaccine Mandate rally Livestream from Washington
The rally is happening in Washington DC
Firefighters, first responders and other groups to march on the National Mall in Washington DC in opposition to COVID-19 mandates. Organizers have called the event "Defeat the Mandates: An American Homecoming" and they say it will include speakers such as anti-vaccine activist Robert F. Kennedy Jr and more.
Schedule of the Event
15:30GMT – People gathering National Mall
16:30GMT – March from from the Washington Monument to the Lincoln Memorial
17:30GMT – Speeches, music performances
Robert F. Kennedy Jr. Live from Defeat the Mandates rally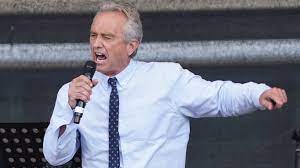 Reknown anti vaccine activist Robert F. Kennedy Jr is going to speak at this event.
Robert Francis Kennedy Jr. (born January 17, 1954) is an American environmental lawyer, author, conspiracy theorist and anti-vaccine activist. Kennedy is the son of U.S. senator Robert F. Kennedy and the nephew of President John F. Kennedy. In 1999, he helped found the non-profit environmental group Waterkeeper Alliance and served as its president. Kennedy has co-hosted Ring of Fire, a nationally syndicated radio show, and authored or edited ten books, including two New York Times bestsellers.

Subscribe to Email Updates :