This article covers information about Florida's Higher Education reforms, which governor Ron DeSantis recently declared.
So, let's delve right into it to learn more –
Watch Gov DeSantis Announces Reforms for Florida's Higher Education
Ron DeSantis, governor of Florida, declared reforms for Florida's higher education. At a press conference in Bradenton, he announced his ideas to interdict state colleges from including programs in diversity, equity, and inclusion (DEI) or critical race theory (CRT) at Florida's public colleges and universities.
Chancellor Ray Rodrigues, State University System of Florida, also joined him. He gave proposals to improve opportunities for students, faculty, and families.
Under the proposal, Ron DeSantis proposed, he is asking for $15 million for teachers and students enrollment at the New College of Florida, which encompasses $10 million in enrollment yearly. Besides, he has asked for $100 million to recruit and retain well-educated and qualified teachers at state universities.
Ron said, "Our institutions will be graduating students, I think, with degrees that are going to be meaningful. We don't want students to go through a taxpayer expense and graduate with a degree in zombie studies."
He further said they would constitute their higher education reforms by lining up the core curriculum to the values of freedom and the Western tradition, putting an end to the politicized administration like DEI, leveling up the number of research dollars for programs that will sustain primary industries with brilliant, skillful Florida students and allowing president's and board of trustees to hire new teachers including by dedicating record assets for faculty salaries.
Ron DeSantis talked over his ideas to defend these programs, but he didn't clearly say what courses would not be taught at UCF or other state colleges.
DeSantis said that they had served as an ideological filter, a political filter, and the new college has really embraced that. He further said," That is part of the reason I think it hasn't been successful and why enrollment is down so much."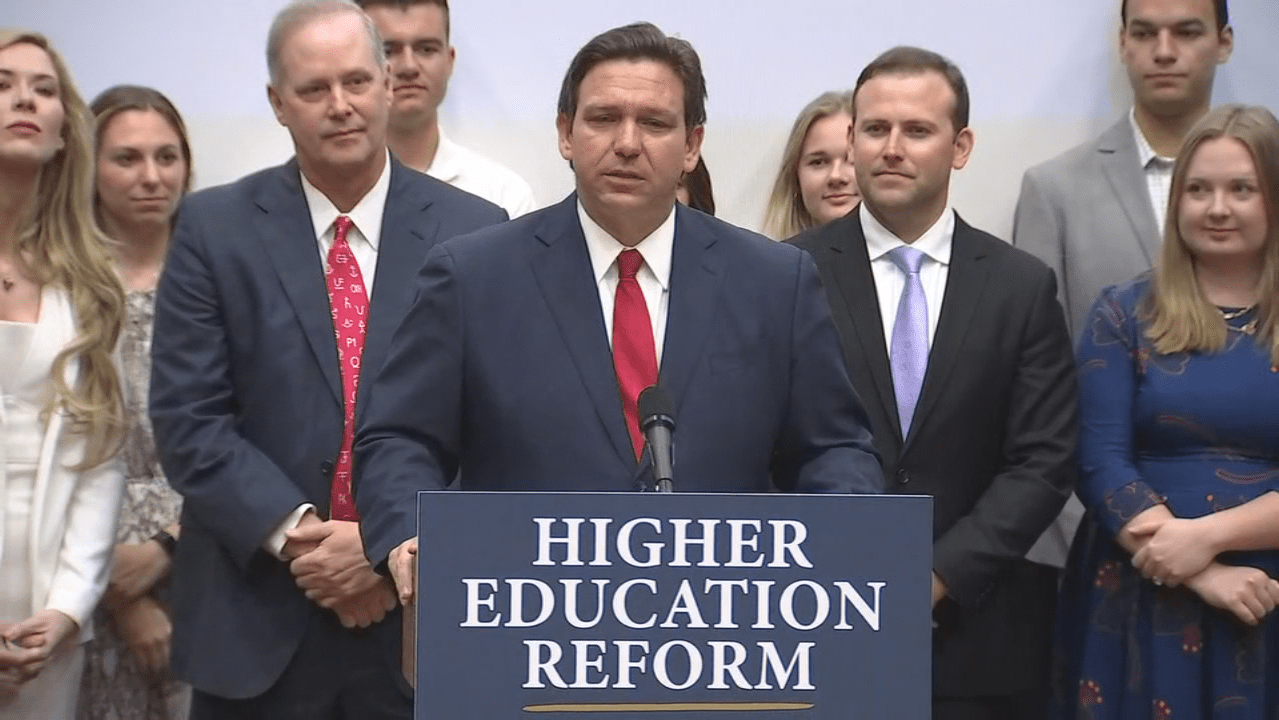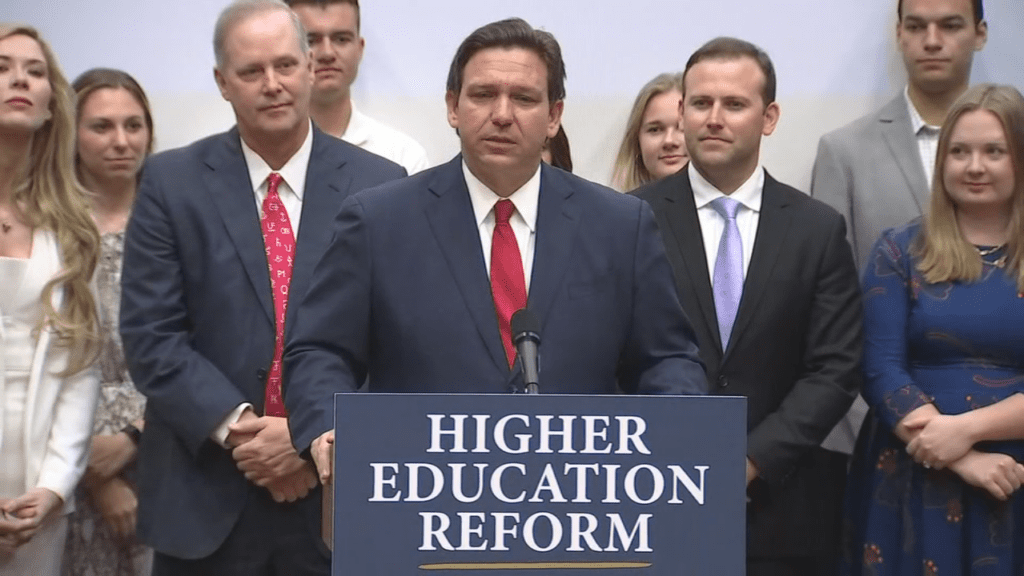 According to the school's website, New College of Florida is a common liberal arts college with nearly 700 students and more than 90 full-time faculty members. Currently, Ron DeSantis appointed six new members of the Board of Trustees at New College of Florida.
The New College of Florida prepared a document on 31st January, and according to that, the New College of Florida Board of Trustees dismissed President Patricia Okker and made a motion to accept entering conversations with Richard Corcoran, who was the former speaker of the Florida House of Representatives and former education minister.
The proposal would also disallow state schools from holding up campus activities or any program that encourages division theory, like DEI and CRT. Moreover, Ron DeSantis offered to establish "world-class civics institutes" at the University of Florida, Florida International University, and Florida State University.
According to Flyer, the institutes would develop different courses and curricula that can be taken in used to teach the upcoming generation the ethics of liberty and constitutionalism.
Andrew Gothard said that Florida's higher education students, faculty, staff, families, and communities deserved better than the continuous surge of untrue attacks leveled at them by political leaders in Tallahassee. He said it was time to finish this political brinkmanship, and it was the future of millions of students and the future of their state as a whole, which were being put at the state for nothing more than political pageantry.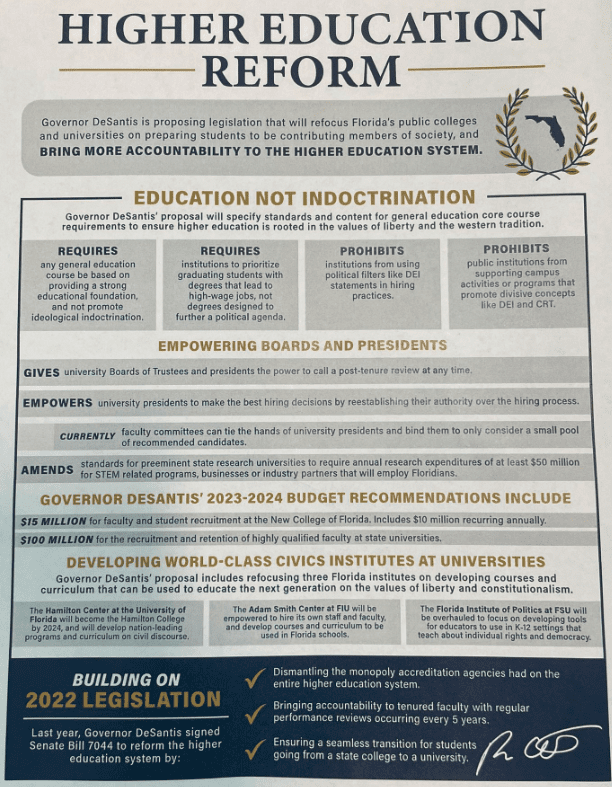 Ron DeSantis said at the press conference that under the presented legislation, presidents and board of trustees at Florida colleges and universities would be given authority to cancel post-tenure evaluation, and faculty can be fired if they don't give an output as expected.
He further said that they brought liability for tenured teachers, and they all must go through the review process every five years.

Subscribe to Email Updates :