Robert F. Kennedy, Jr. is an American radio host, attorney, and activist. Robert F. Kennedy Jr. is the son of Robert F. Kennedy and nephew of former U.S. president John Fitzgerald Kennedy. He has made a name for himself in the anti-vaccine community and in various conspiracy theories. His father, Bobby, was assassinated when Robert Jr. was 14.
Net worth
Kennedy's current net worth is estimated at $50 million. 
Early Life
Kennedy was born on January 17, 1954, in Washington D.C. He is the third of eleven children by parents Ethel Kennedy and Senator and Attorney General Robert F. Kennedy. He grew up in McLean, Virginia and Cape Cod, Massachusetts, where the family maintained homes. Robert attended Georgetown Preparatory School in North Bethesda, Maryland.
He learned of the news while at school in Maryland and immediately flew to Los Angeles in order to visit his father, who was still alive but wounded. He arrived in time to be with his father at the time of his death and then served as a pallbearer at his funeral.
Kennedy then attended Palfrey Street School in Massachusetts and then enrolled at Harvard University, where he received a Bachelor of Arts in American History and Literature. He then enrolled at the University of Virginia, where he received his Juris Doctor degree and then at Pace University, where he received a Master of Law.
Career
Kennedy began his career in 1983 as an Assistant District Attorney in Manhattan. He then joined Hudson Riverkeeper in 1984 as an investigator and was promoted to senior attorney in 1985 after he was admitted to the New York bar.
In 1987, Kennedy founded the Environmental Litigation Clinic at Pace University School of Law and served as the clinic's supervising attorney and co-director for three decades. Kennedy worked with law students on environmental issues through the clinic, such as forcing waste-water treatment plants into compliance with the Clean Water Act. 
In 2000, Kennedy formed the environmental law firm of Kennedy & Madonna, LLP, and fellow attorney Kevin Madonna. The firm focuses on environmental litigation cases. Some of the notable cases they have worked on include representing the Ramapough Mountain Indian Tribe against Ford Motor Company regarding dumping toxic waste on tribal lands. They also worked against DuPont in a case involving contamination from a DuPont zinc plant in West Virginia.
In 2016, Kennedy joined the Morgan & Morgan P.A. law firm as counsel. In his legal career, other issues that Kennedy has focused on include representing poor and minority communities who bear the burden of environmental pollution, indigenous rights cases, and pollution caused by factory farming.
Philanthropic work
Outside of his legal career, Kennedy is the chairman of the Children's Health Defense, an advocacy group that argues that exposure to certain chemicals and radiation is the root cause of a number of conditions like autism, food allergies, ADHD, and various autoimmune diseases that affect children. He has been particularly vocal in the anti-vaccine community. Often alleging a that there exists a link between multiple vaccinations and autism.
Personal Life
 In April of 1982, Kennedy married Emily Ruth Black. The two had met in law school at the University of Virginia. During their marriage, the two had two children: Robert Francis Kennedy III and Kathleen Alexandra Kennedy. In 1992, the couple decided to separate and officially divorced in 1994.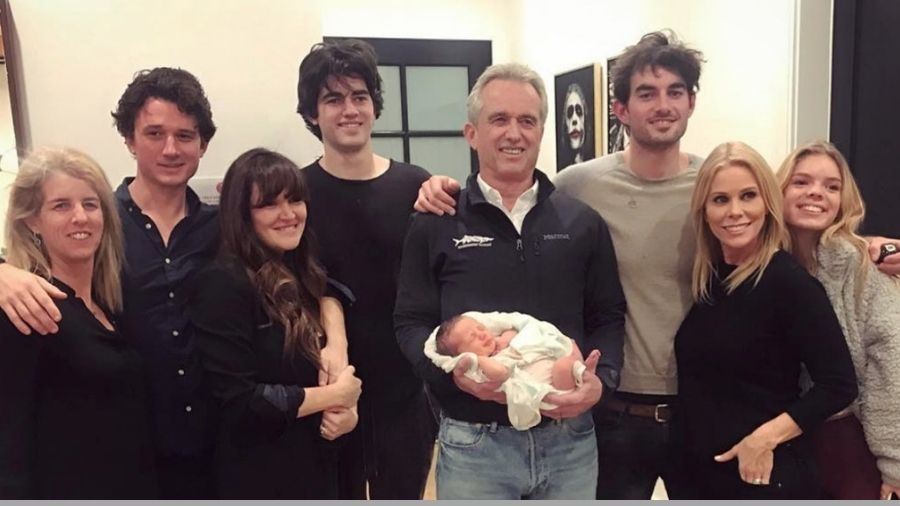 In April of 1994, Kennedy married Mary Kathleen Richardson. The ceremony took place on a research vessel on the Hudson River. During their marriage, the couple had four children together: Conor Richardson Kennedy, Kyra LeMoyne Kennedy, William Finbar Kennedy, and Aidan Caohman Kennedy. In 2010, Kennedy filed for divorce from Mary. Two years later, in 2012, Mary was found dead on the grounds of her home in Mount Kisco, New York. Her death was ruled to be a suicide by asphyxiation from hanging.
In April of 2014, Kennedy married actress and director Cheryl Hines at the Kennedy compound in Massachusetts. The two had met via mutual friend Larry David, who knew Hines from his HBO series, "Curb Your Enthusiasm." The two had begun dating in 2012.
Controversies
Kennedy was involved in a number of controversies throughout his life, having been charged for possession of marijuana and heroin. He was sentenced to two years of probation and 1,500 hours of community service. He then entered a drug treatment center. In 2013, the "New York Post" released excerpts from Kennedy's 2001 diary in which Kennedy described having multiple affairs throughout his marriages.

Subscribe to Email Updates :