Yogini Ekadashi vrat comes after Nirjala Ekadashi and before Devshayani Ekadashi. According to Hindu Panchang, Ekadashi of Krishna Paksha of Ashadha month is called Yogini Ekadashi. Yogini Ekadashi is coming on Wednesday, June 17. Because of this vrat, Lord Vishnu is pleased.
By fasting on Yogini Ekadashi, all sins are destroyed, and prosperity is achieved. By keeping this fast, a person becomes a possessor of heaven.
The importance of fasting for Yogini Ekadashi is like feeding 88 thousand Brahmins.
Timing of puja
Yogini Ekadashi: June 17, 2020
Date time: It will start at 5.40 AM on June 16, 2020, and will end at 4.50 AM on June 17, 2020.
Parayan: From 05.28 AM to 08.14 AM on 18 June 2020
Method of worship
On the day of Yogini Ekadashi, clean the house first and then take a bath and wear clean clothes. After this, place the idol of Lord Vishnu.
Then offer flowers, akshat, coconut and basil leaves to the Lord. Then worship Peepal tree too. Listen to the story of Yogini Ekadashi Vrat and do Parayan on the next day.
Story of Yogini Ekadashi vrat
A king named Kubera lived in the Alakapuri city of heaven. Kubera was a devotee of Lord Shiva. He used to worship Bholenath every day.
A gardener named Hem used to bring flowers to worship the king. Hem Mali's wife's name was Vishalakshi, a gorgeous woman. Then one day, Mali brought a flower from the lake, but due to being lustful, he got busy entertaining his wife and did not go to the palace.
On the other hand, the king waited for the gardener till noon. After this, King Kubera ordered the soldiers that go find out why Mali has not come yet.
The soldiers returned and told the king that the gardener is very sinful and transgressive. He is engaged in banter with his wife. Hearing this, King Kubera became enraged and ordered Mali to be present immediately.
Then Hem Mali came to the king, trembling with fear. King Kubera cursed the gardener and said, "Oh low! Sinner! Kami! You have disrespected Mahadev, the god of gods.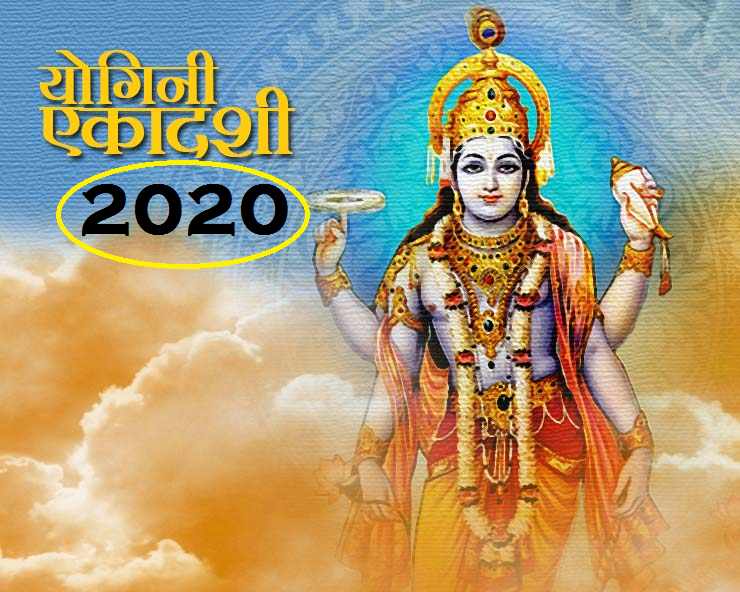 I curse you that you will suffer from disconnection from your wife. You will become a leper by going to death.
After that, Hem Mali started suffering a lot of problems later. Once, going to the terrible forest, Hem Mali wandered without food and water. Then he went to the sage Markandeya's ashram.
He told his story to the sage. Hearing this, the sage said – You have told me the truth, that is why I am telling you a fast for salvation, if you observe Yogini Ekadashi fast by law, then all sins will be destroyed.
Hearing this, the gardener bowed down to the sage and methodically observed the fast of Yogini Ekadashi. Consequently, Hem Mali went to heaven again and lived happily with his wife.

Subscribe to Email Updates :