Yoon Doojoon is a South Korean singer and actor who is more famously known as Doo-Joon. The singer was born on the 4th of July 1989, and he is also a part of the South Korean boy band. The singer and actor have also worked in various films and web series and is mostly known for his South Korean drama role, "Lets Eat 3."
In the early stages of his life, he was intrigued by music when he saw MTV's Big Bang Documentary. When he expressed his love for it, his family and teachers were completely against this idea of Yoon Doojoons. Yet he somehow convinced his parents and pleaded that they enroll him in a music school, and soon he started auditioning as a singer. Doo-Joon debuted as a leader of Beast in 2009, and in 2016, he left label Cube Entertainment along with several other members. They have since reformed to promote as Highlight under Around Us Entertainment. The highlight was formerly known as the Beast.
Yoon Doojoon's Teaser for the first Mini Solo Album
Yoon Doojoon was featured in the Mnet documentary Hot Blooded Men, which is a reality program that shows the preparation of the singer's debut, and he was also a trainee at JYP entertainment. Unfortunately, he was eliminated from the show, and it later commenced. He then moved to Cuba entertainment and was later also featured as a rapper in AJ's "Wipe the Tears" Then, he debuted as the Beast leader. Their journey was shown on MTV's documentary show MTV B2ST.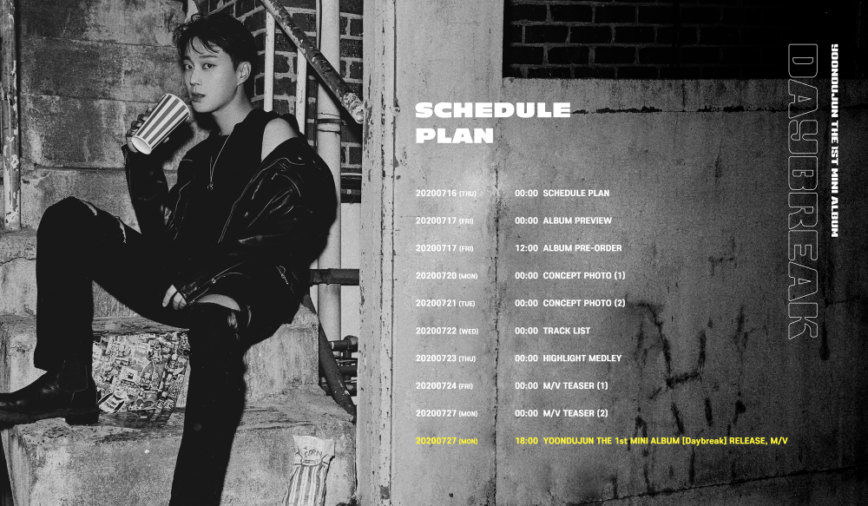 Yoon Doojoon is all set to release the teaser for his mini solo album and is gearing up for the bang. His mini-album is titled "Daybreak" and it will be released on the 27th of July 2020 at 6 pm Korean standard time. He has set an exact schedule of his album that will be released that includes the line up of teaser one and teaser two and then finally the album release, the album covers, and the tracks included in the album "Daybreak". For his fans, there will also be an album preview and collection pre-order.
This news has undoubtedly caused a wave of excitement in the air for his fans because the album looks like it will top the charts even though it will be a solo album. Fans can't wait for the album to drop, and they will no doubt follow the schedule that he has set for his album "Daybreak". Let's wait for the teaser to drop and see what madness is up for the audience.
Until then for more updates, stay tuned to us will we add in more details as soon as we hear more news about the album.

Subscribe to Email Updates :