Donald Trump, the Former President, has scheduled a Save America rally in Pennsylvania on 3rd September. Tickets for Pennsylvania Save America Rally are now available. 
He attempts to raise his profile for a possible presidential run while elevating some political allies.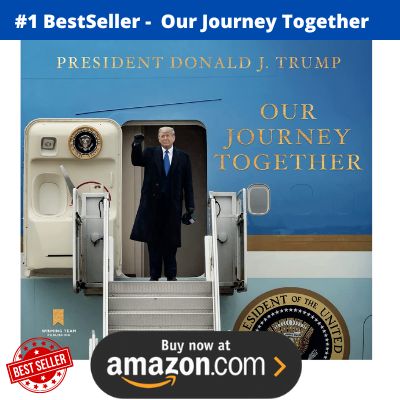 According to a release issued by Trump's Save America political action committee on Friday, the 45th President will hold one of his trademark rallies at the Mohegan Sun Arena in Wilkes-Barre, Luzerne County, at 7 PM.
Don't Miss The Live Trump Pennsylvania Rally. Signup for email notifications and we will notify you when the Rally is Live
Buy Tickets for Pennsylvania Save America Rally 
Registration for the Save America Rally in Scranton/Wilkes-Barre is now on Trump's official website. The arena's capacity is said to be 10,000, so get your tickets as soon as possible because tickets will be distributed on a first-come, first-served basis. Here are the steps to register your tickets (maximum two tickets) for Pennsylvania Save America Rally: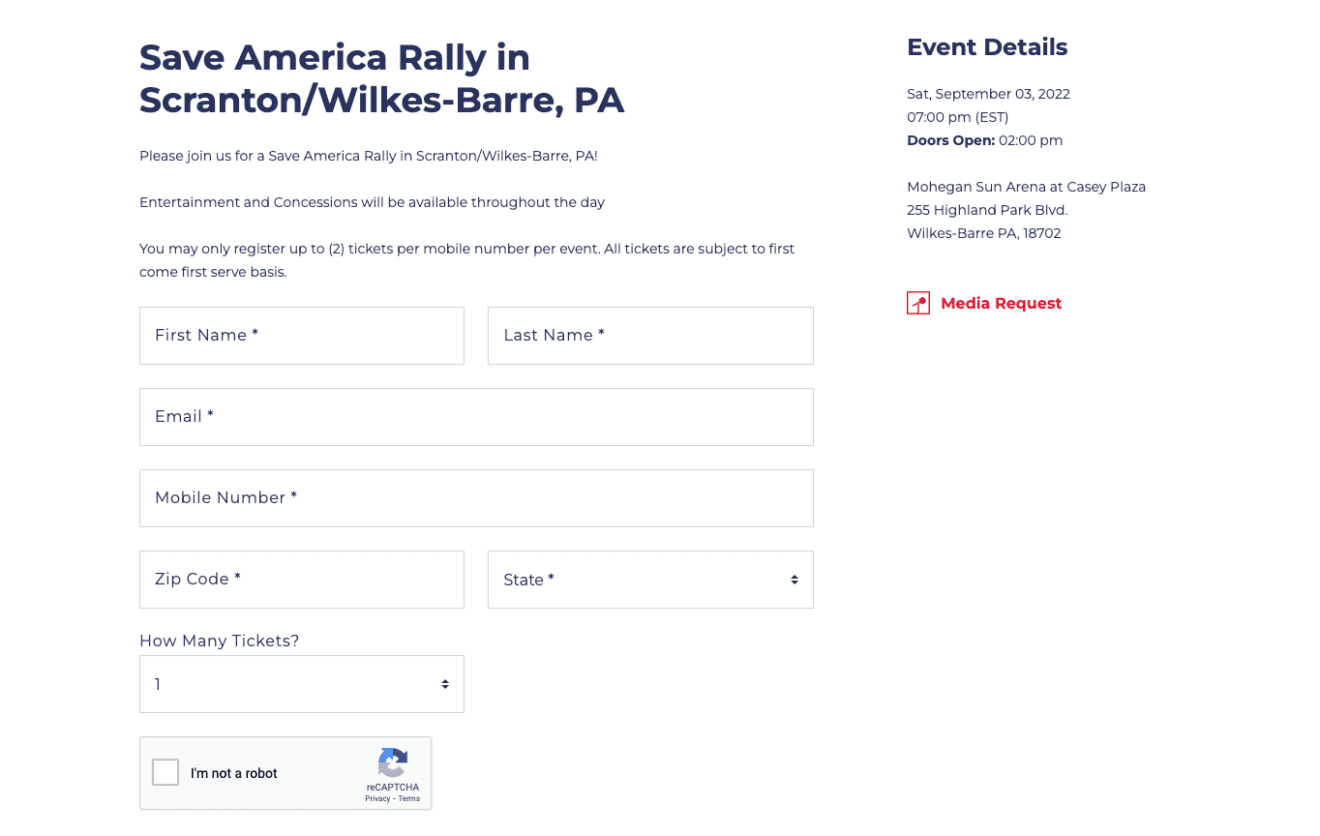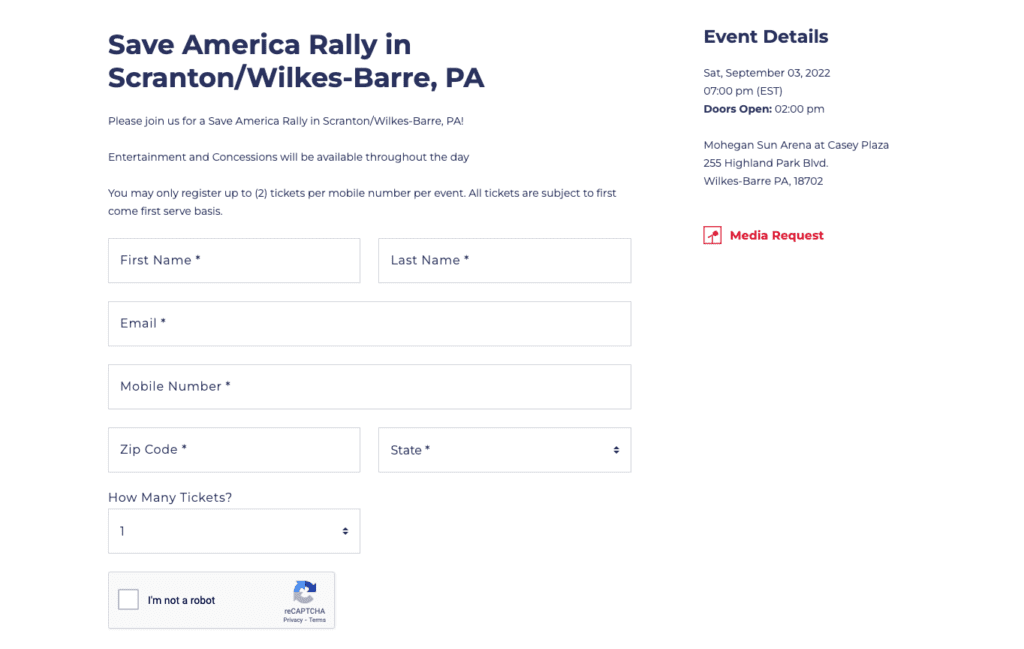 STEPS TO BUY THE TICKETS:
Visit events.donaldjtrump.com.

Fill in your personal information in the space provided.

Provide your email address and phone number.

Enter the number of tickets you wish to purchase.

Select Register.

You will get your tickets on your registered mobile number.
Note: According to the site, each person can order a maximum of two tickets per mobile number.
Watch Wilkes-Barre Save America Rally Live Stream 
We will stream live on the day of the event; till then, join our Telegram channel. And You can also, fill the below form to get notified when event is live. 
Save America Rally Wilkes-Barre Schedule, Venue, Parking 
 Donald Trump will hold a rally in Scranton/Wilkes-Barre, Pennsylvania, on Saturday, 3rd September 2022, at 7:00 PM EDT.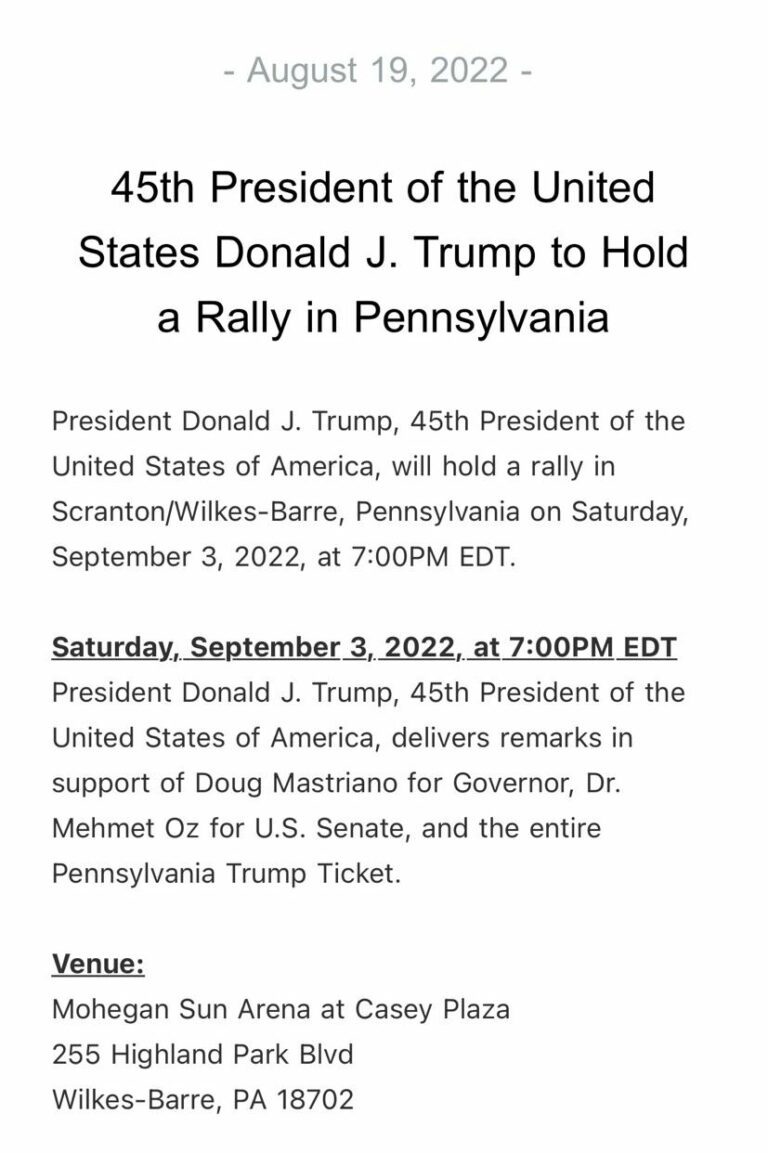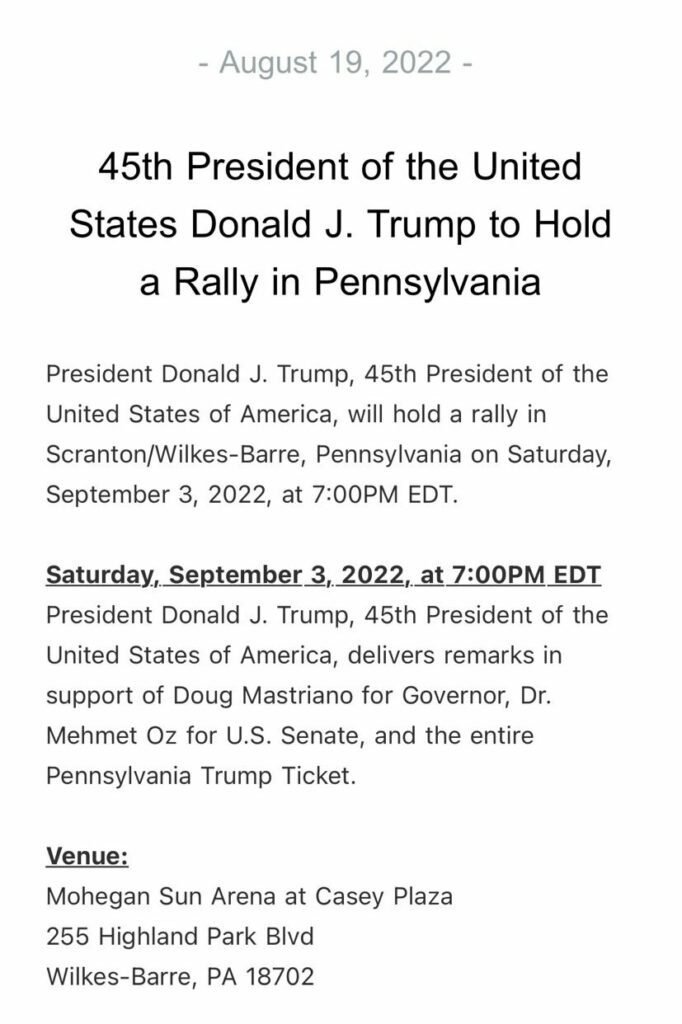 Pennsylvania Save America Rally Venue:
255 Highland Park Blvd, Wilkes-Barre, PA 18702 Mohegan Sun Arena at Casey Plaza
Save America Rally in Scranton/Wilkes-Barre Events Timeline:
Parking lots, vendor row, and registration open at 8:00 AM.
Doors open at 2:00 PM.
4:00 PM – Remarks by Special Guest Speakers
7:00 PM – Donald J. Trump, 45th President of the United States, will deliver remarks supporting Republican candidates.
Agenda of the Save America Rally in Scranton/Wilkes-Barre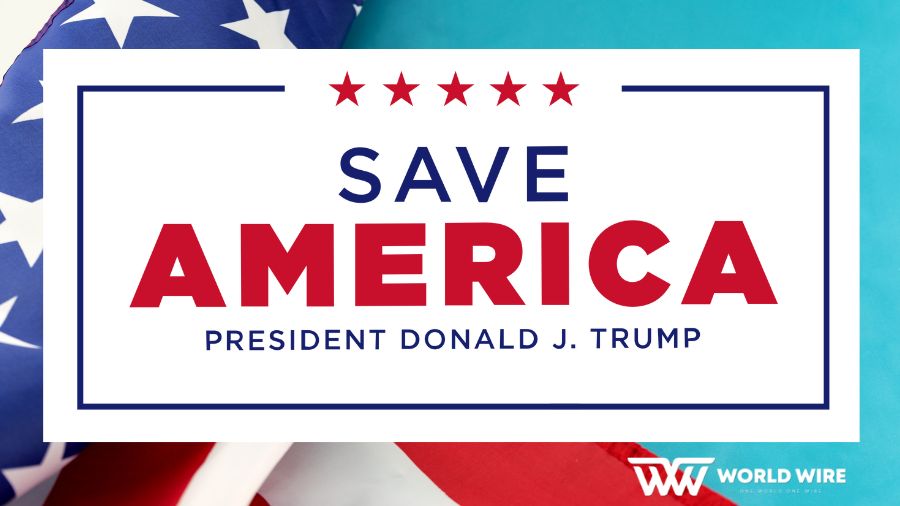 According to the announcement, the former President will "deliver remarks in support of Doug Mastriano for Governor, Dr. Mehmet Oz for U.S. Senate, and the entire Pennsylvania Trump Ticket."
Trump endorsed both Mastriano and Oz in their spring primary campaigns. He undoubtedly hopes that the Republicans will demonstrate new strength in Pennsylvania by capturing the governor's office and retaining the U.S. Senate seat currently held by Pat Toomey, who did not seek re-election.
However, there is another reason. The Rally was announced as another potential GOP presidential candidate, Florida Gov. Ron DeSantis, was warming up for an appearance with Mastriano in Pittsburgh. 
A rally by Trump in Pennsylvania might be a preemptive strike against potential rivals like DeSantis, his former vice president Mike Pence, or others who are testing whether the party is ready to look beyond Trump. Trump has openly hinted at announcing his third presidential bid later this year.
Pennsylvania Save America Rally Guest Speakers
The upcoming Save America rally in Wilkes-Barre, Pennsylvania, will feature a lineup of high-energy guest speakers.
On Saturday, 3rd September, the Rally will feature State Senator and GOP gubernatorial nominee Doug Mastriano and Dr. Mehmet Oz, the Republican nominee for U.S. Senate in Pennsylvania. And Jim Bognet, the Republican candidate for Pennsylvania's 8th Congressional District, will also speak.
Doug Mastriano Speak at Pennsylvania Save America Rally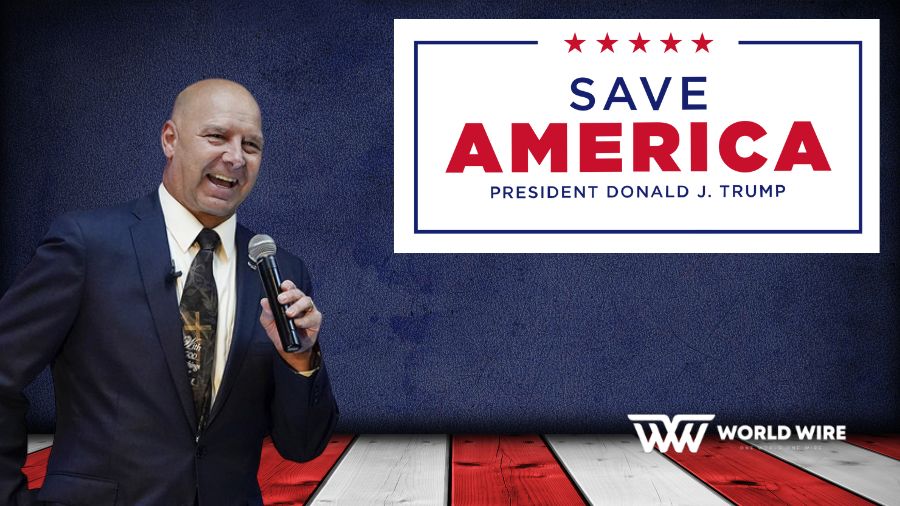 Doug Mastriano served as a colonel in the United States for many years. He rejoined the American government after resigning and is now doing extraordinary work for the country and its people.
Mastriano will run against Pennsylvania Attorney General Josh Shapiro in the general election in November 2022. 
Mastriano was born on 2nd January 1964, in New Brunswick, New Jersey, and was commissioned as a second lieutenant in the United States Army and assigned to the Military Intelligence Corps. He retired in 2017 as a colonel after serving as a faculty instructor in the Department of Military Strategy at the United States Army War College in Carlisle, Pennsylvania, from 2012 to 2017.
Doug Mastriano has made a name for himself among U.S. legislators and on the other side of the globe. He is also a source of inspiration for many young people dedicated to their country's welfare.
Dr. Mehmet Oz speak at

Pennsylvania Save America Rally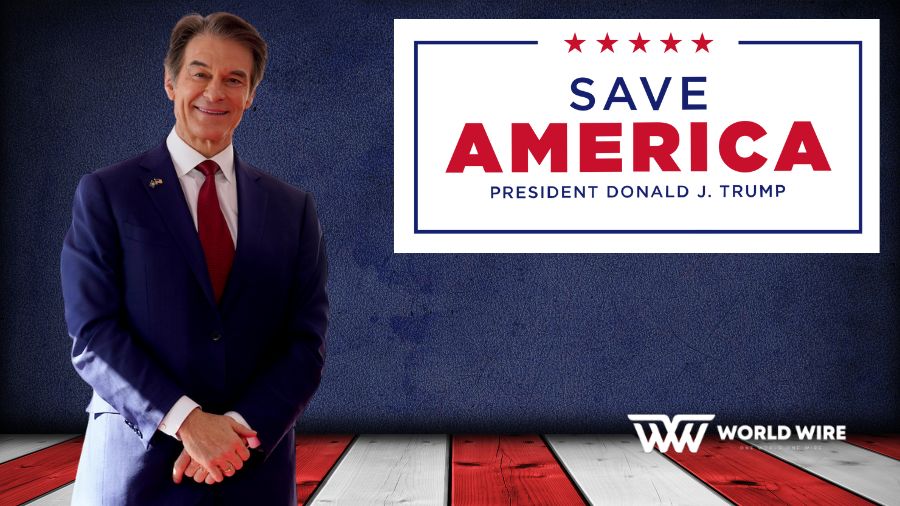 He is a Turkish-American television personality, author, retired cardiothoracic surgeon, and professor emeritus.
Mehmet Cengiz is the Republican nominee for Pennsylvania's 2022 United States Senate election. He is the first Muslim to be nominated for U.S. Senate by either major party.
Oz declared in 2021 that he would run as a Republican in the 2022 U.S. Senate election in Pennsylvania to replace retiring incumbent Senator Pat Toomey. Oz was elected Republican nominee in June 2022 after his primary opponent, David McCormick, conceded during a recount. In the general election in November 2022, he will face Democratic nominee John Fetterman. 
Trump announced his support for Oz in April 2022, calling him a "brilliant and well-known" candidate with the potential to Save America.
President Donald Trump appointed Oz to the President's Council on Sports, Fitness, and Nutrition in 2018, but he was fired during the Biden administration.
Jim Bognet
Speak at Pennsylvania Save America Rally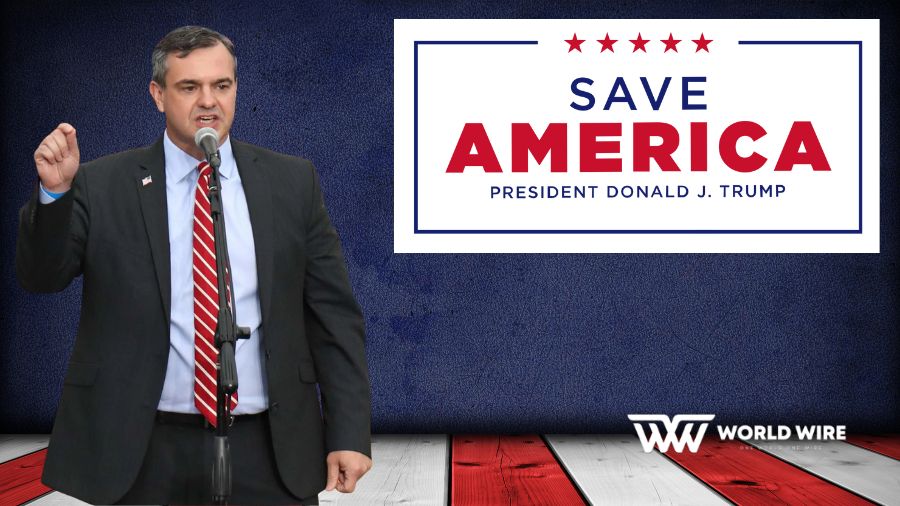 Jim Bognet is a Pennsylvania-based politician. In the 2022 elections, he is the Republican nominee for the United States House of Representatives in Pennsylvania's 8th congressional district.
Bognet is originally from Hazleton, Pennsylvania. He is a former senior vice president for communications at the United States Export-Import Bank. In the 2020 elections, he ran for Pennsylvania's 8th congressional district and was defeated by Matt Cartwright. He is running against Cartwright in the 2022 election.
The legislator is a law graduate with an MBA. He was a previous Trump official and is close to the president-elect. Bognet supports Donald Trump and expresses gratitude to him for all of his accomplishments in life, as he was the one who provided him with work.

Subscribe to Email Updates :